Time:
1-2 days (including dyeing/drying time)
These fun ombre bags are the perfect thing to hold the mini flower bath fizzies and strawberry tart soaps from the Baby Sprinkle favor series. Ombre is all the rage right now, it's like the sophisticated sister of traditional tie-dye. The idea is to distribute color in such a way that it "fades" from dark to light, and eventually to nothing. Making these bags takes just a few steps, and they're a nice touch that can make even a small gift seem extra special. Don't forget to download this free PDF to get a custom tag to complete the look!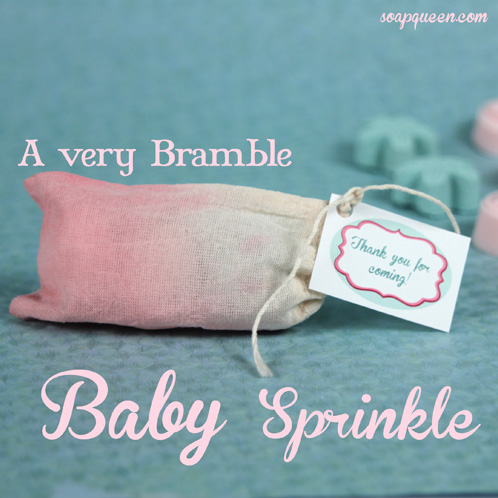 What you'll need:
30 muslin bags
1.35 oz. of Bright Cherry Lab Color diluted in 40 oz. of water
12 oz. of vinegar

Click here to add everything you need for this project (except for the vinegar) to your Bramble Berry shopping cart!
ONE: To help the bags absorb the color, first douse them in vinegar. Be sure they are all fully saturated before dipping them in color.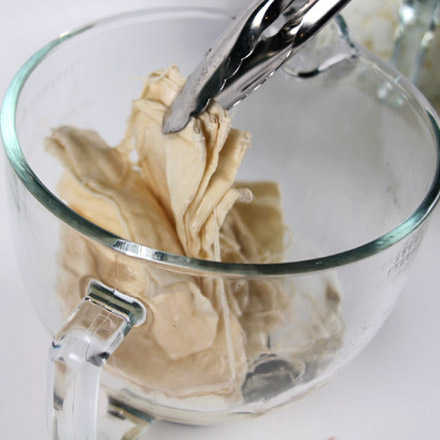 TWO: In a second bowl, mix the water and Lab Color. Then, one by one, pin the bags around the edge of the bowl, with just the bottoms of the bags submerged in the dye bath. Let the bags sit overnight to absorb the color.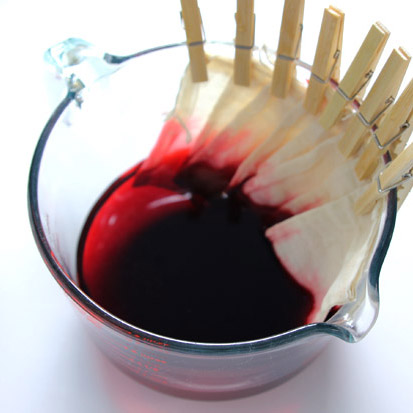 THREE: After your bags have soaked up the coloring, remove them from the dye bath and squeeze out the excess liquid. If the color is too intense for your liking, run the bags under warm water to remove a bit of the dye. Hang them out to dry. TIP:  They might wrinkle as they dry; don't be afraid to iron them out if needed!