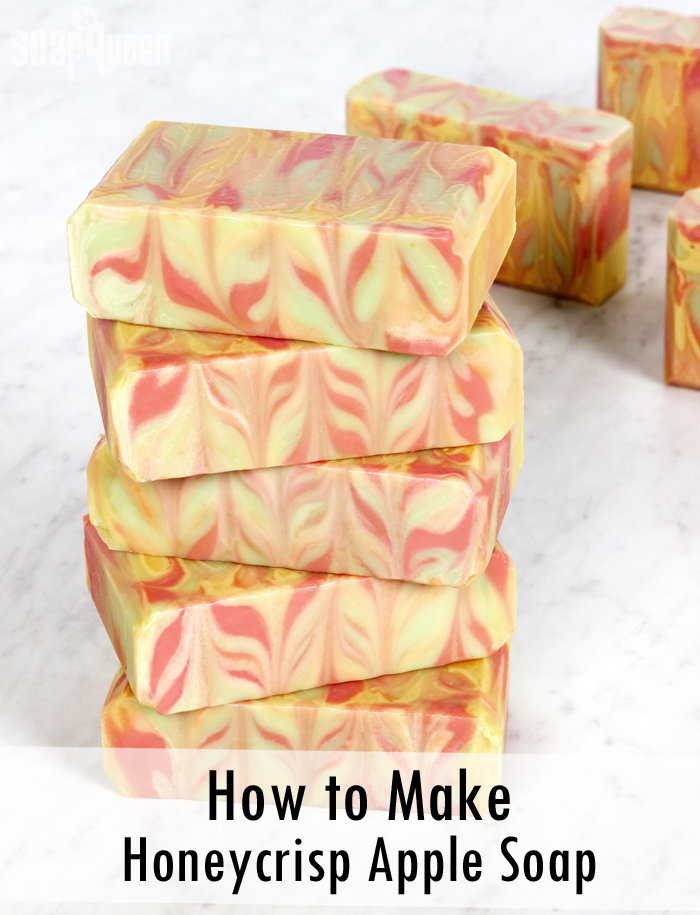 Washington state is known for its delicious apples. In fact, Washington produces 6 out of every 10 apples consumed in the United States! To highlight this local ingredient, applesauce from BelleWood Acres was added to this cold process recipe. BelleWood Acres is one of Northwest Washington's largest apple orchards. It's located just about 15 minutes away from the Bramble Berry offices and is a great addition to the community. Using a local ingredient in your soap is a fantastic way to highlight where it comes from and support other makers in your area.
Normally when one thinks apples, a deep color palette of red and green come to mind. But because this soap contains applesauce made with Honeycrisp apples, we used colors inspired by them. That means shades of bright red/pink, green and a touch of yellow. Then, a Hanger Swirl is used to pull the colors up and down to mimic the stripes on the apples. Apple Macintosh Candle & Soap Fragrance Oil gives the bars a slightly tart and fruity scent.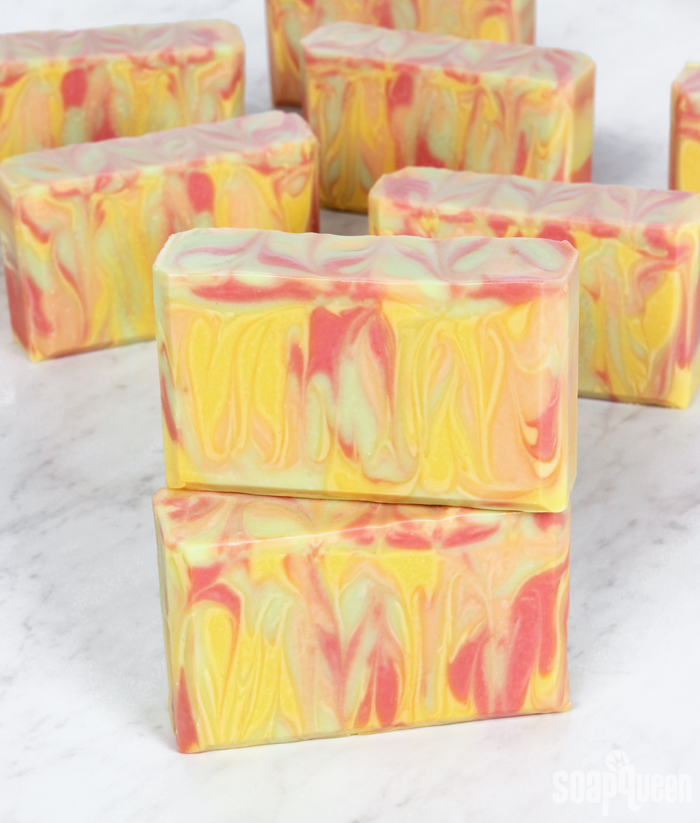 If you've never added a puree to your soap before, read this article to learn how. Don't worry about the applesauce going bad in the soap. It goes through the saponification process along with the oils and lye. The high pH of the soap batter contributes to this process (which is why adding purees to melt and pour is not recommended). To account for the extra water in the applesauce, this recipe contains a 10% water discount. I also recommend soaping at slightly cooler temperatures to compensate for the sugar in the applesauce. If you live in a hot climate, you may want to place the soap in the fridge after pouring into the mold to keep temperatures cool. The extra natural sugar will contribute to a fluffy lather in the final bars of soap. When selecting the applesauce, make sure it does not have any extra ingredients like preservatives. These could cause unpredictable results in your soap.