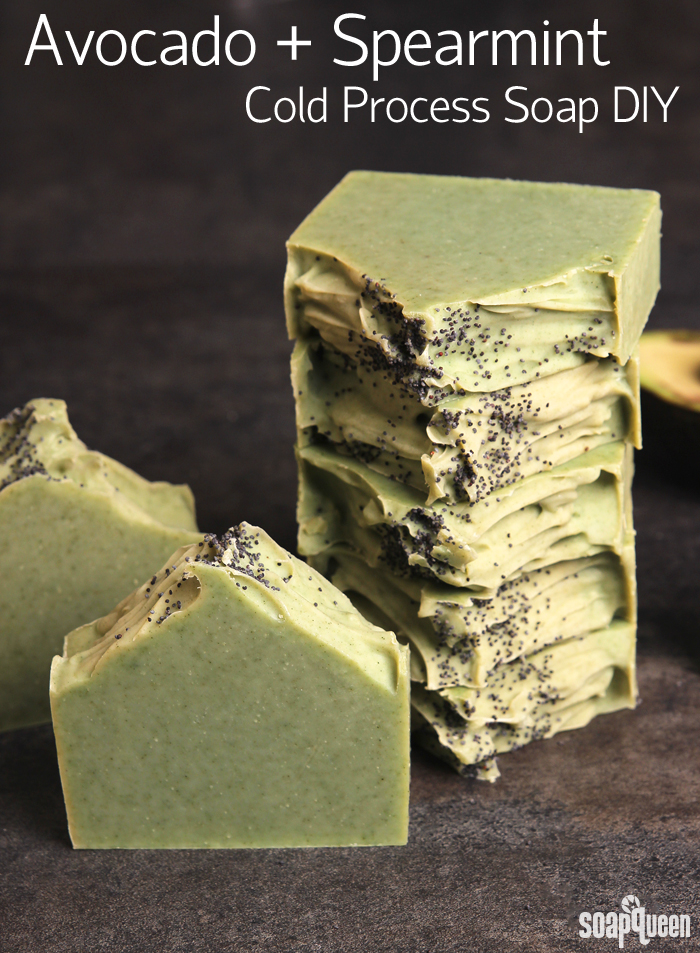 Adding fresh fruit and vegetable purees to cold process soap has long been a staple in the soapmaking community. Purees can add color and skin-loving properties to the bar. In addition, purees are great from a marketing standpoint. One of my favorite purees for cold process soap is avocado. It gives the soap a luxurious feeling. Unlike some additives, avocados do not contain a large amount of sugar. Adding sugars (like those found in fruit) to cold process soap can cause excess heat, which can make the soap difficult to work with. For example, adding honey can cause an extreme gel phase, as seen in the Adding Honey to Cold Process Soap blog post.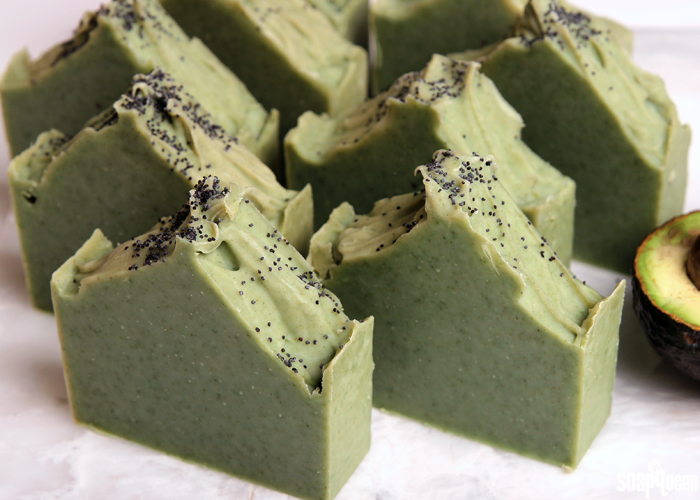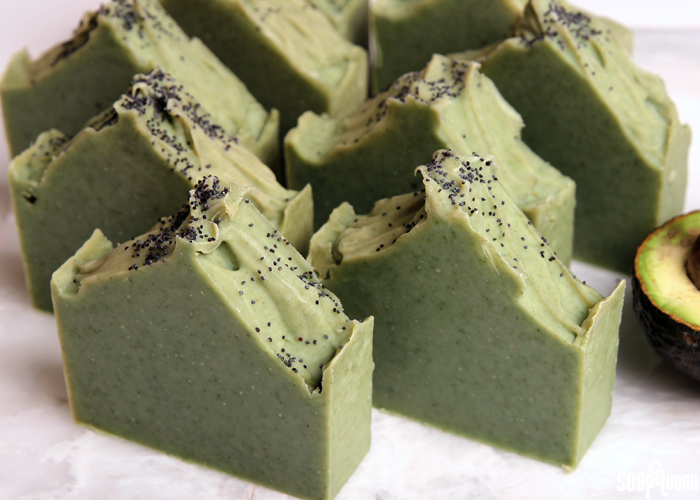 For this recipe, I added a full 3 ounces of avocado pulp, in addition to French green clay and spirulina powder for color. Spearmint essential oil gives these bars a crisp and refreshing scent. After achieving a nice thick texture, I mounded the top of the soap toward the center, created texture and sprinkled poppy seeds on top for decoration. I decided to place this soap into the fridge to prevent gel phase. The additional water from the avocado and clay + heat causes glycerin rivers. Believe me…it happened! You can see my first batch of this soap without a water discount and after gel phase at the bottom of this tutorial. Learn more about glycerin rivers and how to prevent them in this post.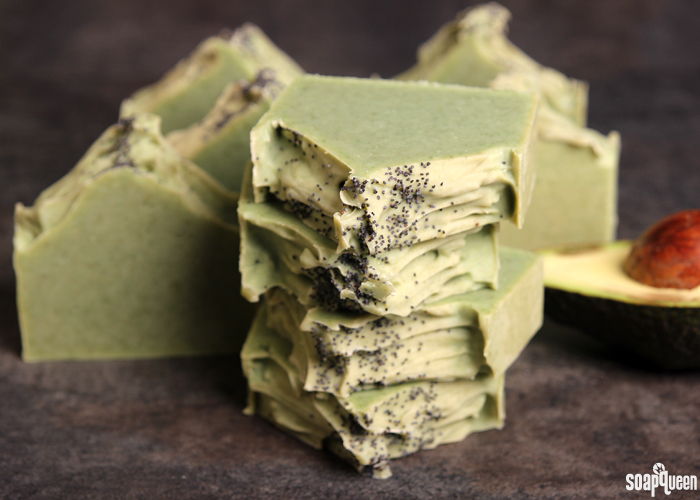 After making this soap, I was perusing the #SoapShare hashtag on Instagram (one of my favorite ways to spend precious downtime) I stumbled upon this beautiful Listea Poppyseed Mead Sea Mud Soap by sassy_soaps_and_such. I was shocked how similar the two designs were. Isn't it crazy how that happens sometimes? I love Rhonda's spin on a similar idea, with a layer on the bottom. Great minds really do think alike!
This recipe does contain a water discount to take into consideration the extra water that is added to the recipe. This recipe adds water in three different ways. First, 1.5 ounces of water is added to create the avocado puree. Then 2 Tbs. (about 1 ounce) of water is added to the clay to help create a dispersion. In addition, the avocado itself contains water. It's tricky to know for sure how much water the 3 ounces of avocado contains, so I estimated about .5 ounces. That's a total of 3 ounces of added water. The full amount of water in this recipe is 11.5 ounces. To get the amount below, I subtracted the 3 ounces which is 8.5 and used a water discount of 15% which is 7.2 ounces. With the added water,  that's a water discount of about 11% (7.2 ounces + 3 = 10.2).