This week, three guest bloggers shared their experiences at the 2014 Handcrafted Soap and Cosmetic Guild conference. Gates from Burly Stone Soap Co. shared his overall impression of the guild as a first time attendee. Dawn from Horsing Around Soap shared tips she learned regarding how to price your products. Next, Jean from SoapArt shared what she learned about testing natural colorants in cold process. If you are looking for more business tips, check out the Business Musings category.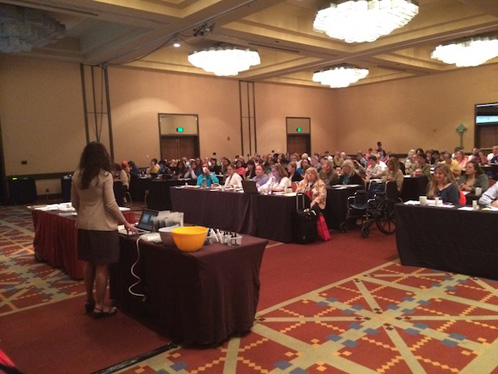 A look at a 2014 Soap Guild session. The conference rooms were packed for the 3 day conference, which was held May 20 – 22 in Tucson, Arizona.
We also shared a tutorial featuring a sweet mold. Featuring the new Doughnut Half Mold, these adorable Strawberry and Vanilla Melt and Pour Doughnuts are a great project for those who love treats. Scented with Vanilla Select and Strawberry Fragrance Oil, these doughnuts look and smell realistic.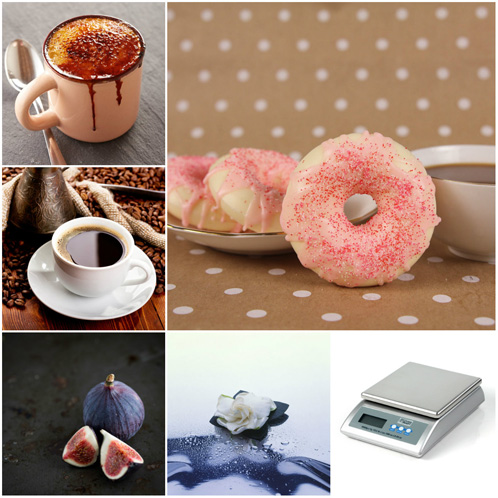 If you love the look of these doughnut soaps, you have the opportunity to win the new Doughnut Half Mold, along with four new fragrance oils and the 13# Stainless Steel Scale. To enter, leave a comment on the Resolution Check In post by Tuesday, June 10, 2014, and let us know about your New Year's resolution progress.
Many of your New Year's resolutions involved exercising more, and eating more fruits and vegetables. Our Facebook Photo of the Week from Hilary of Slice of Delight was clearly inspired by summery fruits. Made with poppy seeds and scented with a fresh strawberry scent, Hilary's melt & pour Strawberry Kiwi Poppyseed Soap is full of color and texture.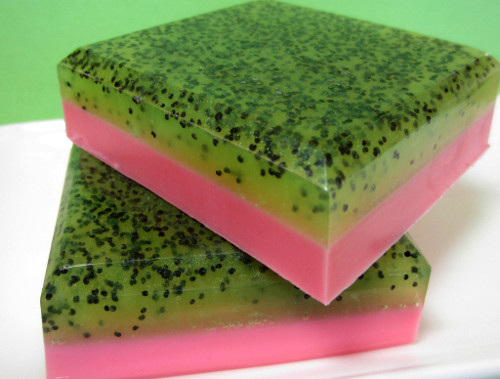 Embedding additives can be a little tricky, because getting the temperature just right is key. If you'd like some tips on how to embed with melt and pour, check out this Soap Queen TV Video: Embedding in Soap. If you are looking for more embed melt and pour inspiration, the Carnation Cube Cuties Tutorial uses jojoba beads to add gentle exfoliation.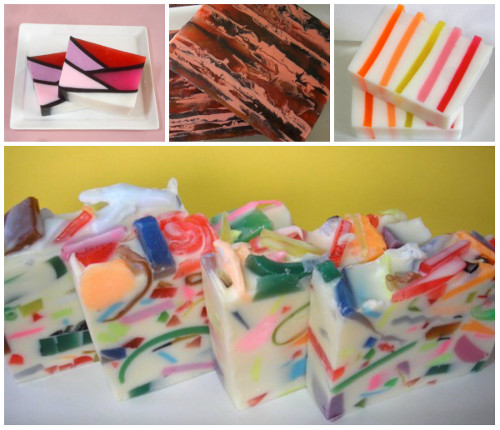 Shown above (top left, clockwise) are Hilary's Black Raspberry & Vanilla Soap, Spiced Mahogany Soap, Yuzu Soap, and the fun and colorful Land of Sweets Confetti Soap. If you love the look of "confetti soap," the Cherry Blossom Glitter Tutorial shows you how easy it is to achieve a similar look in cold process.
Find A Slice of Delight Handcrafted Soaps:
Post pictures of your crafty creations on the Facebook page each week for a chance to be featured on the Soap Queen blog and receive a sweet soapy package from Bramble Berry. Photos are chosen based on consensus from the Bramble Berry staff, so the best way to increase your chances of winning is to show us lots of photos!