Handmade gifts are the perfect way to show you care. Whether it's freshly-baked cookies or a personalized bar of soap, your friends and family will love it. We asked members of the soapmaking community what they give for the holidays. Find their answers below.
Emma, soapwonderful
Other than soap of course – and as someone passionate about all things handmade – for the holidays I love to go all out! I love to sew friends and family coffee cup cozies, make my exclusive face cake and facial oil sets, bake all of my childhood favorite treats, make holiday-themed bath goodies, pot succulents, embroider personalized t-shirts, and bundle it all up in a gift basket for them to enjoy all through the holidays. Even though it is my busiest time of the year as a soapmaker, it is also my most joyful, so getting creative for those I love brings my heart back to why I started making soap in the first place.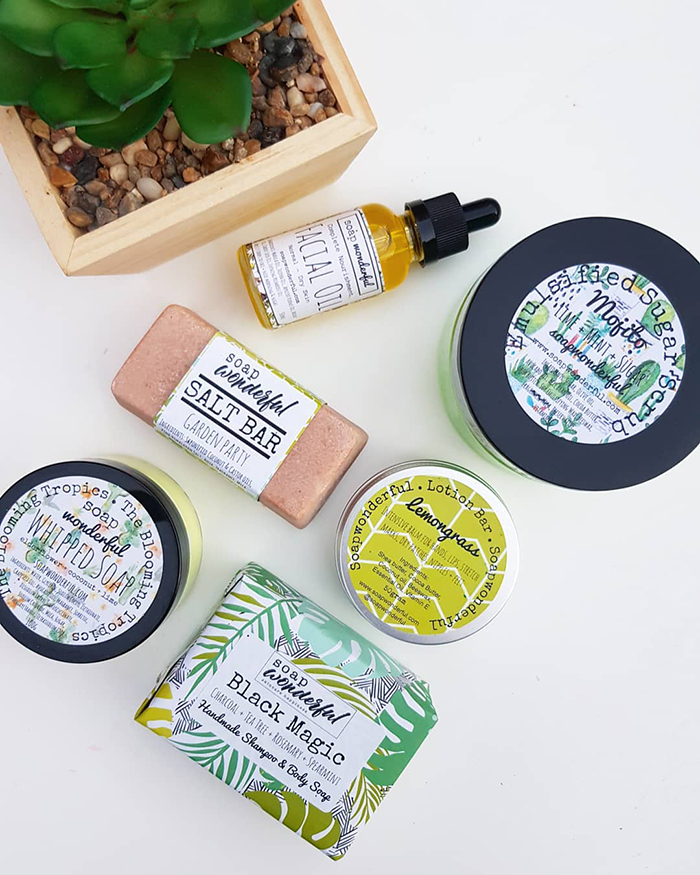 Soapwonderful's collection of products
Michelle, get naked soaps
Christmas is by far my favourite time of year! I love giving my family members handmade gifts and I'm pretty sure they love it too! Every Christmas I make a special variety of handmade soaps and knitted dish cloths just for my family and friends. Before everyone arrives at our home on Christmas day, I display all soaps and cloths in a beautiful handmade wooden box and surround it in lights and decorations. The setup is warm and inviting, and it's the first thing they see and smell when they walk in the door! When it's time to leave, each person gets a bag and they go through the soaps picking out their favourites to take home with them.

It's a small, inexpensive gesture that tells them I care and I'm thinking about them – not to mention it's so much fun for them! I've had my family and friends tell me they look forward to this every year!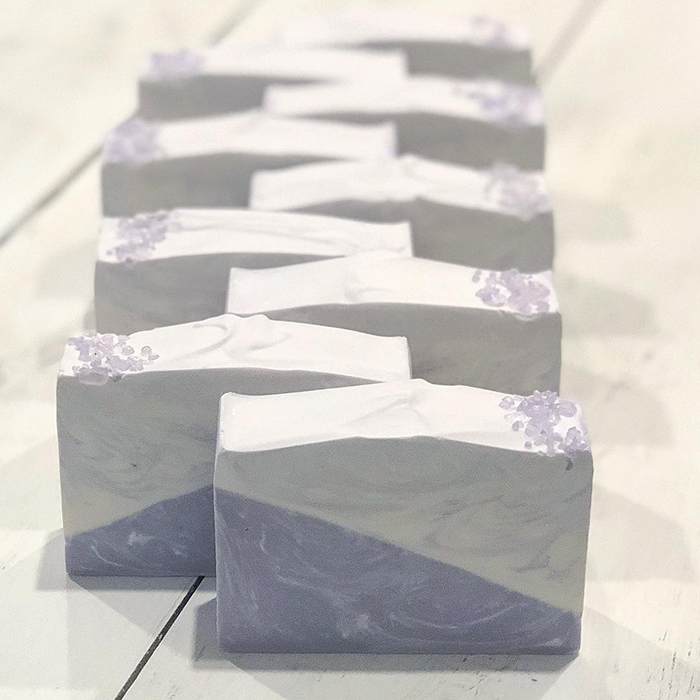 Get naked soaps' Lovely Lavender bars
Tamika, Silk Suds Shop
I'm into all things handmade and that also applies to gift giving. Next to soapmaking, cooking and baking is my second favorite thing to do, especially for family and friends. Fresh-baked bread or pastries are always a welcome gift for the holidays!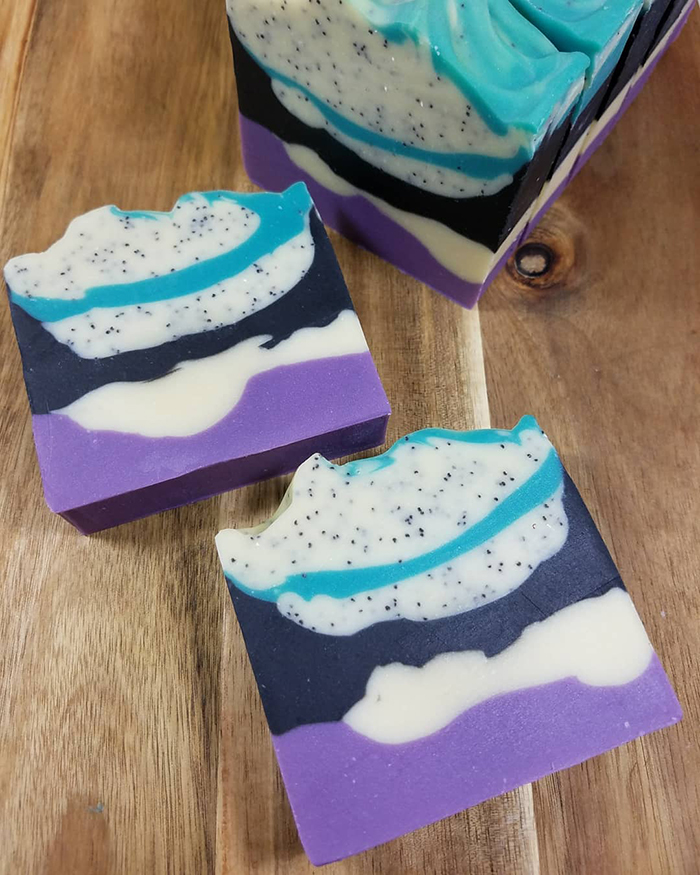 Silk Suds Shop's Sultana Soap
Kaity, Barnes Soap
My love for soapmaking grew out of my desire to give handmade gifts. It's a lovely way to show the recipient that you really care. It's also a great way to hone your skills! It goes without saying that everyone gets soap for the holidays. Probably a candle, too. Last year I gave my mom and grandmother scarves that I knit. (I can only do rectangles.) They were a hit!

My family has a long holiday tradition of giving a mountain of cookies to just about everyone we see. It's always a little party when we make them. It's a super fun process that usually takes a whole weekend.

Handmade gifts are the perfect way to bring a little extra love to the gift-giving process.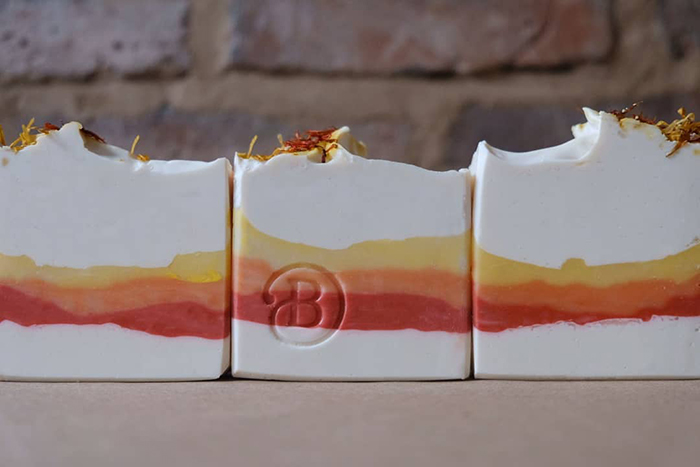 Barnes Soap's Harvest bars
Robyn, Maple & Mint
I love to make my friends and family handmade skincare gift boxes, I love to spoil them and make them feel pampered! Some of my favourite items to include are our artisan soaps (of course!), lip balms, and body scrubs. I like to plan ahead for the holiday season and make a fun Christmas-themed soap to include in my holiday gifts. Last year I made Applejack & Christmas Spice, which was a hit, and this year I have Frankincense & Myrrh on the curing rack just waiting for Christmas Day.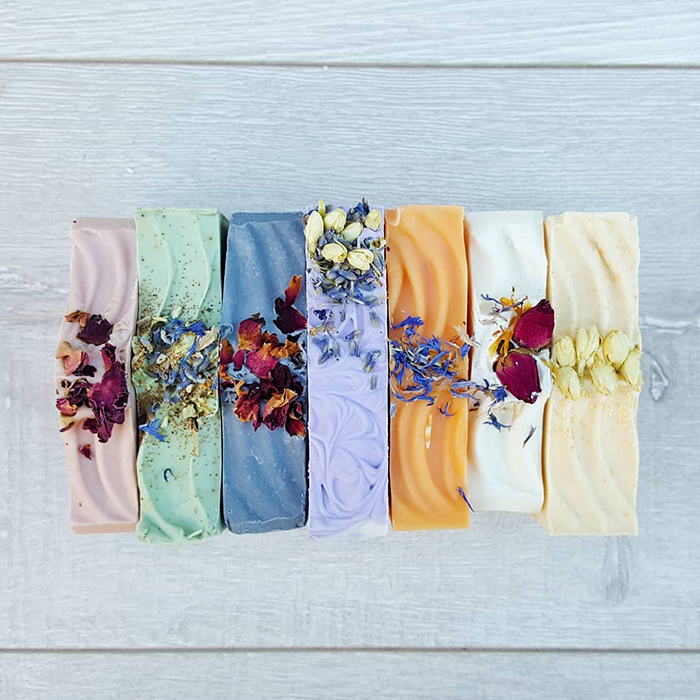 Maple & Mint's soap tops
Shelby, Lavo Soap
Crafting gifts for the holidays is actually a bit of a tradition in our house. We try to come up with a new craft every year, but sometimes repeat because we have requests for certain items, or the kids are anxious to make something specific. This tradition started years ago when my husband and I had just bought our first house and funds were tight, but it continues because I enjoy gifting things that are made from the heart, and that the whole family can participate in. A few of our favorite things to make are:
Homemade soap – Soap will always have a special place in my heart as a go-to Christmas gift because the very first batch of cold process soap I ever made was Lavender Oatmeal soap for Christmas gifts. It was a total mess, but every single person who got a bar loved it, and it started me down the crazy rabbit hole of soapmaking and business ownership that I wouldn't trade for anything!

Cookies in a jar – We've done this one several times actually. There are a ton of variations, but if you're not familiar, you layer a Mason jar with all the dry ingredients, add a bow and printable baking instructions, and you're done! These are perfect to do with kids because there is so much measuring, but nothing dangerous like hot ovens or lye, and they last forever so your recipients can use them whenever they want. They are always a huge hit, and you can prepare them well in advance of the holidays!

Fudge – Who doesn't love fudge? Seriously, who? Fudge is delicious and easier to make than you would think. It doesn't have the shelf life of cookies in a jar, but you can, and should, make extra to stick in the freezer. Once you make a basic batch, you can start adding additional flavors – mint, peanut butter, pumpkin spice, mmmmm. Okay, fudge is going back into the rotation of gifts this year!
We make gifts for the holidays because there is something special about putting time, effort, and care into what we gift our friends and family. It's a form of expression to show how much each person means to us, and anything homemade is the best – both to give and to receive.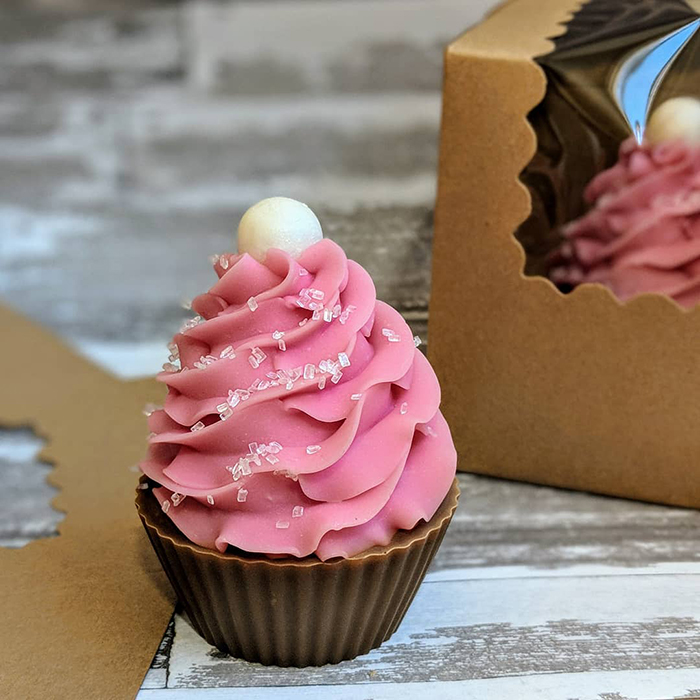 Lavo Soap's custom cupcakes