There are so many ways to incorporate gem and crystal designs in your projects. We have a new collection of gemstone products that will get you in the mood to create gem soap, bath bombs, and more. Find inspiration below.
The Sparkly Garnet Soap Gems are an easy way to get started – all you need is melt and pour soap and a sharp knife to create the signature shape. The Free-Form Gemstones take the project to the next level with shimmery embeds and a variety of purple hues. You can also embed the gemstones into cold process, as seen in the Emerald Swirl Soap Tutorial. It's made with green and gold colorants and scented with fresh Green Fig Fragrance Oil. Sometimes adding a crystal design to your soap is as easy as topping it with pink sea salt and Snowflake Sparkle Mica, as shown in the Rose Quartz Cold Process Soap Tutorial.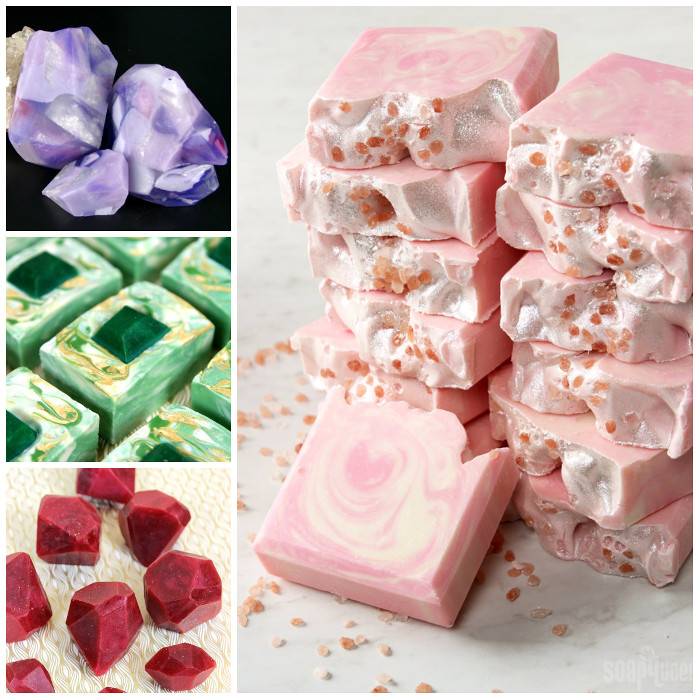 Clockwise, top left: Free-Form Purple Gemstones, Rose Quartz Cold Process Soap, Sparkly Garnet Soap Gems, Emerald Swirl Cold Process Soap
This Soap Queen TV video on Melt and Pour Gem Soap shows you how to make emeralds and amethysts. Once you have the basic technique down, you can make any gemstone you like. Make your birthstone, or customize wedding favors for the bride and groom's anniversary.
The Pearl Bath Bombs are coated with Super Pearly White Mica, Rose Gold Mica, and Aqua Pearl Mica for an iridescent effect. Rose Gold Mica is also used to add shimmer in the Rose Gold Bath Bomb tutorial. The bath bombs are scented with Rose Quartz Fragrance Oil to complement the warm pink tones.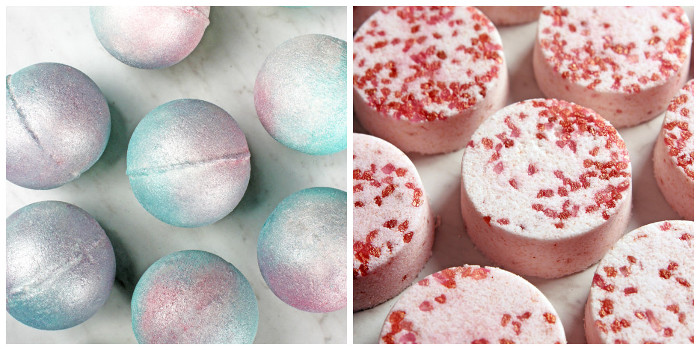 Left to right: Iridescent Pearl Bath Bombs, Rose Gold Bath Bombs
A Beautiful Mess has several adorable tutorials, including the Crystal Soaps by Mary Helen with Mary Makes Good. She cuts soap into crystal shapes and embeds them into circular bars so they look just like the real thing. The Gemstone Soap DIY shows you how to make unique and colorful bars.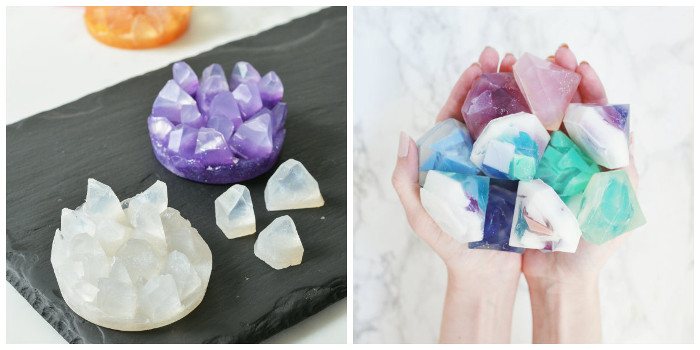 Left to right: Crystal Soap, photo by Mary Helen Leonard; Gemstone Soap DIY, photo by Savannah Wallace
The DIY Glycerin Soap Gemstones by Mr Printables are super simple to make, but the end result looks fantastic. If you love shades of blue, check out the DIY Gemstone Soap Tutorial by Dans le Lakehouse. The bars are made by placing colorful soap pieces into a mold, pouring over shimmery soap, and cutting the loaf into gem shapes. This DIY Crystal Soap tutorial by Buzzfeed Top Knot shows you how to use clear and white melt and pour soap for an interesting gem look.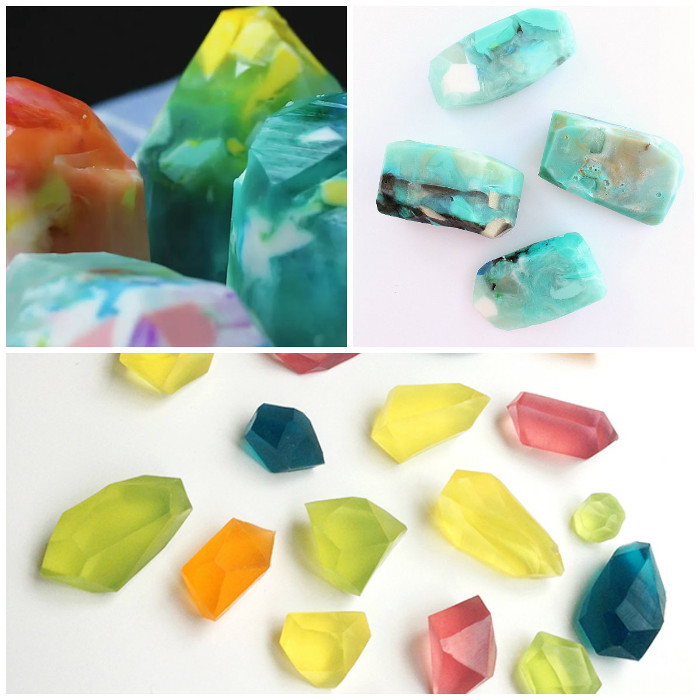 Clockwise, top left: DIY Crystal Soap; DIY Gemstone Soap Tutorial, photo by Tanya; DIY Glycerin Soap Gemstones
The DIY Semi Precious Stone Soaps tutorial by Fall for DIY uses several techniques, like making a custom mold. That creates bars that have a unique look and a variety of beautiful colors.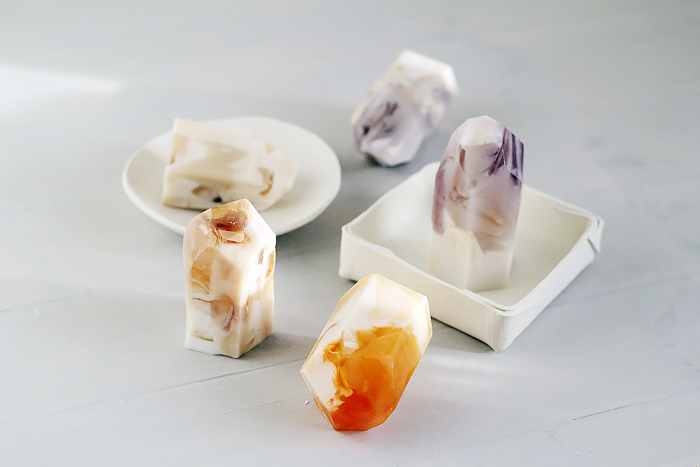 Have you made crystal or gemstone soap before? Share and tag your projects with #BrambleOn.