Today the Back to Basics series wraps up with the final tutorial, this Crisp Cotton Swirl Cold Process Soap. Swirls in cold process soap require a thin trace, so it's important to not over stick blend the batter. It helps to have a recipe with a large percentage of slow moving oils, like olive or canola. If you missed the previous three Back to Basic tutorials, be sure to check them out! The tutorials are accompanied by the Back to Basic Soapmaking Kit, which includes all the ingredients (except lye) you need to make the four projects.  Now, let's get swirling!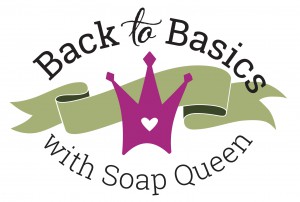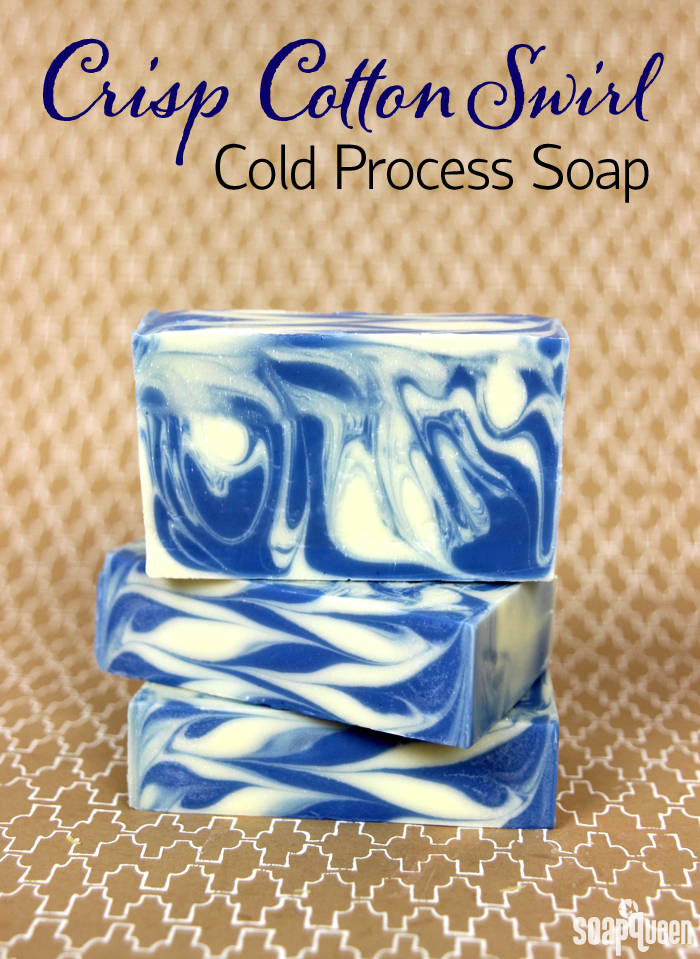 Creating swirls in cold process soap takes a little bit of practice. Swirls require a good understanding of trace; it's crucial that the soap does not become too thick or the soap will not swirl together. On the flip side, the soap cannot be too thin or the colors may muddle together. Learn more about trace here. The key is a recipe that contains plenty of slow moving oils, like canola or olive oil. It's also important to choose a fragrance oil that behaves well in cold process soap, and does not cause the soap to accelerate. This recipe contains 30% olive oil and 25% canola oil to make sure you have plenty of time to work. It also uses Crisp Cotton Fragrance Oil, which does not accelerate trace.
The type of swirl used in this bar is referred to as a "drop swirl." This means the colors are poured, or "dropped," into the mold from varying heights. As the soap is poured, it will begin to swirl inside the mold. For this project, we also used the Hanger Swirl Tool to give the soap extra movement. This project is colored with Titanium Dioxide and Ultramarine Blue pigments. These colorants do not bleed into each other, which is the key to crisp and clean swirls. If you have never prepped colorants for cold process soap before, check out this Soap Queen TV video to learn how.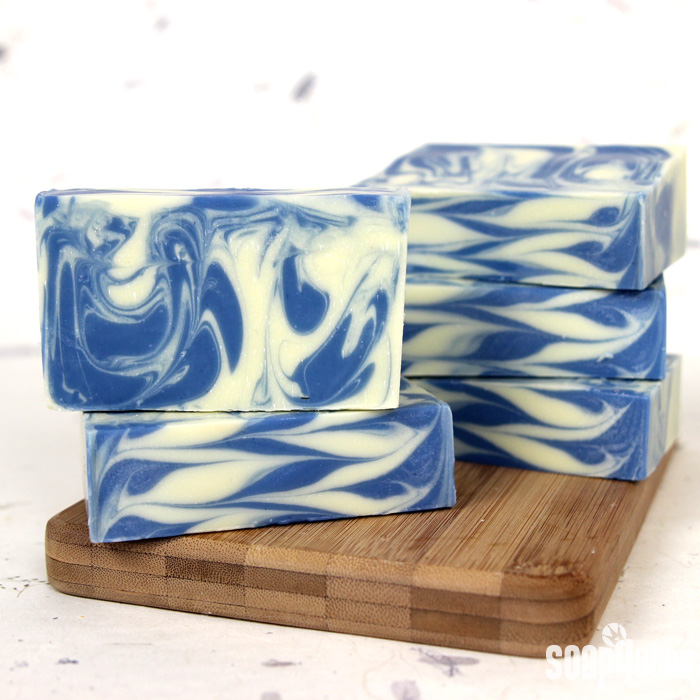 [Read more…]