I love any excuse for my family to get together! After finding out the gender of our Bramble Bump, I was delighted to host another gender reveal party for the extended family to share the news. I also ran with the theme in the baked goods and decor department – you can check out the super fun layered ombre cake recipe I made here. These yummy little shortbread cookies where a hit with the fam, and Jamisen was delighted to be surrounded by so. much. sugar. =)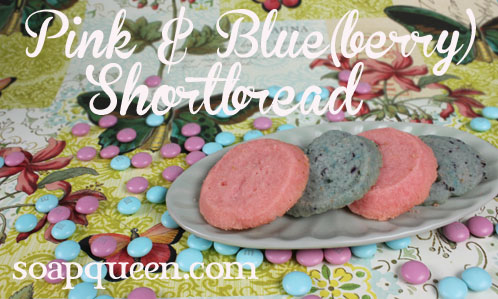 Recipe 1: Blue(berry) Shortbread
2 sticks unsalted butter, room temperature
1/2 cup plus 1 tablespoon sugar, divided
2 cups plus 1 tablespoon flour
1/8 teaspoon salt
½ cup fresh blueberries
ONE: Preheat oven to 300 degrees. In a food processor, pulse blueberries to a puree.
TWO: Mix butter and ½ cup sugar on medium speed until light and creamy. Combine the flour and salt, and then mix into the butter mixture on low speed. With a spatula, stir in the blueberry puree.
THREE: Roll out the dough on a floured surface and use a Circle Cutter or other cookie cutter to create fun shapes, then set on a cookie sheet. Or, press the dough into an 8 inch pan. Bake 40 minutes or until golden brown. If shortbread is under baked, it will more cakey. You'll notice one of my cookies was a little burnt (second batch that I didn't watch as closely; whoops – watch those cookies! Sugar and butter taste yummy, even when burnt though …)
FOUR: If you baked the whole dough in a pan, slice into rectangles, about 1 x 2.5 inches, while the shortbread is warm but leave it in the pan. Prick the top with a toothpick if desired. Sprinkle with remaining 1 tablespoon sugar. Cool completely on the cookie sheet or in the pan before removing.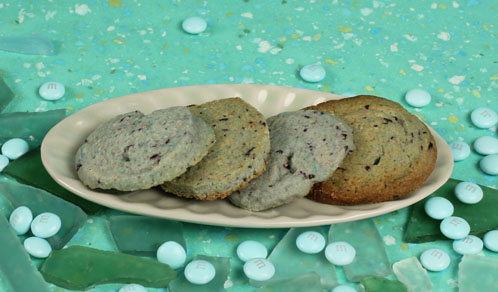 Recipe 2: Pink Shortbread 
Ingredients
1 cup (2 sticks) unsalted butter, room temperature, plus more for pan
2 cups all-purpose flour
3/4 teaspoon coarse salt
1/2 cup confectioners' or granulated sugar
Red Food Coloring
ONE:  Preheat oven to 325 degrees. Sift together flour and salt in a small bowl. In a large bowl, with an electric mixer on medium, cream butter until fluffy, 3 to 5 minutes. Add sugar and continue to beat until very light in color and fluffy, scraping down sides of bowl as necessary, about 2 minutes more. Add flour mixture, and beat on low, scraping bowl if necessary, until flour is just incorporated and dough sticks together when squeezed. Mix in Red Food Coloring, a couple drops at a time, until desired color is achieved.
TWO: You can either roll out the dough and use a Circle Cutter to cut individual cookies and bake them on a cookie sheet, or press the dough into a buttered 8 inch pan. If using the pan, take a paring knife and score dough into rectangles or wedges (depending on the shape of your pan). Prick all over in even intervals with a wooden skewer or fork.
THREE:  Bake until firm in the center and just starting to color, about 50 minutes. Transfer cookie sheet or pan to a wire rack, and let cool completely. Notice my two color variations; one is extra crispy and one is extra soft. I love love love a soft shortbread so start checking your cookies at minute 30 if you're like me and like a soft, chewy shortbread. =)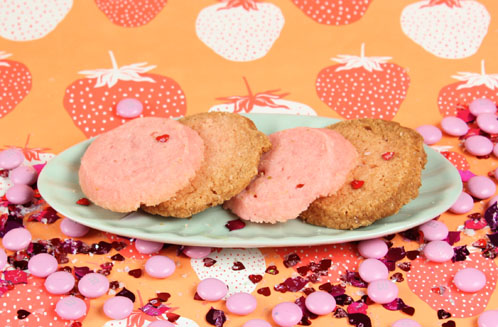 Here is the latest picture of little Bramble Girl. You'll notice that she clearly is practicing to be a yoga master. =) I'm sure she appreciated eating the delicious shortbread cookies at her Gender Reveal Party.