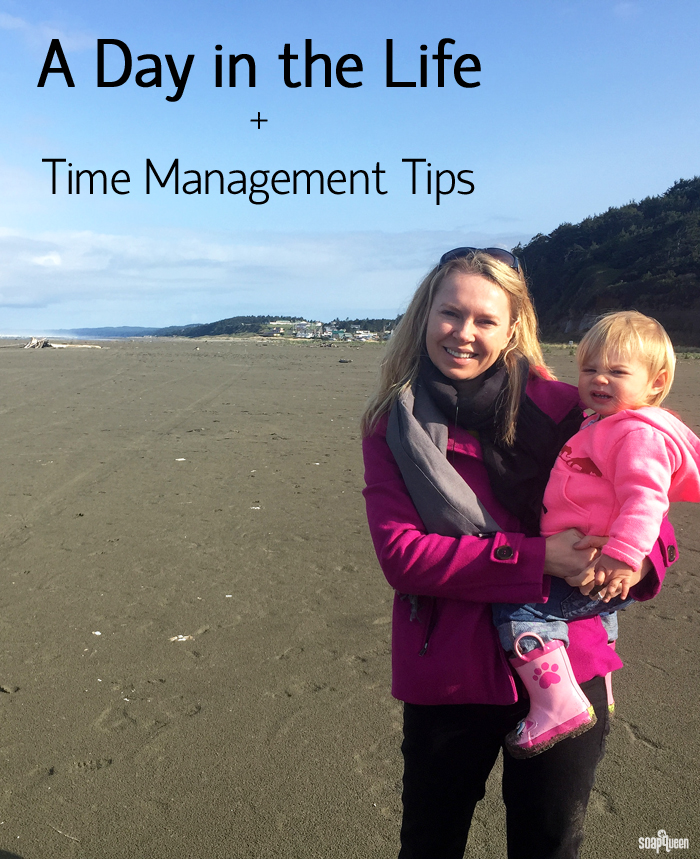 At a young age, my dad and mom instilled the value of hard work into my brother and I. Our dad also taught us about financial literacy and the importance of responsibility. I believe these lessons developed my passion for business and drive to stay busy. And yes, stay busy, deliberately! I am genuinely happier when I am hopping with very little down time. Between two active kids, a self-employed husband, Bramble Berry, Handmade Beauty Box, Soap Queen and about ten other projects at any given moment…my day is always full to overflowing.

This is not me complaining; I wouldn't have it any other way. I love being busy! But, I do get asked quite often how I fit everything in. Let me preface by saying that I have a lot of support. On the home front, my amazing husband and nanny help me with the kids, chores and other tasks. At Bramble Berry, I have an awesome customer service team to answer emails, a marketing team who plan sales and the amazing warehouse team who pulls and packs each order by hand. Here on the blog, I have a team who helps me edit the blog, take photos and help respond to comments. I feel really lucky to have them all on my side! Of course, it wasn't always that way. All of these teams have slowly grown and have been added as it became financially viable to do so. I used to do all the marketing, blogging, commenting and customer service (also, for the record: this was back in the day when I also walked uphill, both ways, in the snow, to school).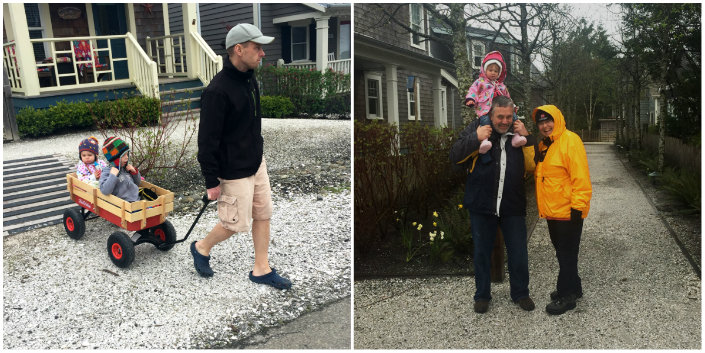 A couldn't do it all without support from my family! On the left is my husband-extraordinaire Chris, and on the right are my amazing parents. 
My other source of time management support are tools. These tools come in the form of calenders, planners, timers and apps. One of my favorite apps is called Eternity, and it measures every minute of my work day. I use this tool to analyze what areas I need to spend more time on, or less time. For example, if I know that Handmade Beauty Box (HBB on the graph below) is a major goal of mine but I only spent 6% of my time on it in the last month. It's clear that I need to course-correct how I'm spending my time this month. My results for last month at work are in the graph below. You can read more about my time management strategies and tips in the 6 Simple Strategies for Better Time Management blog post.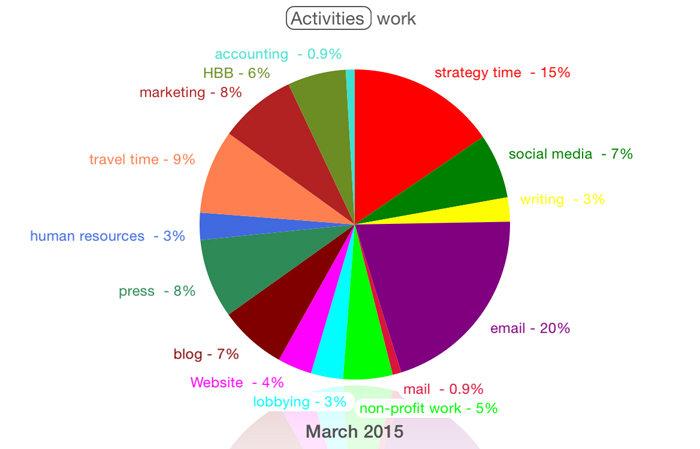 My other favorite time management tool is an "old fashioned" planner. While technology is great (and yes, I am a shared Google calender devotee!), sometimes jotting down small tasks or reminders on paper is the best way to go. I also use this planner/calender to write down personal monthly and weekly goals. I use this planner to remind myself to schedule personal appointments and events. It is open on my bathroom counter at all times so I can look at it and see what the day entails as well as my husband. You'll notice the Desire Map words on the bottom of my planner. It's my reminder that even with all the busy, scheduled'ness, that I'm doing all my activities so I can feel connected, vibrant, authentic, abundant and energetic.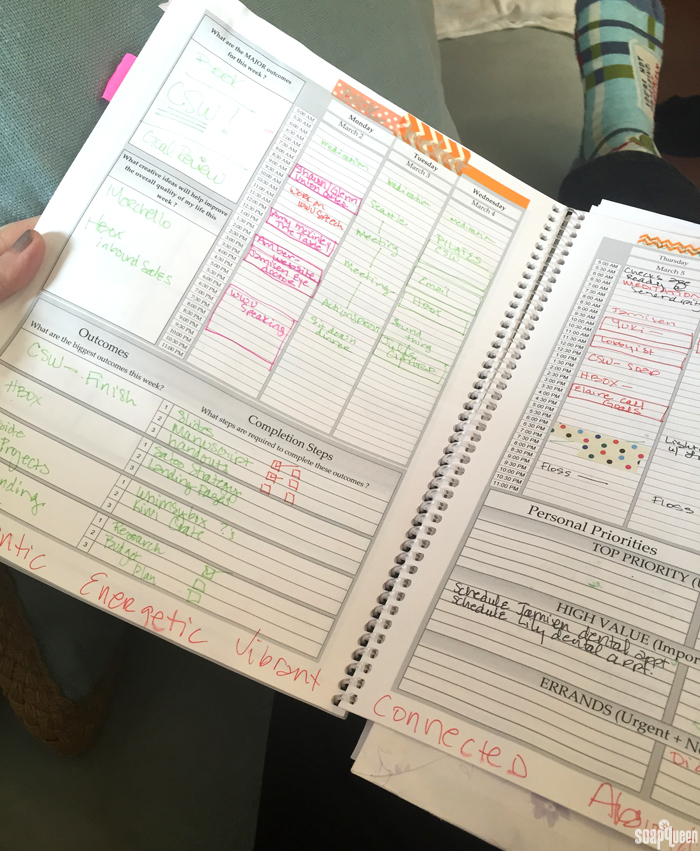 My planner/calender is always by my side. Notice my reminders to floss? I write down nearly everything in this thing!
So, what does my average day look like? Let's take a look at Tuesday, March 10th (before my house "blew-up" my average schedule, hah!). Not listed in this schedule is copious amounts of tea drinking for energy and hydration, lots of cheering, water cooler chats and plenty of texting/answering emails on my phone. I'm a bit of a multi-tasker =)
Tuesday, March 10th Schedule:

5:00 AM: Wake up bright and early. Meditate first and review objectives on my paper calender for the day. Try super hard not to look at phone.
6:00 AM: Get kids bathed and dressed. Take shower myself, get dressed.
7:00 AM: Feed the kids and make sure Chris and I have something small for breakfast. Leave for the Bramble Berry office with one or both kids for school drop-off.


8:00ish AM: Arrive at Bramble Berry. Take a quick scan of my emails. Answer anything time sensitive…will work on the rest later! Check in with team about anything I need to know.
9:00 AM: Work on and review blog post for the day.
10:00-10:30 AM: Pilates Class! This helps give me a little energy boost for the rest of the afternoon. The gym is a block from Bramble Berry.
10:30-11:30 AM: Meet with the Handmade Beauty Box team to brainstorm and troubleshoot.
11:30-1:00 PM: Eat a quick lunch at desk, read latest Inc magazine during lunch. Work on emails up at treadmill. The goal is an empty inbox!
1:00-2:00 PM: Make cold process soap for blog.
2:00-3:00 PM: Conference calls with nonprofit organizations and Coalition of Handcrafted Entrepreneurs.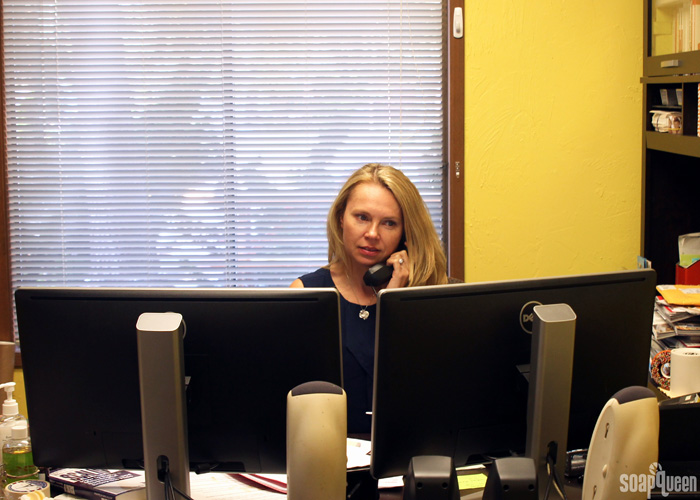 3:00-3:30 PM: Meet with Bramble Berry accountant to review numbers.
3:30-4:00 PM: Respond to messages on Twitter and Instagram, on the treadmill desk.
4:00-4:30 PM: Respond to more emails, on the treadmill desk. Leave an empty inbox in an ideal world.
4:30-5:00 PM: Leave Bramble Berry and arrive home by 5. Family sit-down dinner is our goal for 3 days a week.
5:00-6:00 PM: Cook dinner, spend time with family, try to encourage everyone to 'clean up, clean up, we all do our part' after dinner.
6:00-7:00 PM: Eat dinner. Try not to look at phone. Play with Jamisen and Lily.
7:00-8:00 PM: Put kids in pajamas, get them ready for bed. Read numerous bedtime stories and put them to sleep. Get them water. Put them to sleep again. Convince them there are no monsters under the bed. Put them to sleep again. Repeat with any number of toddler excuses.
8:00-10:00 PM: Answer emails, clean house, run laundry, plan for tomorrow, lay out outfit, talk with Chris about our respective days.
10:00-11:00 PM: Drink bed time tea. Read a few chapters in my current book club book.
11:00 PM: Hit the hay, confirm FitBit alarm is set (I love it because it doesn't wake my husband!)
Phew! Full? Yes. But my schedule is rewarding. Throughout the day I am meeting with team members to solve problems and plan for the future. This particular day I even had some time to make soap, which is always a plus. My number one time management tip? Plan, plan, plan! Before I go to bed each night I strategize for the following day. That way I wake up in the morning with goals and things to accomplish. If you're looking for even more time management tips, check out the Run Little Mouse, Run blog post, along with the Plan Little Mouse, Plan blog post. Both of these posts are several years old, but I still use many of the same time management techniques.
If you have any time management tips, I am always looking for ways to maximize every minute of my day!