Click here for Day One: Examine Your Starting Point of 'Designing your Best 2011!"
Click here for Day Two: Determine Your Values
Click here for Day Three: Visualize Your End Point
Click here for Day Four: Chunk Into Goals
Click here Day Five: Stumbling Blocks
Day Six: Public Declaration/Word for the Year (and a wee small contest!)  




The last step of effective goal setting is to publicly share. Your idea of publicly may be just your best friend, your accountability partners, your entire office, or the world on your blog. Or in this case, THIS blog! There's two ways to enter:


1) Post a comment and tell us all one (or two, or three) of your goals for 2011. Share as little or as much in the way of details as you'd like but share your SMART goal(s). One of mine is date night weekly (with a couple months off for newborn stage) and to write in my gratitude journal every night. 


2) Post a comment with what your overarching theme for the year is. It could be your word of intention for 2011 (mine is 'Balance') or your theme for the year (yup, got one of those too; mine is "Taking the Perfection Beast").


And last step? Tell me if you want to win the Cold Process Prize or the Melt and Pour prize. We'll randomly choose one of each winner on Friday the 7th of January.  


Do you want to win a prize? Of course you do! (silly question) Post with one of the two (or both!) of the options from above and you're automatically entered. Don't forget to tell me if you're entering for the CP or the MP prize.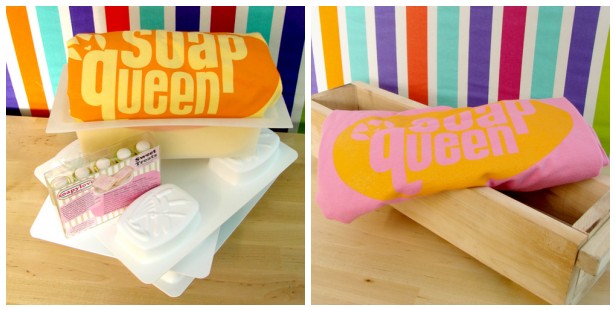 And here are the prizes you could win! 
(Insert "oohhs" and "aahhs" here)!
The Melt and Pour Prize is on the left. The prize includes three "less than perfect" ELF molds, one plastic loaf mold , a Soapylove Sweet Treats Colorant set and a Soap Queen T-Shirt! On the right is the Cold Process Prize consisting of a "less than perfect" 5 pound Wood Log Mold with Removable Handles (minus one handle) and a Soap Queen T-Shirt! Good luck and Happy New Year!