I recently bought some amazing soap from EvieSoap's shop on Etsy. I had a hard time choosing which bar to buy, but ultimately went with Balance, a mixture of Ocean Rain, Vetiver and Bergamot that is wonderfully calming yet fresh. Upon receiving my order, I was delighted to see a few extras tucked in! Lindsay, a mix of Sweet Meyer Lemon and Lemongrass, is earthy and sweet, and Urban Antidote is a refreshing and invigorating blend of Lavender, Rosemary and Peppermint. With such a talent for creating unique and colorful fragrance/essential oil blends and such nice extra touches with my order (including a hand written thank you note), I had to get to know the artisan behind EvieSoap!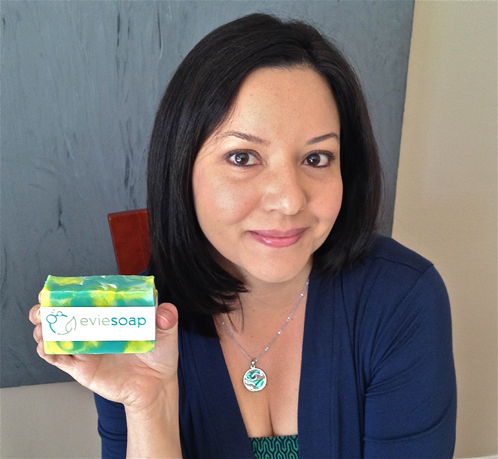 SoapQueen: Tell us a little bit about yourself! When you're not busy keeping your shop stocked with awesome soaps, what are you up to?
EvieSoap: I have a full-time day job as a Human Resources Business Partner for a medical device company. When I'm not at work, I spend the majority of my free time working on soap and my soap business. I'm so passionate about soap making – I wish I had more time to devote to it. I also love to spend time with my husband, David, and our belgian sheepdog, Asha.
SQ: So…why soap? What about soap keeps you dedicated to the business?
EvieSoap: I've had a love affair with soap for many years. Before I was a soap maker, I would spend money (more than I want to admit) on fancy expensive bars of soap – it was an indulgence for me. Then, when the economy crashed I couldn't bring myself to continue to splurge like that, so I went back to using commercial soap. What a mistake! While the fancy, expensive brands didn't do wonders for my skin, the commercial soap was really damaging. That's when I started researching making my own soap. If I knew then what I know now about ingredients, the soap making process, etc. I would have started making my own soap years ago. It's not that difficult and it's so much better for your skin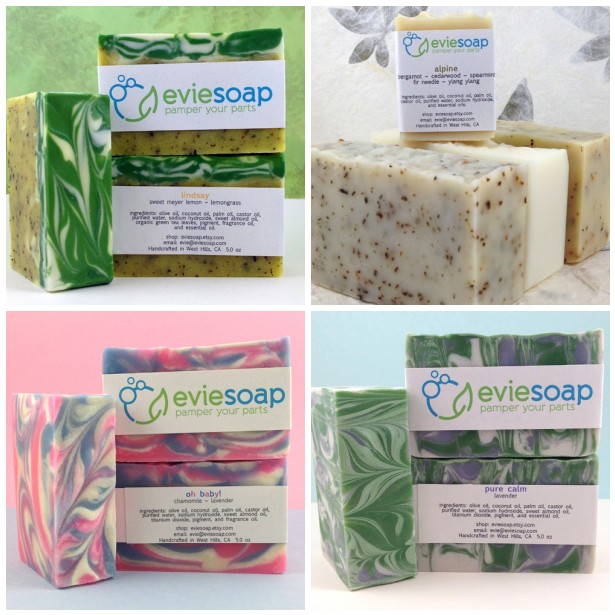 SQ: What made you commit to creating only vegan products?
EvieSoap: There are so many wonderful plant-based ingredients available that I just don't feel the need to use animal-based ingredients. While I'm not currently a vegan or a vegetarian, but I have tried both lifestyles at various points in my life and I have a great deal of respect for those that have that kind of commitment. I'm also passionate about protecting the environment, which includes respecting animals. The images of water, plants, and recycling are reflected in my logo.
SQ: Your soaps are so bright and colorful! Where does your color inspiration come from?
EvieSoap: Thank you! It's kinda funny but I didn't start out with using color at all. I was so focused on making a high quality product that color was the last thing on my mind. Once I had some recipes that I felt really good about, I started working on fragrances and then color. My husband really encouraged and inspired me to think creatively about color – in the beginning, he was my color and swirling guy. Now, when I smell a fragrance or a blend I've created, the colors appear in my mind and I just know what the soap is going to look like even before I make it. And I almost always name my soaps before I make them. When someone uses an EvieSoap, I want ALL of their senses or "parts" to feel pampered – touch, smell, sight. I'm also tremendously inspired by other soap artisans, the soapqueen blog, and the fabulous tutorials on soapqueentv.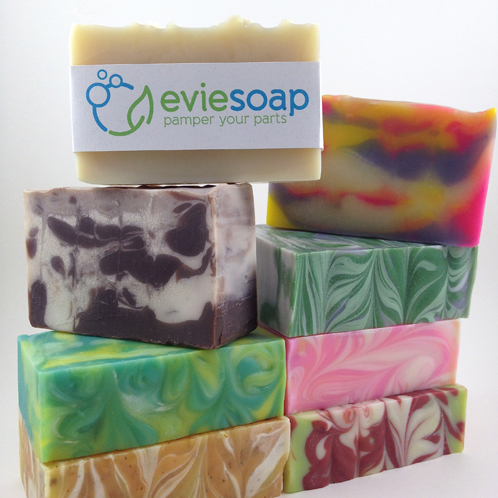 SQ: It was really hard to choose which bar(s) to purchase from your Etsy shop. Which ones are your top sellers?
EvieSoap: I've made so many different fragrances that I have difficulty keeping track of that myself. My top sellers are "lindsay", "clean laundry", and "warm lawn".
SQ: How long has EvieSoap been in business? What's your best tidbit of advice for other small business owners?
EvieSoap: EvieSoap has been in business for about a year now. I hope to expand my product line (though soap will always be the core product) and branch out from strictly web sales into wholesale. I'm not sure if I have great advice for other small business owners. I'm learning this whole process myself. The move from hobby to business happened so quickly – I'm not sure where all of this is heading to be honest. Right now, I'm following my passion that started me down this road in the first place, so we'll see where it takes me.
SQ: What is your favorite Bramble Berry product?
EvieSoap: I love the lotion base. I use it personally and I use it when I'm creating a new fragrance blend. It helps me create soap fragrances without having to make a whole batch of soap.
Thank you Evelyn for such a great interview. I can't believe that EvieSoap has only been open for a year. The branding is so lovely and consistent, the bars are nicely and evenly made and the customer service was spot-on. What an inspiration!