Fair Ivy is a fun happy subscription where you receive a surprise package of carefully curated items in the mail every month. Really? A surprise package? How fun is that? The business started over a cup of coffee and the observation that we, as adults, never get packages in the mail anymore. And if we do, we already know what's inside (hello Amazon, Zappos and Etsy). Based on that observation, the surprise package subscription was created. Read the
history of Fair Ivy here
.
Here's what our first Fair Ivy surprise package looked like.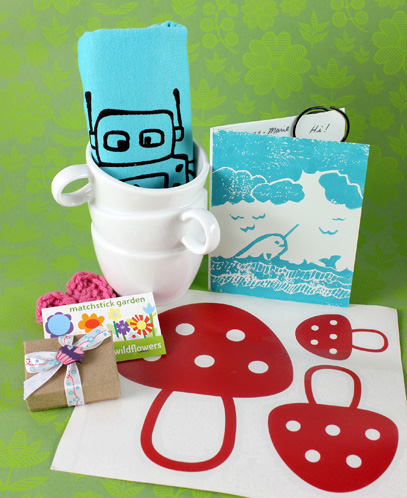 Our kit came with some matchstick plant seeds, mushroom decals, a knitted heart and the cutest stacked teacups mug. The blue fabric in the mug is a scarf with robot decal (so techy chic).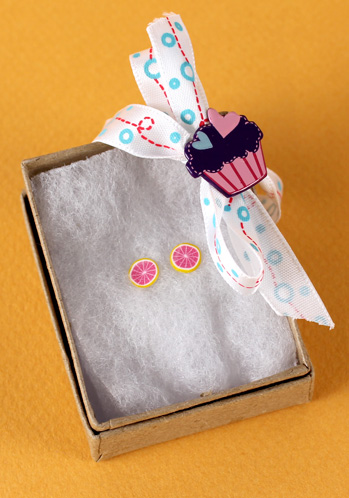 Mini grapefruit earrings inside the cutely packaged cupcake box.
The Contest
Do you have a small soap business or have you always dreamed of getting your soap business off the ground?  Then keep reading. We're offering you a chance to win a big sale! We've created a contest with Fair Ivy that will benefit our customers and theirs. Fair Ivy is looking for a toiletry product to include in their surprise boxes and that's where you come in. We know how talented our customers are and think something YOU make would be great for a Fair Ivy subscription.
How to Enter
Send us your Fair Ivy submission by Friday April 8th. Remember to send a quantity of two.
Ship to: Bramble Berry Inc.
C/O Fair Ivy Contest
2138 Humboldt Street
Bellingham, WA 98225
What to Enter
Anything in the toiletry department; Soaps, Lotions, Scrubs, Candles, Creams. If you have any questions just email contest(at)brambleberry(dot)com.
Entries
The Bramble Berry team will test each product and decide on the top 3.
Finalists
We'll send the finalists over to Fair Ivy who will will choose the grand prize winner to include in their surprise packages.
The Winner
Fair Ivy will purchase a quantity of 50 of your product at $4 each (with room to go up to $6 if the product is out-of-this-world amazing). Please note that Bramble Berry and its affiliates, including Soap Queen, are not responsible for anything having to do with the Purchase Order, Payment etc… We are just handing off the best soaps and leave it up to you, the crafter, to negotiate terms with Fair Ivy.
The Fine Print

Make sure to label your product with ingredients, your name, company and contact information.
Please keep the cost of supplies in mind. If you win, Fair Ivy will be paying $4 for your product.

Benefits of the Contest
Get your name out there! We'll be blogging entries as they come in
Could this be your first wholesale account?
Have you always wanted to start your business? This is the perfect opportunity to take that chance.
All participants will be entered in a drawing to win some of the extra goodies!