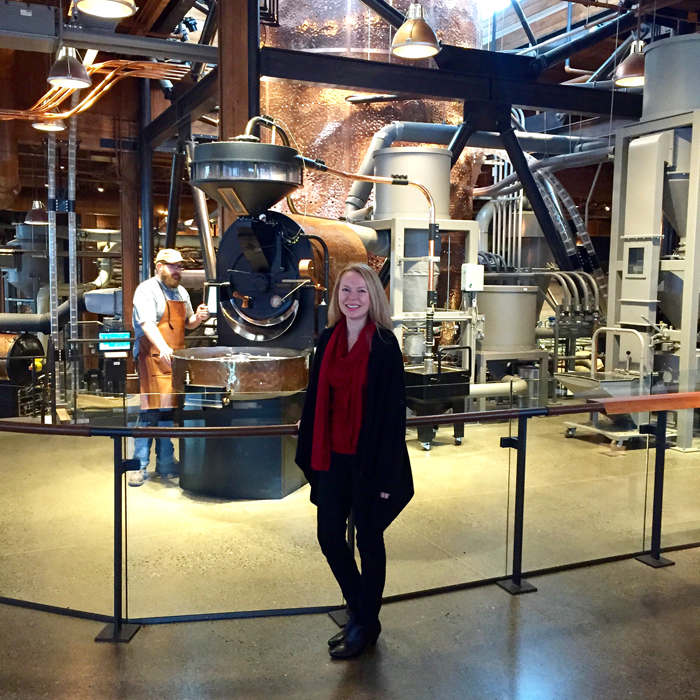 I am ridiculously lucky to live in the Pacific Northwest – and not just for the three months out of the year that it's sunny. There are many fun things to do between Seattle and Vancouver, BC and now Seattle has the first Starbucks Reserve Roastery & Tasting Room to add to its iconic "Fun" list.
First of all, this place is the Disneyland of Coffee. It's like a Willy Wonka set come to life, with copper coffee tubing, gorgeous wood paneling and custom lamps everywhere. It's 15,000 square feet of luxury coffee messaging. It's clear that it's a Starbucks when you walk in but it's a Starbucks that's been upleveled, that whispers sophistication, gravitas and just begs you to walk downstairs to explore.
And downstairs is where the magic begins. Behold: the Siphon. This amazing coffee machine looks both futuristic and Jules Verne-like in its make-up. What it does produce is an amazing, $10 cup of coffee. And before you spit your homemade joe out, yes, it's one-zero, ten, dollars for ONE cup of coffee. Would I buy it again? Yes. Was it better tasting than a Folger cup of coffee by a full 20 times? Probably. But what I'm more excited and happy to pay for is the 15 minutes of experience that goes into making, watching and tasting that coffee.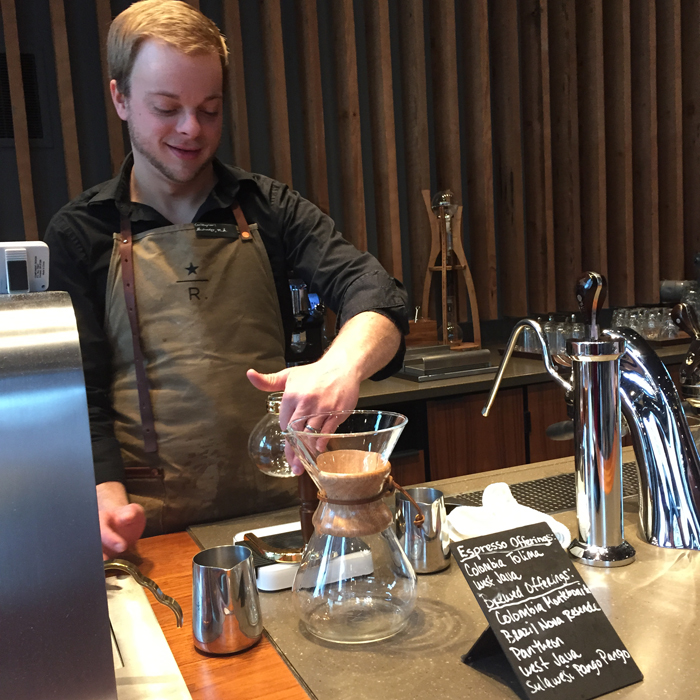 From the moment you walk into the Starbucks Reserve Roastery, everything is elevated; there is someone that greets you to tell you about the store, there are maps, there are Tom Douglas-created kale salads and there is exclusive, carefully curated non-Starbucks and Starbucks Reserve merchandise. After you wind your way through the coffee house, there are a set of oversized stairs that lead down to the actual tasting bar.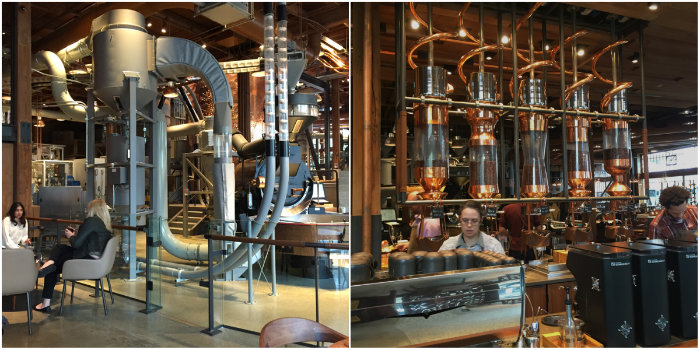 The tasting bar is marked as an exclusive experience because, 1: it probably seats 25 people max and 2: the actual bar is small. It's designed for intimacy, for close conversation and for the true coffee connoisseur. When I was there, a group of four people were there, furiously writing down their coffee tasting notes and coffee thoughts in little well-worn books. They were not amateurs!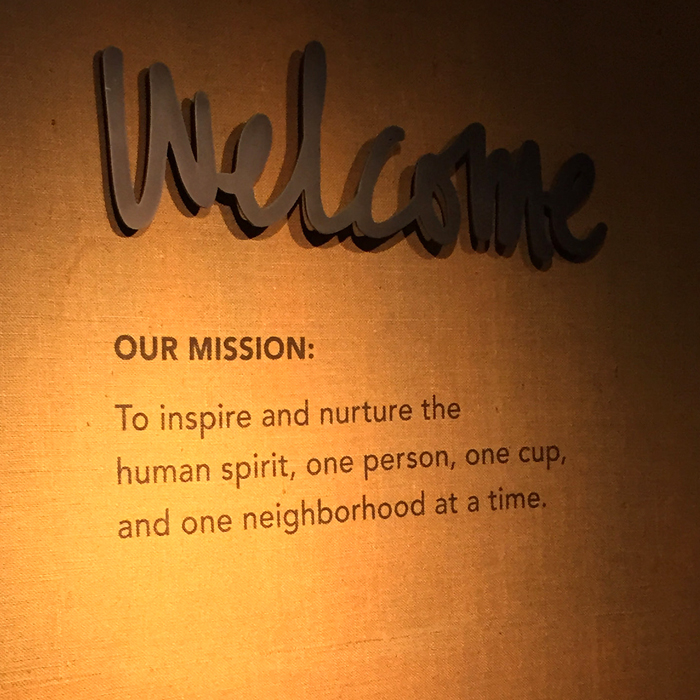 I had instant business takeaways while in the store. Since leaving, I've wondered how to implement them at Bramble Berry, Otion, or Handmade Beauty Box. I'm still pondering that. My thoughts on the Starbucks Reserve Roastery and business:
1. People pay for experience. You don't need to be the Dunkin Donuts or McDonalds of Coffee. There is an entire subset of the population that values every detail, the relishes being part of something larger and is enthralled by the sheer hooplah around it all. It's the reason that those taffy shops by the seashore have windows that you can watch the taffy pulling machines, the reason that Disneyland flourishes and why box seats at sporting events exist: engagement.
Ideas on where a Maker can take this? Behind the scenes videos or blog posts, mini demonstrations when selling at markets, manufacturing hours where customers can watch you produce. All these things give your customers a better sense of who you, your products and brand are. It also gives them a sense of participation which creates a stronger bond with your brand.
2. Top notch attracts top notch. Starbucks built the most gorgeous coffee shop I've ever seen. Partners (Starbucks calls its employees and baristas 'partners') were clamoring to work there. Starbucks moved people from all over the nation, the best of the best, to work at the store. This supports the amazing experience that allows Starbucks to charge $50 for a pound of Reserve coffee.
Ideas on how a Maker can use this? If you're trying to sell a $65 scarf or a $12 bar of soap, every detail must be well-thought out and perfect. When each detail is immaculate, people will take notice and want to be a part of it!
3. It's the storytelling. The coffee ambassadors at Starbucks Roastery rattle off the virtues of the particular rare coffees they are brewing and serving that day; everything from where it is grown (Pango Pango for me), to the flavor profile (spicy herbal notes), to the schools that Starbucks has helped to build for over 100 Sulawesi families. This sense of place evoked a feeling, a richness of experience that anchored me more in the "this is special, this is to be savored," feeling that the Reserve store is designed to produce.
Ideas on how a Maker can use this? Your ingredients ARE better than mass produced, store bought products. Talk about where your ingredients come from, tell the story about how you support non-profit causes and give a sense of place to the products you sell.
 4. You can have the high end and the high high end. Starbucks Reserve cafe has different pricing and products than the traditional Starbucks stores. And while Starbucks stores have never been accused of being economical, the Reserve is unapologetically high end with exclusive beans, unique menu items and a drink menu that is suspiciously missing those Double Grande Frappuccino Caramel Whipped Cream concoctions (clearly, a true connoisseur would never touch those, right?).  They are having their cake (cafe!) and eating (drinking!) it too.
Ideas on how a Maker can use this?  You can cater to both a high end, as well as the high high end customer and market. Having different price points attracts different consumers, and this is a good thing. Keep in mind products at different price points should still be cohesive with your brand. If targeting two different price points, make sure that the lower end products do not detract from the high end. Vice versa, the lower price point should not diminish the value of the high end products. It's all in how you market them!
Have you visited a store or place recently that has inspired you? I was so impressed with my experience at the Starbucks Reserve Roastery & Tasting Room. I left feeling energized about coffee (and this wasn't just the caffeine talking), and Starbucks in general. And when leaving a store, or experiencing a brand…isn't that how we want to feel? Striving to create a sense of community, participation and excitement is something every business owner should aspire to.