With Halloween a few short weeks away, now is the time be inspired by ghosts, ghouls, witches and yes, soap! Keep your eyes on the blog for a festive Halloween melt and pour project tomorrow. To whet your appetite, here are several fun and spooky Halloween projects to get your creative juices flowing.
If you are a cold process soaper, the Cold Process Spider Webs project is created by utilizing squeeze bottles and a simple chopstick-tool technique. Made with contrasting black and white hues, this project also looks great with eerie greens, purple or orange tones.
If you prefer melt and pour soap, the Caramel Apple Melt and Pour Soaps are perfect for Halloween party favors. Looking for something more spine-chilling? The Textured Headstone Melt and Pour brings the creepiness.
In the Hats, Bats and Spider Tutorial, mica is used along with a free downloadable stencil to create a variety of spooky silhouettes. Eerie eyeballs are are layered upon various melt and pour bars in the Spooooooky Eyes and Melt and Pour, creating a fun and festive project.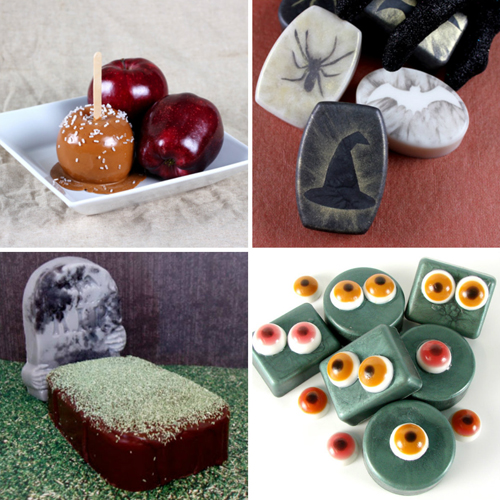 Top left, clockwise: Caramel Apple Melt and Pour Soaps, Hats, Bats and Spiders, Spoooooooky Eyes Melt and Pour, Textured Headstone Soap
With Halloween comes lots of candy, sweets and of course trick-or-treating. In the Easy Candy Corn Soap Project, recreate the classic Halloween treat by using a loaf mold and cutting the soap into triangle shapes. Incredibly simple, this project is great for the first time soaper.
If you love classic Halloween designs, the Flexy Fast Fall Pumpkins is the perfect project for the fall season. These cute pumpkins are made using the Flexy Fast Molding Putty, a flexible silicone product which allows you to create your own mold. As you can see from the Making a Mini Cooper Tutorial, the Flexy Fast Molding Putty can create a wide variety of creative shapes!
Looking for even more Halloween project inspiration? Check out the wide variety of ghoulish fun created by readers for the Make It Monday Challenge! With everything from orange soapy cupcakes to spooky melt and pour, the creativity of the Soap Queen soaping community is unparalleled.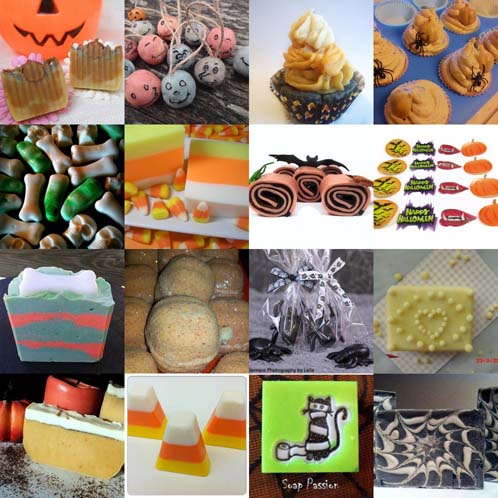 What spooky Halloween projects are you working on? Keep your eyes on the blog for a tutorial tomorrow! Hint: it involves pumpkins, and some rope! =)