Life is full of ups and downs, and you have to expect the unexpected. Soap making is no exception. When a Soap Crafting Club project went sour because of a mis-manufactured fragrance, we got creative and saved the soap with the Hot Process Hero technique. The result was this colorful Black Cherry Hot Process Hero Tutorial. Rolling with the punches is key to business as well, as the demise of the shopping guide The Daily Candy demonstrates. As we learn from our mistakes, it's also important to celebrate successes. The interview with Jill of Calise Soapworks is a great example of a small operation growing into a successful, full-fledged business.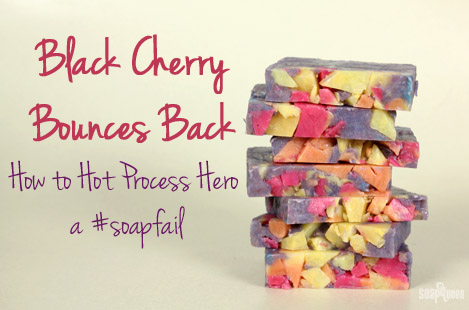 This week we also shared the Springtime Room Spray Tutorial, which is a great recipe for beginners. Made with a refreshing combination of Crisp Apple Rose and Spring Meadow Fragrance Oil, it brings the fresh scent of spring inside. If you're looking for more quick and simple projects inspired by warmer weather, the Sparkle Power Bath Bomb Tutorial and Sweet Summer Scrub Tutorial are great places to start. Speaking of warm weather, our Facebook Photo of the Week from Margaret of Sweet Soft Skin Handmade Soaps is a great example of a spring cold process project: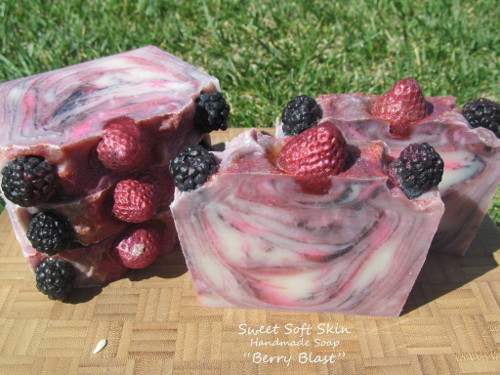 Scented with Strawberry and Blackberry Sage Cybilla, this soap features a beautiful in-the-pot swirl technique with adorable berry embeds on top. The berry colors are spot on — the subtle hints of black really bring out the reds and pinks, making this a standout soap. This is also an example of the In-The-Pot-Swirl technique. If you're interested in conquering this technique, check out the 4 Color In-The-Pot-Swirl Cold Process Tutorial. Once you feel comfortable with the swirl, step it up and try the Element Swirl Cold Process Tutorial which combines two separate in-the-pot-swirls.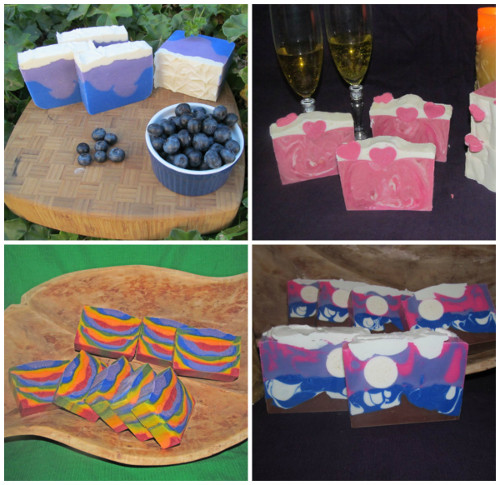 Margaret's soap is full of bright colors and wide range of techniques. Pictured above (top left, clockwise) is her Blissful Blueberry Soap, Champagne Kisses Soap,  Moonlit Walk Soap and Rainbow Soap. If you'd like to create your own rainbow hued soap, check out the Rainbow Squirty Swirls Tutorial.

Find Sweet Soft Skin Handmade Soaps
Would you like your photo or project to be featured on the blog? Come join us for soap talk, contests and lots of crafty inspiration on Bramble Berry's Facebook page and share a photo of your latest project. Your handmade soap might be next week's feature!