Like many, I was surprised to learn that Daily Candy was shutting down after 14 years in business. The popular city guide / shopping guide service started with a small email list of just 700 subscribers and was bootstrapped into a recognizable, popular brand that showcased the best products to buy, the most fashionable clothes to wear and the latest, trendy food spots to discover.  After 14 successful years and 2.5million subscribers, it is surprising to see them throw in the towel.
These are 3 lessons I'm taking away from the shut down:
1. Looks are deceiving. Daily Candy looked like it was a profitable, going concern. It had 67 employees in various cities. The newsletters were beautiful, filled with hand drawn illustrations, and were widely seen by many as leading the trends. However, within the handful of media elite and taste makers, it was whispered that Daily Candy had lost its way and was no longer leading the pack, but instead, jumping onto trends after others had spotted them. From the outside looking in, however, the business certainly seemed to have it all going on. Like the Smith's and their new car, pony and kitchen remodel next door, look deeper and there is often another story.
2. Creating quality content is hard. It's a fact that every blogger knows – coming up with consistent, readable, useful content routinely is arduous work. It's difficult to do and it's difficult to get paid for. As Goop has figured out, having products to sell makes that task easier. Daily Candy never had a clear revenue stream that worked clearly enough for traditional media to understand.
3. Nobody loves your baby like you do. The original founder, Dana Levy, was undoubtedly well compensated when Daily Candy sold in 2008 for a reported $125million. But ultimately, when the bean counters take over and the passionate founder is on the sidelines, the heart and soul leak out slowly. It may not be apparent at first but that lack of authenticity and voice eventually shine through.
So, why actually shut down the company? As one of their earliest investors said, "A brand is a terrible thing to waste." My take: I think Daily Candy didn't fit in the big media 'bucket of understanding'. There wasn't a clear path to profitability that anyone was invested in.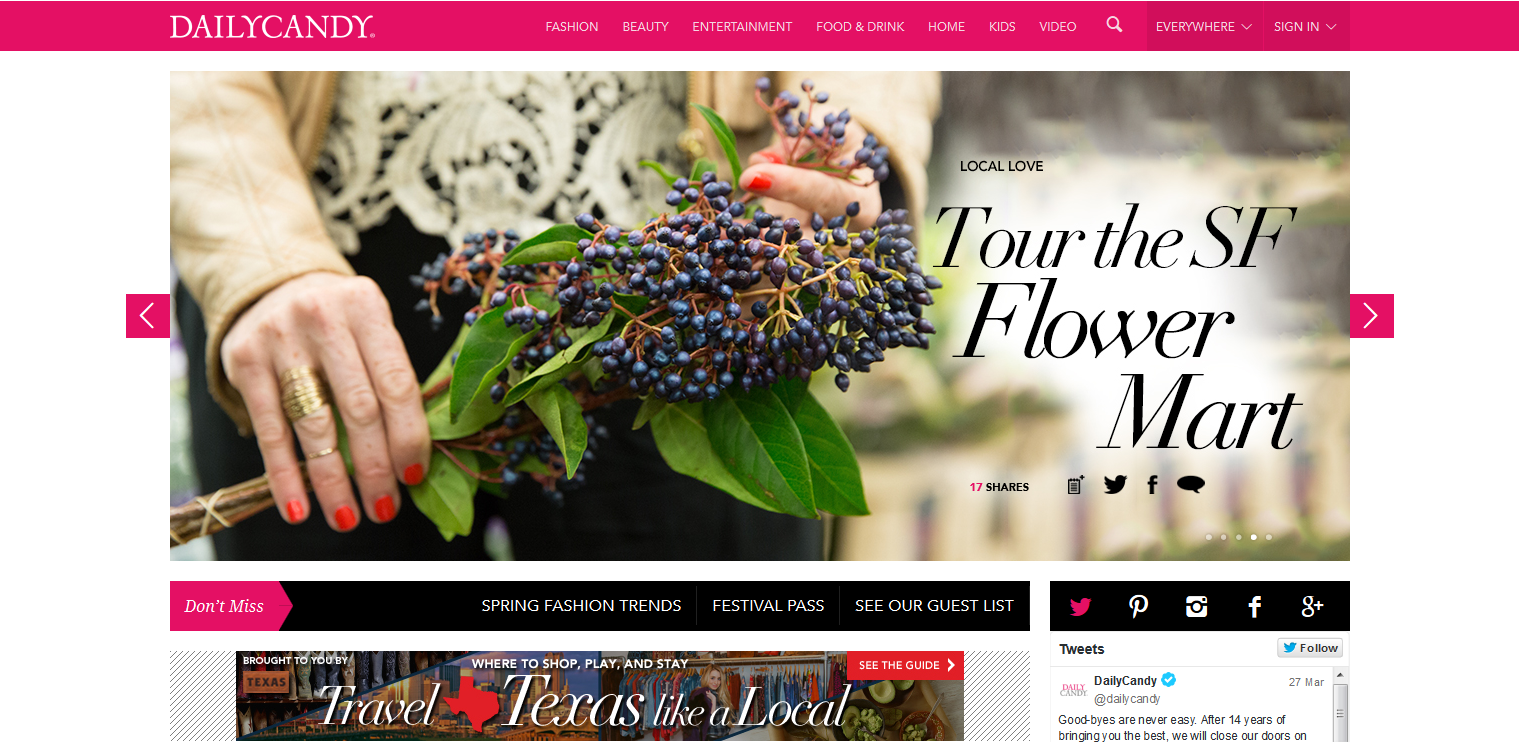 My takeaways for my business are:
1. Stay authentic. Stay the course. I started the SoapQueen blog as a way to connect with Bramble Berry customers in a new and different way, as a medium to showcase creativity of the craft, to mentor others in business and to create relationships by sharing a bit of myself. That's what I started out doing 7 years ago and over the years, as the kids have come, as Bramble Berry has gotten bigger, the temptation to take the easy route is always there (see #2 above). Daily Candy's path reminds me that there is beauty in simplicity and repetition. When you have a winning formula, do not change it.
2. Focus on the intangibles. When I started the SoapQueen blog, everyone thought I was nuts because it didn't make sense from a business perspective. It probably didn't but, it sure fit from a 'gut' perspective. I just knew that as Bramble Berry had grown, I couldn't talk to each and every person anymore and I missed our customers. I wanted to have a relationship with them again. Proving ROI (return on investment) for a soft word like "relationship" isn't easy to do. Clearly, for Daily Candy, it wasn't obvious what relationships, trust and history were worth. They're worth something. It may not be a number that makes sense to a dispassionate media executive, but as long as the relationships and trust are there, they're worth nurturing.
3. Stay involved. As Bramble Berry grows, it grows increasingly hard to have a say in the direction of everything. I approve all the products. I work daily on the blog. I review all the Facebook comments and answers. And, many more things that seem rather small. I frequently hear from other business owners that this is foolhardy, that there are other, more important things for me to spend my time. The Daily Candy story is a good reminder that anything that that affects my customer is something that I want to have a hand in. Because, see #3 above.
Do you have any thoughts on the Daily Candy shut-down? I'd love to hear them – especially if you have business take-aways to share.