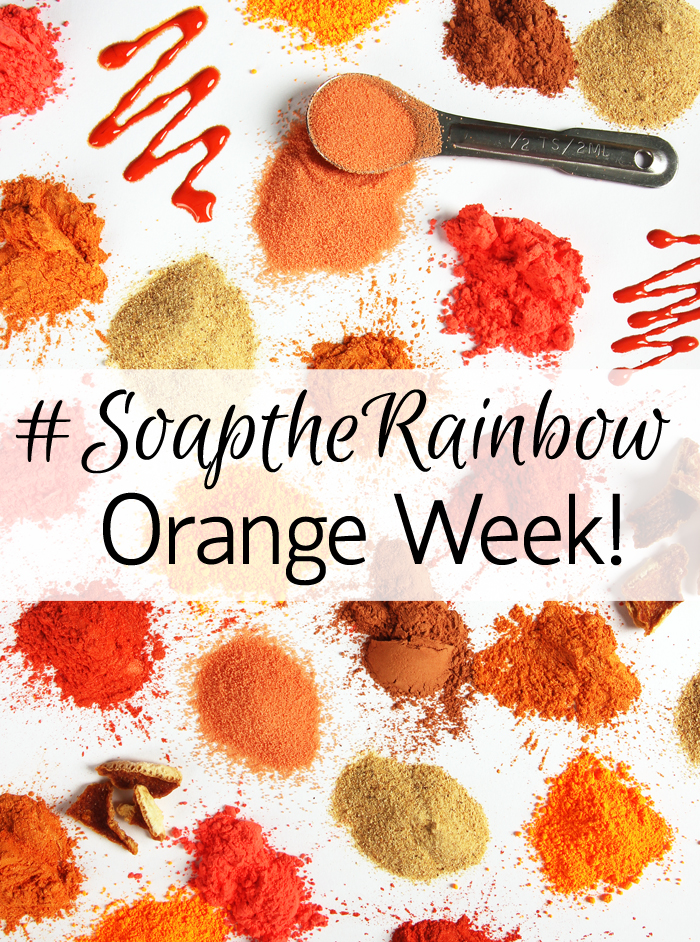 #SoaptheRainbow continued this week with all things orange. Click here to learn more about the #SoaptheRainbow series. Sarah with Spicy Pinecone used several shades of orange, along with fruity Energy Fragrance Oil, in her Solar Flare Cold Process Soap shown below. I love the vibrant swirl in her bars. For more inspiration, check out the #SoaptheRainbow Orange Week post.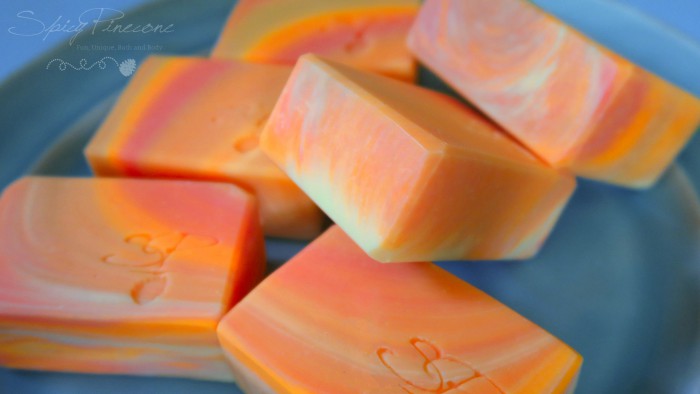 Orange is a great lip tint option, especially during the summer months. The Summer Sunburst Lip Tint is colored with Sunset Orange Mica and scented with Pineapple Flavor Oil. It also has coconut oil, organic cocoa butter cubes, white beeswax and avocado oil, which moisturize the lips. You can apply one layer for a subtle peach tint, or build the color up for a bold orange hue.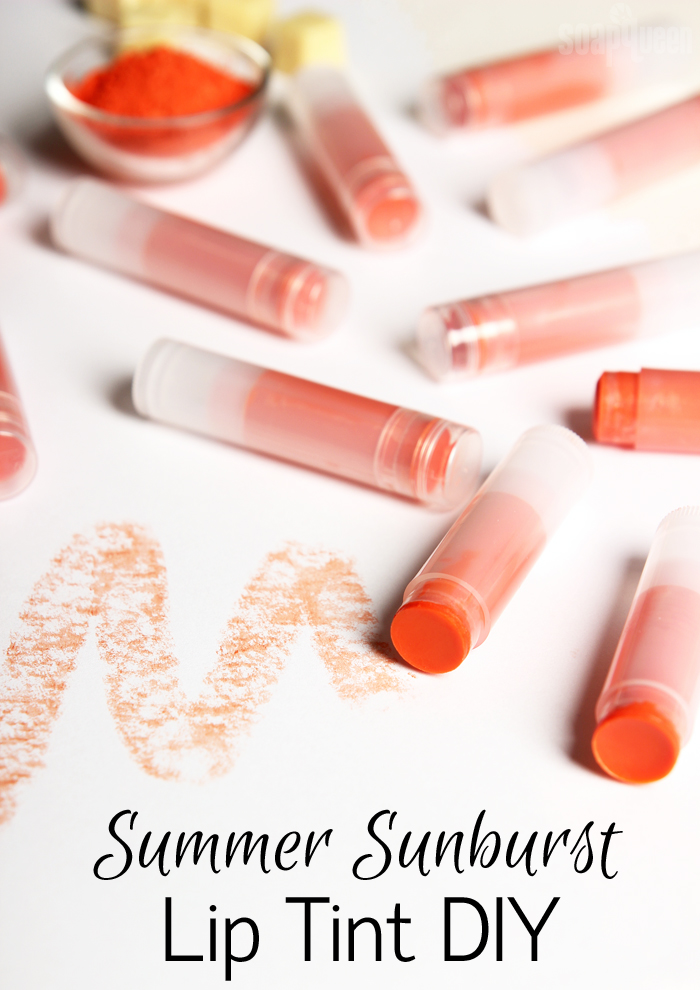 The Orange Peel Swirled Soap has four different shades of orange for a warm and vibrant look. The swirls on top are colored with Nuclear Orange Pigment, Racing Stripe Orange Mica, Tangerine Wow! Colorant and Sunset Orange Mica. Titanium dioxide pigment creates a white base that helps the orange shades pop. Orange Peel Cybilla Fragrance Oil adds a bright scent to the bars.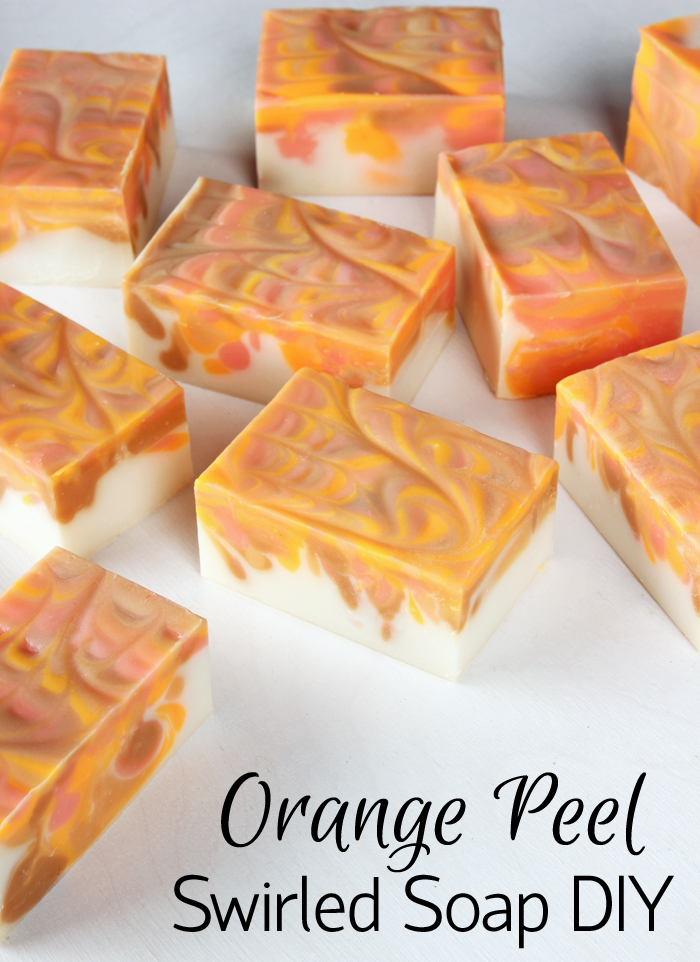 This week's Facebook Photo of the Week by Lisa with 7 Labyrinths features a lovely peachy hue and bright yellow embed. She describes it as, "Oh so summer," and I couldn't agree more!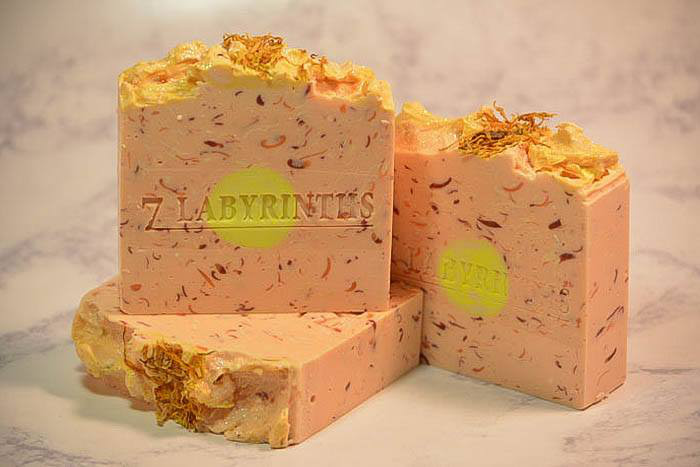 Lisa's bars are so unique. I love the confetti design and bright calendula on top. The stamp is nice and crisp as well. If you love the way the calendula looks on Lisa's soap, check out the Marbled Clay Hot Process Soap Tutorial. Calendula also adds a pop of color to the Natural Potpourri Squares.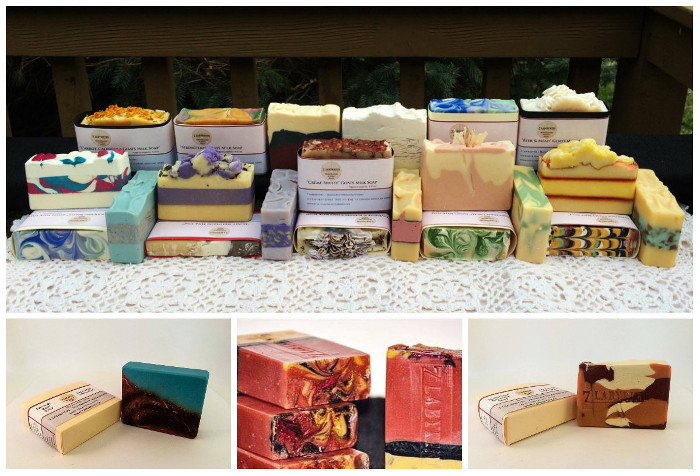 Above (clockwise, top) are Lisa's collection of soaps, orange and white soap, red soap and blue soap. For more layered designs, check out the Layered Lilac Loofah Cold Process Tutorial. The Minty Clay Melt and Pour Soap has plenty of color contrast.
Find 7 Labyrinths
On Facebook
On Etsy
On the web
This week's #SoaptheRainbow orange winners are, left to right: Magnolia and Orange Soaps by Sabun-Market, Orange Mango Bars by Lather and Company and Energy Bomb Cold Process Soap by The Soaping Owl.

As part of our #SoaptheRainbow series, we are having a Grand Prize giveaway for a Soapmaker Super Sampler Business Kit worth more than $250! Read more about the #SoaptheRainbow series here. For a chance to win, all you have to do is join the Bramble Berry Newsletter via the Rafflecopter widget below. To sign up for the newsletter, you can sign in using your Facebook account, or you can manually enter the email address you'd like to use. If you're already signed into your Facebook account, the widget may automatically use the email associated with your account. If the widget didn't ask for your email, it's because you're already signed into Facebook. =)
After you sign up, you can earn extra bonus entries by completing tasks within the widget. These are completely optional, but the more you complete the better chances you have to win! The contest ends on August 9th at noon PST. The winner will be chosen randomly by the widget.
Post pictures of your crafty creations on the Facebook page each week for a chance to be featured on the Soap Queen blog and receive a sweet soapy package from Bramble Berry. Photos are chosen based on consensus from the Bramble Berry staff, so the best way to increase your chances of winning is to show us lots of photos!
For those of you who have been featured on the blog, we now have an official "Featured on the Soap Queen" badge! You can include that badge on your website, blog, pictures, etc. To save the badge, click here. =)