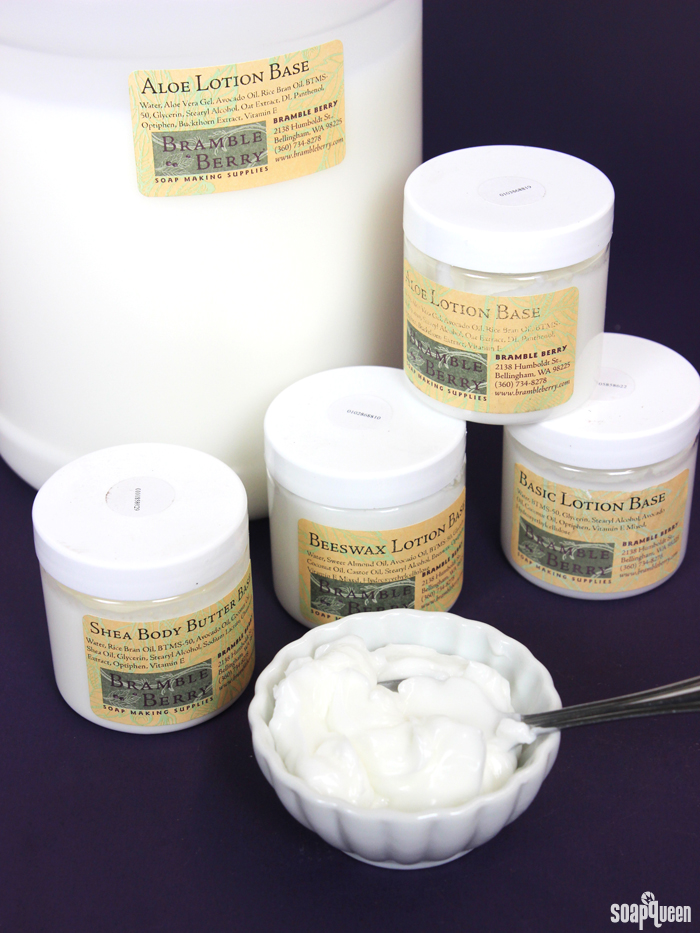 Making lotion from scratch is a fun project. The process includes emulsifying water and oils, much like making soap. Other additives such as extracts, vitamin E and DL-panthenol can also be added to increase benefits to the skin. If you love the feel of homemade lotion but don't want to formulate it yourself, the Bramble Berry Lotion Bases are here to help! These pre-made bases are ready to customize with scent and color.
The lotion bases come in four varieties: Aloe Lotion Base, Basic Lotion Base, Beeswax Lotion Base and the Shea Body Butter. The main ingredient for all the bases is water; what makes them different are the types of oil, extracts and other ingredients such as emulsifiers. All the bases include the preservative optiphen to prevent mold and bacterial growth. To learn more about preservatives and how to us them, check out this blog post. Check below to see the ingredients of each base!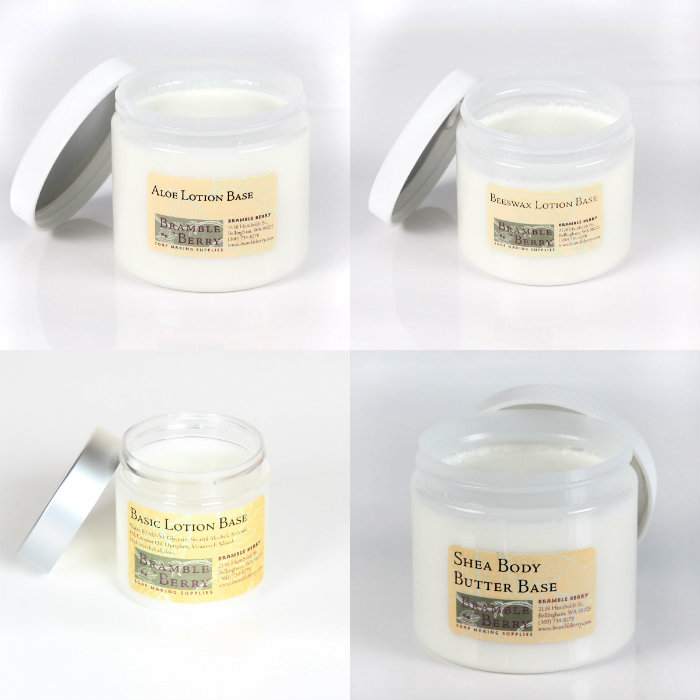 Lotion Bases Ingredients:
Which base is right for you? First, consider the texture. If you're looking for a rich thick product, the Shea Body Butter Base or Beeswax Lotion are good options. If you prefer a thinner texture, the Basic Lotion Base or the Aloe Lotion Base have a lighter feel. Keep in mind that the texture may also affect how you package your product; thicker lotions are best in a jar or squeeze bottle, while thinner products can be put into a pump style bottle.
These lotion bases can be used as is, or customized with color and fragrance. To customize, place the lotion base into a disinfected container (5% bleach water or rubbing alcohol will disinfect your mixing containers). Heat the base to about 130 °F, but no hotter than 176 °F. If the base gets too hot, the preservative (optiphen) in the base begins to degrade. Once the base has been heated, the consistency will change to a melted milkshake texture.
Heating the base to create a thinner texture makes fragrance and color easier to mix in…with one exception. The Aloe Lotion Base is the thinnest of all the bases and does not require heating before adding fragrance or color. But, if you prefer to heat the Aloe Lotion Base before customizing, you certainly can! Check out the Burnt Sugar Shimmer Lotion Tutorial for step by step instructions on how to use the Aloe Lotion Base.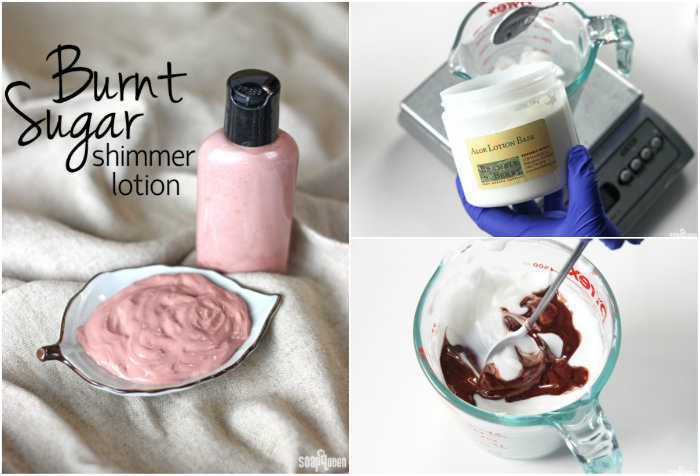 The Aloe Lotion Base is thin enough that it does not need to be heated in order to add fragrance and color. 
Once the base has been heated, add your fragrance or essential oil in the recommended usage rate; find out the correct amount to add with the Fragrance Calculator. Stick blend in the fragrance or essential oil thoroughly and place in your container. A stick blender is the best thing to create a homogenous product. Once the lotion has been stick blended for several minutes, pour the mixture into your container and allow the mixture to fully cool without the cap to allow condensation to escape.
To add color, heat the product as directed above. The best colorant options for lotion are LabColors or micas. Diluted LabColors will not leave any color on the skin when used in small amounts. LabColors go a long way, so just a few drops will give your lotion great color. To add micas to your lotion base, the powder can be added directly or dispersed in a small amount of lightweight liquid oil or fragrance oil to help it blend into the base easier. The particles of oxides and pigments are larger than micas, and do not mix in very well. This could cause your lotion be leave streaks of color on the skin. To learn more about micas, check out the Sunday Night Spotlight: Micas blog post. Curious about LabColors? Check out this post!
All of the lotion bases are formulated to accept up to about 5% of additional oils, extracts, or fragrances by weight, including small amounts of silicones like cyclomethicone. This is because the lotions have an emulsifier surplus, meaning there is more BTMS-50 in the lotion than needed, ready to mix in extra oils. Adding water based products like aloe vera gel or hydrosols do not need additional emulsifier. They will, however, thin your lotion and still need to be stick blended in.
If you're looking for a fun way to incorporate lotion bases into other products, the Lotion Melt and Pour Cubes are easy to make and skin-loving. Aloe Lotion Base is heated and added directly to melted melt and pour soap. The soap is customized further with LabColors and fragrance oil, then swirled together into cubes. Adding lotion base to melt and pour does cut down on the lather, but adds extra moisture.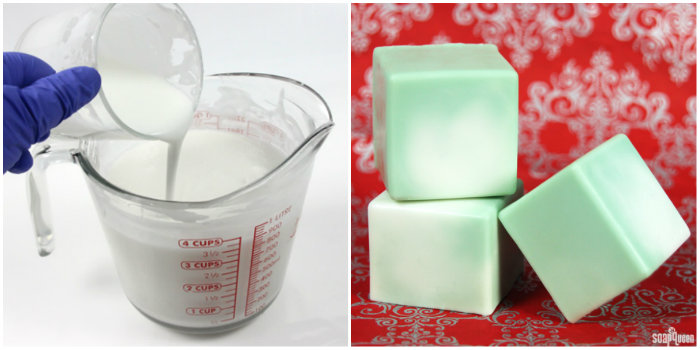 Making lotion is fun, but if you prefer working with a tried and true recipe, the Lotion Bases are great. To learn more about lotion making, including frequently asked lotion questions, check out the Talk it Out Tuesday: Lotion blog post. Have you tried working with the Bramble Berry Lotion Bases? I would love to hear your thoughts!