Today marks the first day of the #SoaptheRainbow series and contest! This week's color is red. Share your photos of projects featuring the color red until July 3rd on Instagram, Facebook and Twitter with the hashtag #SoaptheRainbow. Each photo with the #SoaptheRainbow hashtag is an entry for a $10 Bramble Berry gift certificate. I will be choosing several winners a week and reposting them on the Bramble Berry Instagram account. In addition, be sure to enter to win the GRAND PRIZE, worth over $250. All you have to do is sign up for the Bramble Berry newsletter. Click here to enter.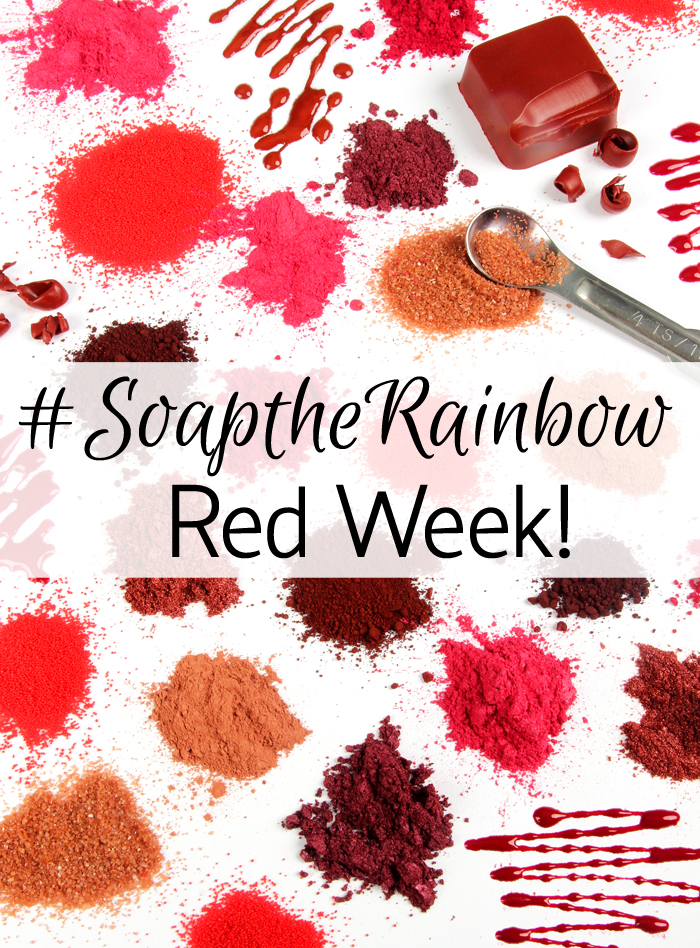 In addition to the contest, a collection of items are 25% off with the code: RAINSOAP. Click here to see all the sale items.
Ready to share your photos featuring the color red? If you need a little red inspiration, check out the blog posts and tutorials below. 
Red can be a tricky color to achieve in cold process soap. Red colorants tend to take on a pink hue once added to creamy soap batter. In the Quest for the Perfect Red in Cold Process Soap post, my team and I tested colorants to find the "perfect" red hue. Click here to see all 16 color combinations, as well as our "perfect" red blend.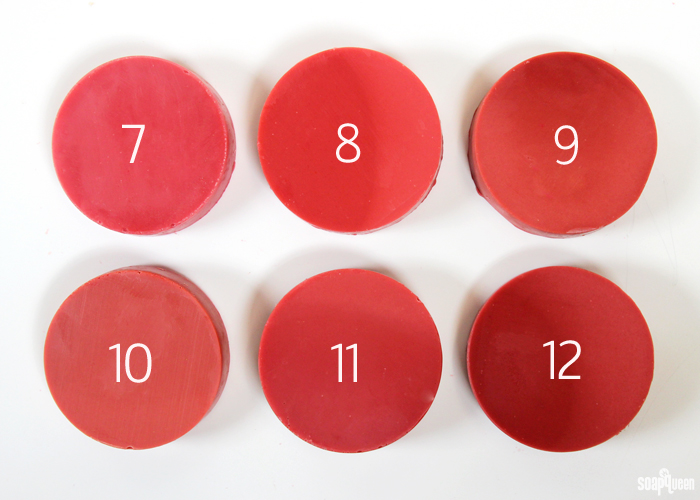 Creating the perfect red is tricky in cold process soap. Click here to see my favorite blend. 
If you prefer to use natural colorants, madder root powder gives projects a reddish color. Depending on whether or not the soap goes through gel phase, the color can vary from a wine to burgundy shade. See the different shade variations in the Mad about Madder Root Powder post.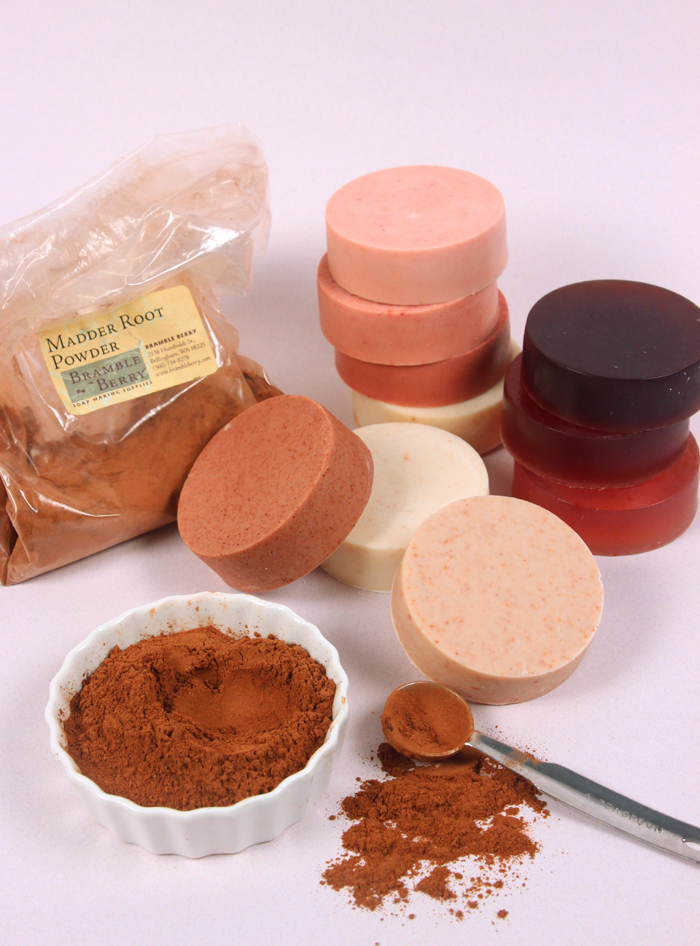 Madder root powder is a great option if you prefer natural colorants. Learn how to use it here. 
In the Currant & Cranberry Cold Process Soap Tutorial, I used Merlot Sparkle Mica to achieve a red shade. The white soap with poppy seeds makes the red pop. It's scented with a blend of Pomegranate and Black Currant Fragrance Oil and Cranberry Fig Fragrance Oil. In the Red Apple Cold Process Tutorial, burgundy pigment creates deep red soap apples. For a fire engine hue, Electric Bubblegum Colorant and Merlot Sparkle Mica are used in the 4th of July Fireworks Cold Process tutorial.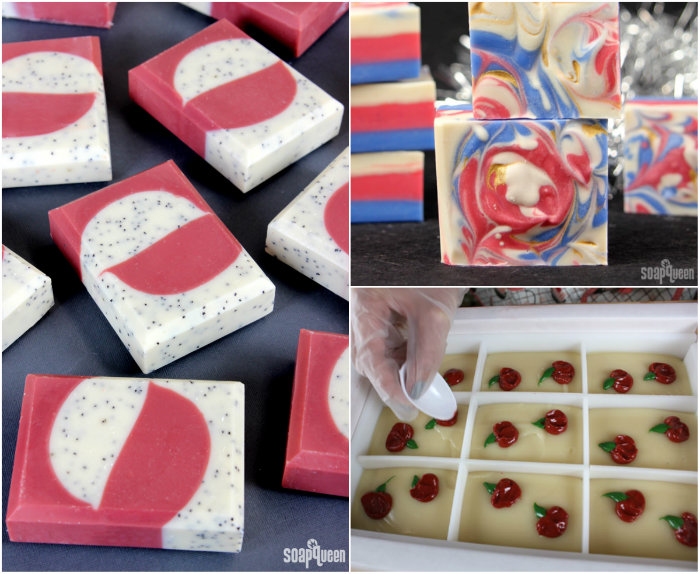 Left to right, clockwise: Currant & Cranberry Cold Process Soap Tutorial, 4th of July Fireworks Cold Process, Red Apple Cold Process Soap
Red is a classic and dramatic lip color. In the Radiant Red Lipstick Tutorial, three shades of red lipstick are created with combinations of Brick Red Oxide, Electric Bubblegum Pigment, Coral Mica and more. The formula is made with castor oil for shine and gloss and jojoba oil for skin-loving properties. If you prefer a more sheer color, the Rosy Red Lip Gloss Recipe gives a hint of color and lots of shine.
If you're a melt and pour soapmaker, red is easy to achieve in a clear soap base. In the Sparkly Garnet Gems Tutorial, Merlot Sparkle Mica gives the soap a deep burgundy shade. In the Sparkling Strawberry Melt and Pour Soap, a true red is created by mixing the Perfect Red Color Block with clear soap base. The Perfect Red Color Block is also used to create the embeds in the Holiday Candy Rebatch Tutorial.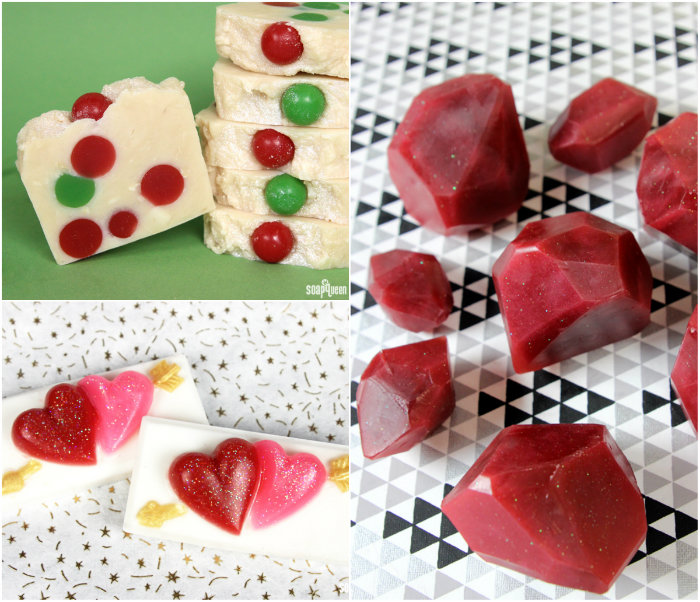 Top left, clockwise: Holiday Candy Rebatch Tutorial, Sparkly Garnet Gems Tutorial, Sparkling Strawberry Melt and Pour Soap
I can't wait to see all your amazing red projects! Start tagging your photos with #SoaptheRainbow on Instagram, Twitter or Facebook to be entered to win over $250 worth of Bramble Berry fragrances, colorants, molds and more. On Wednesday, Amy of Great Cakes Soapworks will be sharing her red cold process project on her blog. Be on the lookout for that! =)