Everyone "blue" our minds this week with amazing #SoaptheRainbow creations! 😉 As part of the #SoaptheRainbow series, you can share your photos on Instagram, Twitter and Facebook with the tag #SoaptheRainbow for a chance to win a $10 Bramble Berry gift certificate. Check out this post for blue project inspiration. Tomorrow is the start of purple week.
In addition, a variety of colorants and fragrance oils are 25% off with the code: RAINSOAP. See the sale items here. Don't wait – the sale ends August 5th.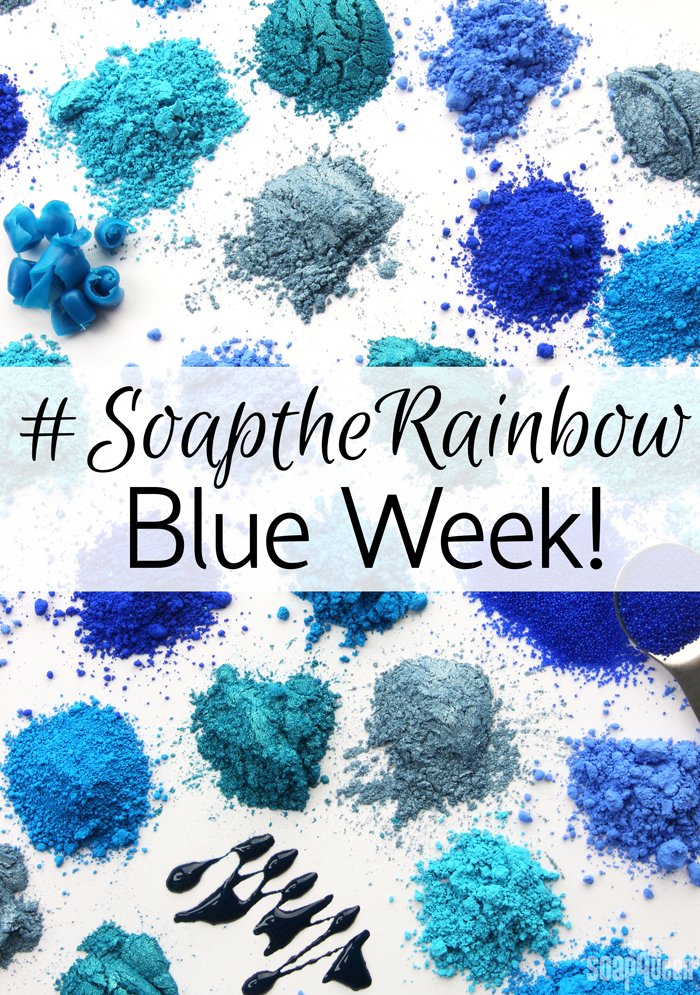 The Fish-in-a-Bag Melt and Pour Tutorial uses Brilliant Blue LabColor to create the look of water. Toy fish are then dropped in the soap, which is scented with Apple Macintosh Candle & Soap Fragrance Oil. Because you can never have too much sparkle, Fine Iridescent Glitter is added as well. This project is perfect to make with kids.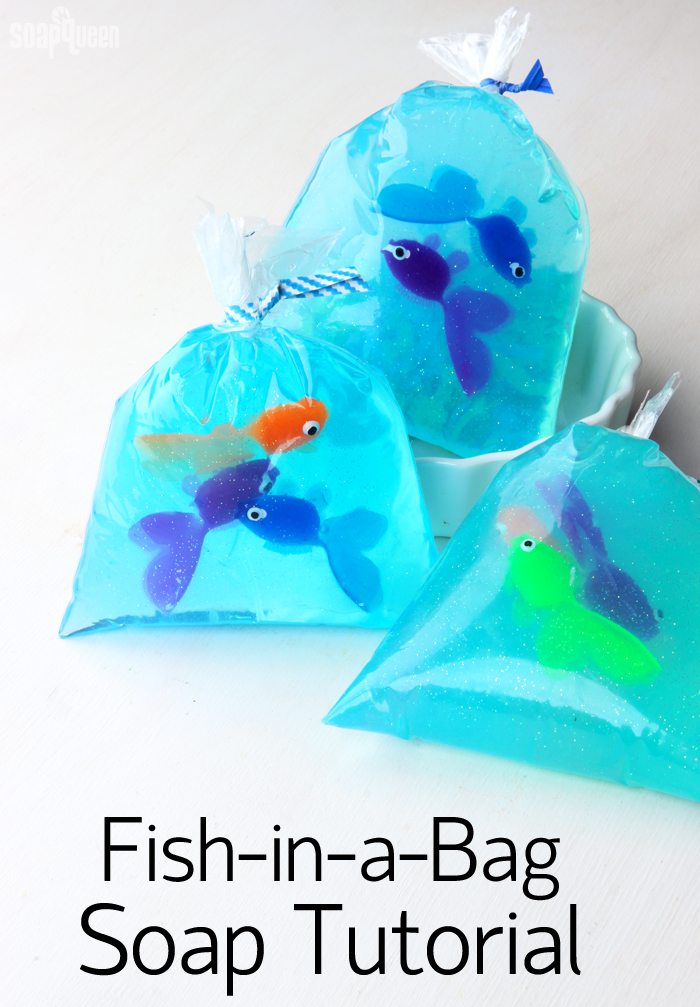 The Blue Rimmed Cold Process Soap Tutorial has a monochromatic color palette with contrasting pops of white and blue. The interesting design is created by swirling a small batch of soap, cutting it into strips and placing the pieces in the mold. Then, more soap is poured in. It's a fun challenge for advanced soapers.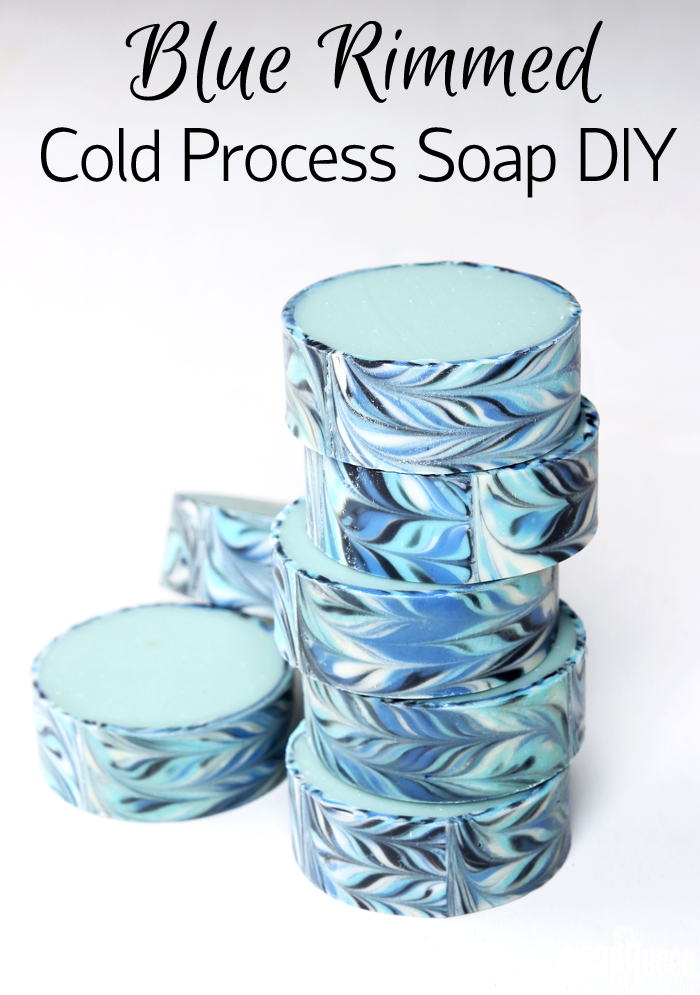 Caitlin with Revive Bath & Body recently faced an exciting challenge – she had to make 20,000 bars of soap in 8 weeks. She was approached at a trade show and asked to create soap to sell in Hobby Lobby. Even though there were times Caitlin didn't think she would finish on time, she and her team got it done. Learn more about the process in the Chatting with Revive Bath and Body post.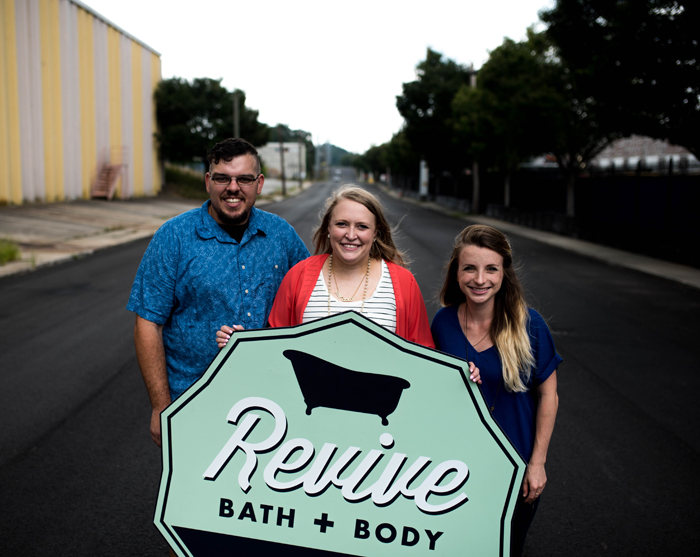 Eye-catching creations are a great way to get noticed at craft fairs and shows. This week's Facebook Photo of the Week by Michelle with Valley Springs Essentials is definitely eye catching. Her Beaches soap is scented with Salty Mariner Fragrance Oil.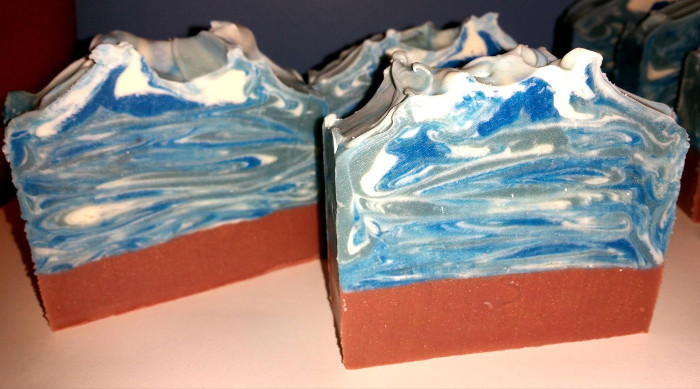 Michelle's beach scene is amazing. The blue and white swirl creates a beautiful wave, complete with whitecaps on top. For more ocean inspiration, check out the Stormy Seas Cold Process Tutorial. The Mermaid Tail Cold Process Soap uses squeeze bottles to create scales.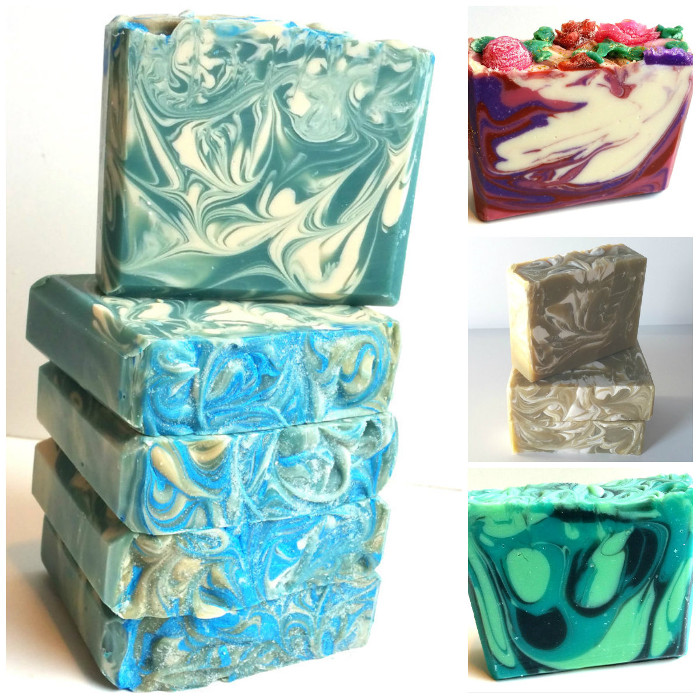 Above (clockwise, left) are Michelle's Blue Hawaiian Soap, Flowerbomb Soap, Spearmint Soap and Cool Water Soap. For more swirly inspiration, check out the Silky Berry Cold Process Soap. The Clover and Aloe Cold Process Soap gets its design with the help of a lazy Susan.
Find Valley Springs Essentials
On Facebook
On the web
On Etsy
This week's #SoaptheRainbow blue winners are (clockwise, top left) Blue Soap by Renaissance Soaps, Summer Days Soap by Sweet n Charming Soaps, French Lavender Soap by Nature Saponified and Moonshine Soap by Damsels and Roses.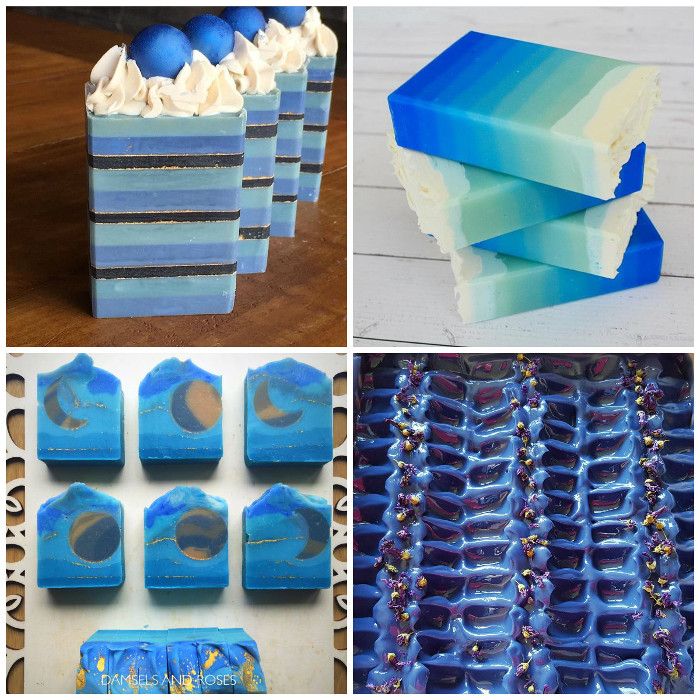 As part of our #SoaptheRainbow series, we are having a Grand Prize giveaway for a Soapmaker Super Sampler Business Kit worth more than $250! Read more about the #SoaptheRainbow series here. For a chance to win, all you have to do is join the Bramble Berry Newsletter via the Rafflecopter widget below. To sign up for the newsletter, you can sign in using your Facebook account, or you can manually enter the email address you'd like to use. If you're already signed into your Facebook account, the widget may automatically use the email associated with your account. If the widget didn't ask for your email, it's because you're already signed into Facebook. =)
After you sign up, you can earn extra bonus entries by completing tasks within the widget. These are completely optional, but the more you complete the better chances you have to win! The contest ends on August 9th at noon PST. The winner will be chosen randomly by the widget.
Post pictures of your crafty creations on the Facebook page each week for a chance to be featured on the Soap Queen blog and receive a sweet soapy package from Bramble Berry. Photos are chosen based on consensus from the Bramble Berry staff, so the best way to increase your chances of winning is to show us lots of photos!
For those of you who have been featured on the blog, we now have an official "Featured on the Soap Queen" badge! You can include that badge on your website, blog, pictures, etc. To save the badge, click here. =)