Purple projects closed out the #SoaptheRainbow series this week. It's hard to believe it's already over. We loved seeing all your beautiful creations. There is still time to enter to win a Grand Prize worth more than $250. Enter to win here. If you're in the mood for more purple inspiration, this blog post has you covered.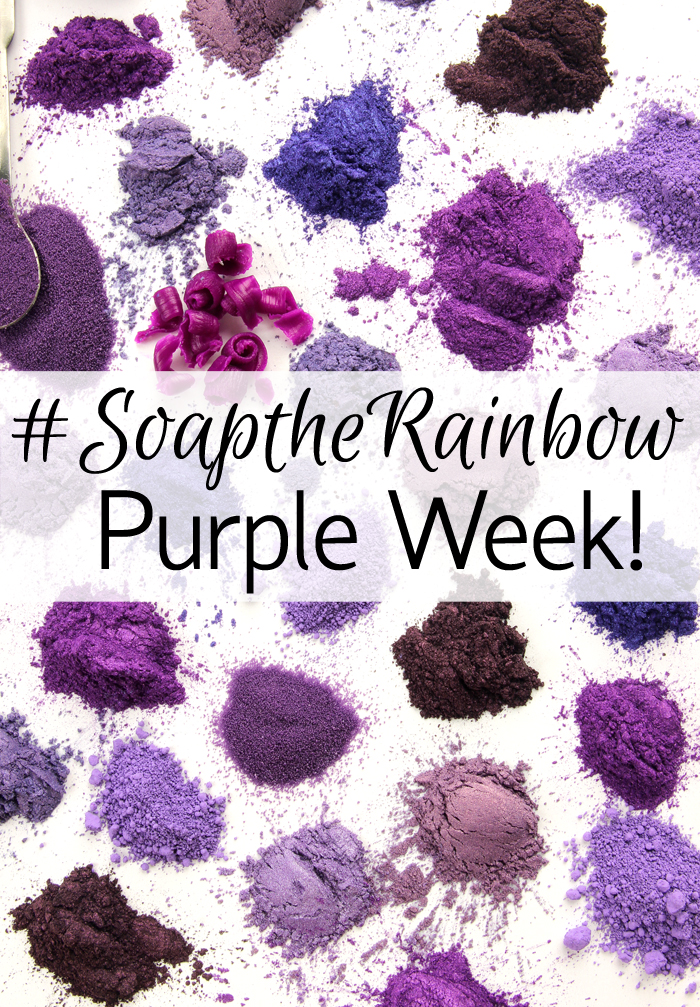 The DIY Sugar Scrub Cubes are colored with a few drops of Liquid Violet and scented with Violet Fragrance Oil. They're made with sugar to exfoliate, Clear Melt and Pour Soap Base to cleanse and sweet almond oil to moisturize. They will leave your skin feeling fresh and clean.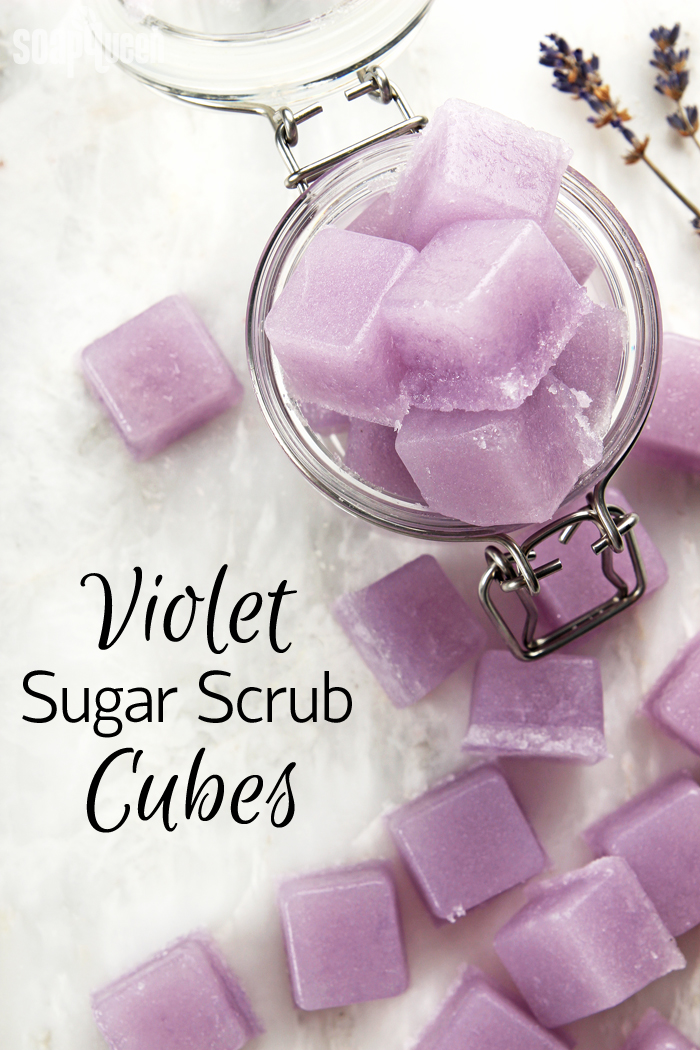 The Violet Confetti Cold Process Soap has Violet Fragrance Oil as well. It fits perfectly with the purple theme. The soap is colored with Queen's Purple Mica and has Lavender Mica sprinkled on top. To get the confetti look, shredded cold process soap is added to the middle layer. You can grate bars you have around, or use soap scraps from other batches to create the confetti.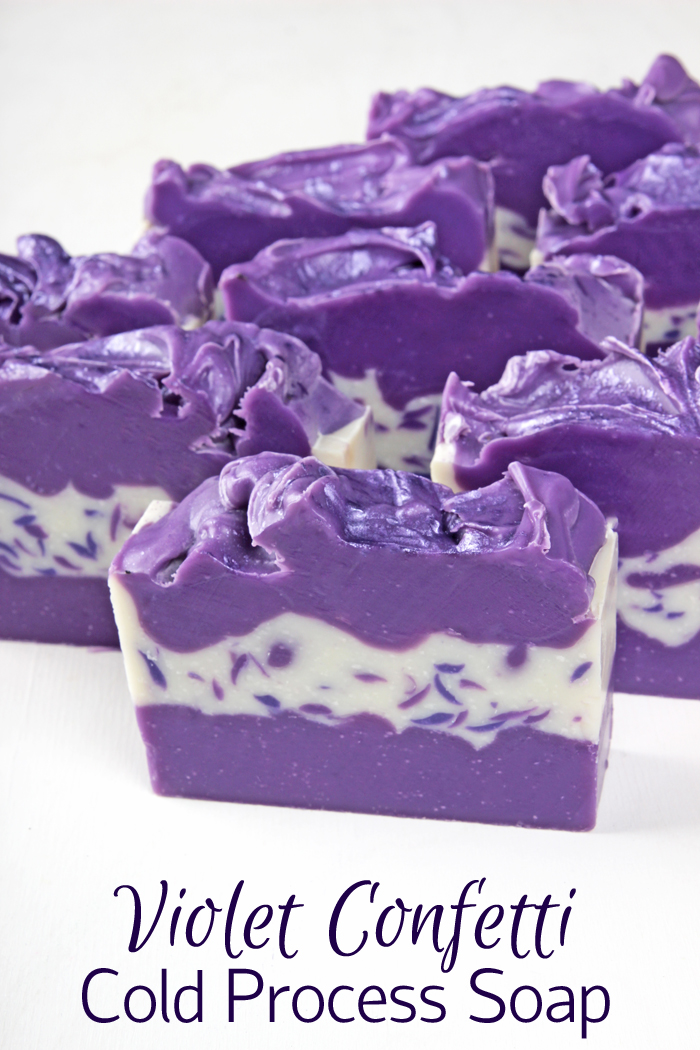 Nicole with Nicole's Apothecary of Soaps used a combination of purple and white in her Lavender Vanilla Soap. Her cute bars are this week's Facebook Photo of the Week.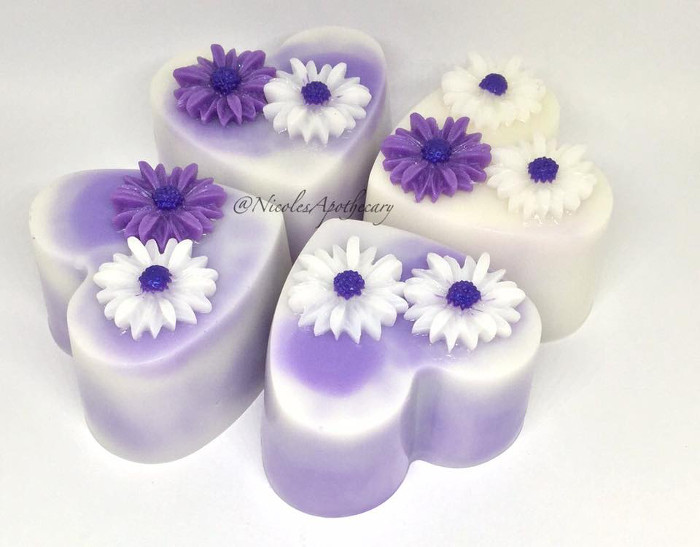 The swirl in Nicole's soap is a perfect base for the detail on top. I love the different hues of purple in the flowers. They're so cute! For more floral details, check out the Green Meadow Melt and Pour Soap. Real flowers make great soap toppers as well, as seen in the Kombucha SCOBY Cold Process Tutorial.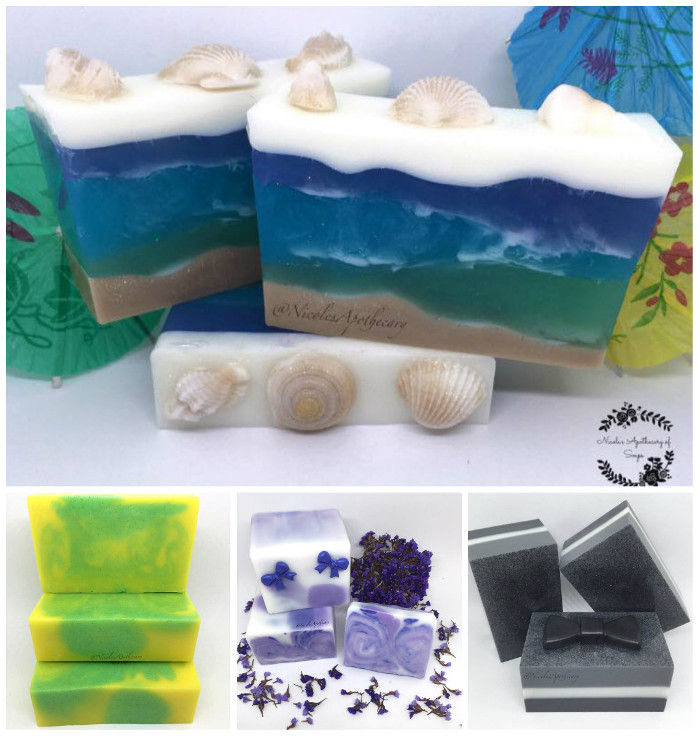 Above (clockwise, top) are Nicole's Coconut Citrus Sorbet Soap, Black Tie Soap, Lavender Chamomile Soap and Exotic Coconut Soap. For more purple inspiration, check out the Relaxing Lavender Cold Process Soap. The Melt and Pour Soap Gems are fun to customize with your favorite scents and colors.
Find Nicole's Apothecary of Soaps
On Facebook
This week's #SoaptheRainbow purple winners are (clockwise, top left) Cosmic Lover Soap by Haus of Hayden, Purple Swirl Soap by Katie, Purple Swirl Soap by Moxie Soap Co. and Freesia Garden Soap by Soap Fixations.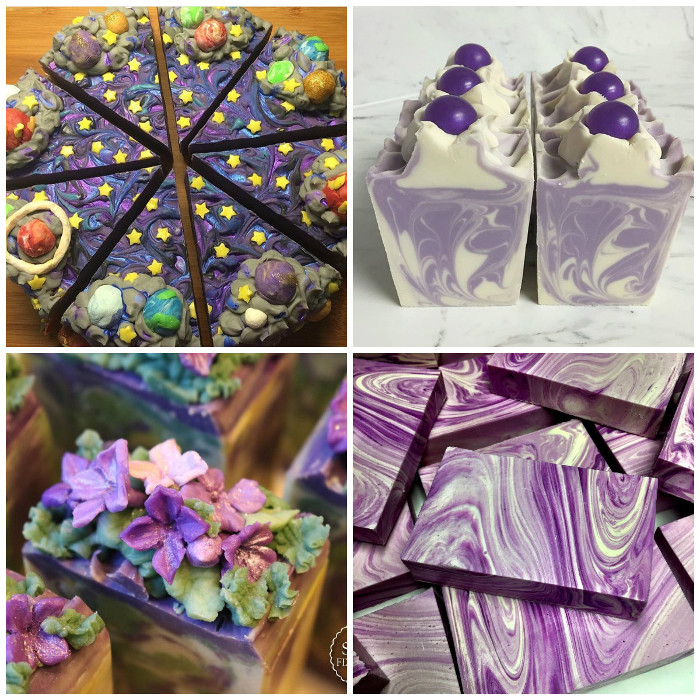 As part of our #SoaptheRainbow series, we are having a Grand Prize giveaway for a Soapmaker Super Sampler Business Kit worth more than $250! Read more about the #SoaptheRainbow series here. For a chance to win, all you have to do is join the Bramble Berry Newsletter via the Rafflecopter widget below. To sign up for the newsletter, you can sign in using your Facebook account, or you can manually enter the email address you'd like to use. If you're already signed into your Facebook account, the widget may automatically use the email associated with your account. If the widget didn't ask for your email, it's because you're already signed into Facebook. =)
After you sign up, you can earn extra bonus entries by completing tasks within the widget. These are completely optional, but the more you complete the better chances you have to win! The contest ends on August 9th at noon PST. The winner will be chosen randomly by the widget.
Post pictures of your crafty creations on the Facebook page each week for a chance to be featured on the Soap Queen blog and receive a sweet soapy package from Bramble Berry. Photos are chosen based on consensus from the Bramble Berry staff, so the best way to increase your chances of winning is to show us lots of photos!
For those of you who have been featured on the blog, we now have an official "Featured on the Soap Queen" badge! You can include that badge on your website, blog, pictures, etc. To save the badge, click here. =)