How can handmade soap get better when it already contains luxurious ingredients and a mouthwatering fragrance or essential oil? Hide a prize inside! It's simple to do with this Message in Soap Kit from Bramble Berry. Ahem…do I see money hidden in that soap? If you have never made melt and pour soap before check out some basic techniques on Soap Queen TV.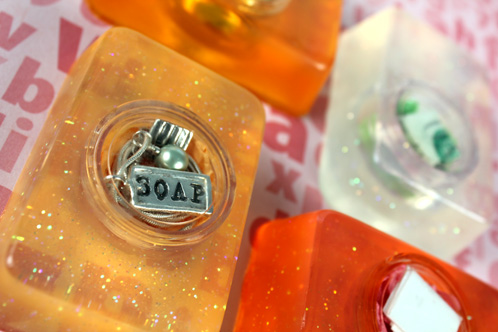 Ingredients
.2 oz. Iridescent Glitter
1 oz. Pearberry Fragrance Oil 
2 lbs. Clear Melt and Pour Base
5 Clear non-stackable lip butter pots
Yields:  8 bars of soap
Buy the kit in the click of a button!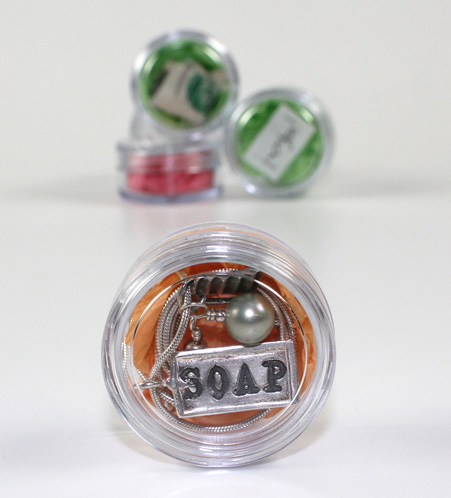 PREP: The first step is to decide whet you're going to hide in your secret message soap. Money is always a popular one with the kids and love notes are sweet for your sweetie. I thought it would be fun to hide a soap necklace in my soap (it only seemed appropriate). I got this necklace a couple years ago. It is custom-designed from Nancy Miller Jewelry Designs. Enclose your goodies in your clear containers, screw the lids on tightly and set them aside.
ONE:  In a heat safe container, melt 16 ounces of clear melt and pour soap in the microwave on 30 second bursts. Once the soap is fully melted add mix in 1/2 of Pearberry Fragrance Oil and stir.
Fragrance Note: Pearberry fragrance oil is water clear in color and does not discolor at all. The natural color of your fragrance or essential oil is an important design consideration when making melt and pour.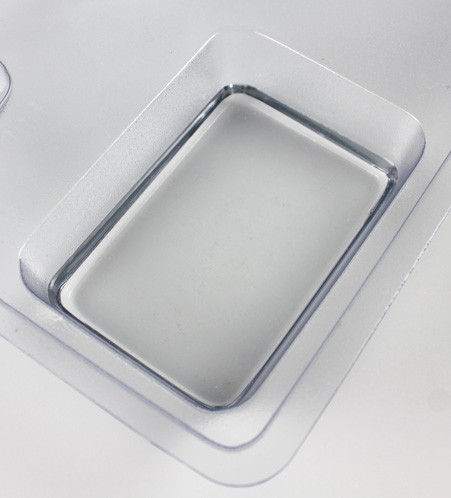 TWO: Pour a super thin layer of clear soap in each soap mold cavity, about 1/8 of an inch thick.
THREE: Liberally spray your plastic containers with rubbing alcohol and set the containers in the soap, prize facing down into the soap (so when the soap comes out of the mold you'll see the prize facing up).
Tip: The rubbing alcohol will eliminate air bubbles and help the secret container stick in the soap.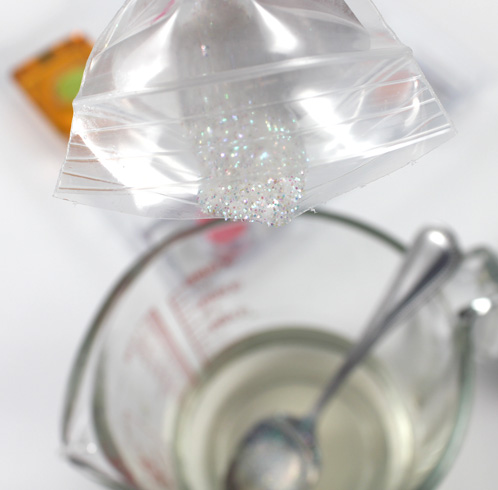 FOUR: This is the creative part. Add a pinch (or two)  of Iridescent Glitter and diluted Peach LabColor. Mix well. Add just a touch of LabColor for a soft peachy hue. You can work all the way up to a darker and brighter orange color the more drops of color you add.
Tip: Learn how to dilute your LabColors in this blog post.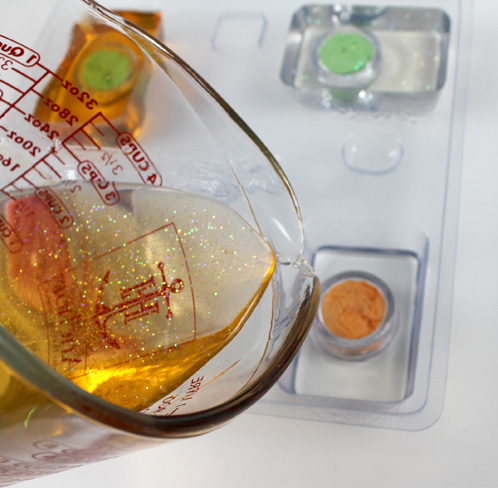 FIVE: Once the soap has cooled to at least 130 degrees, sprits the first layer of soap with rubbing alcohol and pour the final layer. Let the soaps cool for 4-6 hours before unmolding. Then repeat all 5 steps and make 4 more soaps!
What do you plan to hide in your secret message soap? Leave a comment with your secret message plans and you'll have a chance to win the soap necklace from Nancy Miller Jewelry Designs!