Now that it's winter time, there's nothing better than cozying up in your favorite chair with a good book, a hot cup of tea and a richly scented candle with a softly flickering flame (and for me, that only happen during the kiddo's nap time and I love that quiet time!). Bramble Berry offers a number of excellent waxes so you can make your own candles, and lately our favorite has been the EcoSoya Advanced Wax. It's 100% vegetable based and sourced from soy beans grown exclusively by domestic farmers. Best of all, it has multiple uses: this wax is lip and skin safe, making it an potential replacement for beeswax in lip balm recipes.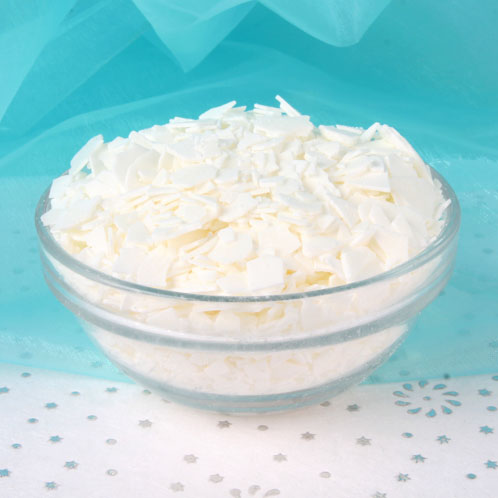 This particular wax is specially designed for containers, and could be paired with our 14 oz. Round Glass Candle Jar, Flower Pot Candle Container or the 10 oz. Tapered Neck Candle Jar.

When deciding how much candle wax you'll need for a given container, remember that it's important to measure your wax by weight and not volume. Wax takes up much more space by volume, so if you measure that way you'll find that you'll cut yourself quite short when you go to melt and pour! You can read more about why we always recommend measuring by weight instead of volume here and here.
We measured out 16 oz. of Palm Stearic Acid by volume (left) and then melted it down (right). You can see that this would not be nearly enough wax to fill a 16 oz. container!
There are many options for scenting candles. We have an entire category of fragrances formulated specifically for candle use, but the reality is you can use any of our fragrance or essential oils for candle making. We highly recommend doing a test candle/burn test when experimenting with fragrance or essential oils because the scent can drastically change when burned, or effect how the candle burns.
We recommend a starting point of .5 oz. per pound of wax if you're using essential oils or 1 oz. per pound if you're using fragrance oils. Keep in mind, that's just a starting point and you may prefer a stronger or weaker scent. Test batches for throw (scent strength) are your friend.
As far as colorants, there are a wide range of wax dye blocks that make candle coloring super easy. They work the same as our color blocks for melt and pour in that they are highly concentrated colorants dispersed in sold wax. To use them, simply shave off chunks of the dye block into your melt wax, stir, and then pour! We colored the candles above using the dye blocks.
Choosing a candle wick can be quite a complicated process (who would have thought?) but here is a chart that breaks down the most common wicks and what size candles they're best fo:
| | | | | |
| --- | --- | --- | --- | --- |
| Wick Model# and Characteristics | RRD 29 | CD-12 | CD-16 | CD-20 |
| Use: Small Containers and Pillars | X | | | |
| Use: Medium Containers and Pillars | | X | X | X |
| For candle diameter: | 1-2″ | 2.5-3″ | 2.75-3.25″ | 3.5-4″ |
| Wax Pool (diameter): | 1.8″ | 1.93″ | 2.01″ | 2.06″ |
| Flame Height: | 1.1″ | 2.39″ | 2.54″ | 3.28″ |
| | | | | |
| --- | --- | --- | --- | --- |
| Wick Model# and Characteristics | WU-150 | WU-250 | WU-350 | WU-450 |
| Use: Small Containers and Pillars | | | | |
| Use: Medium Containers and Pillars | X | X | X | X |
| For candle diameter: | 4-5″ | 4-4.5″ | 4″ | 3.5-4″ |
| Wax Pool (diameter): | 3.5″ | 3.32″ | 3.28″ | 3.09″ |
| Flame Height: | 2.40″ | 2.24″ | 1.78″ | 1.41″ |
Click here to see our entire selection of wicks or learn more about each.
Below are a variety of projects to get you inspired. We've done tutorials on super cute wax tarts made for oil burners, ombre candles and even candles with whipped wax!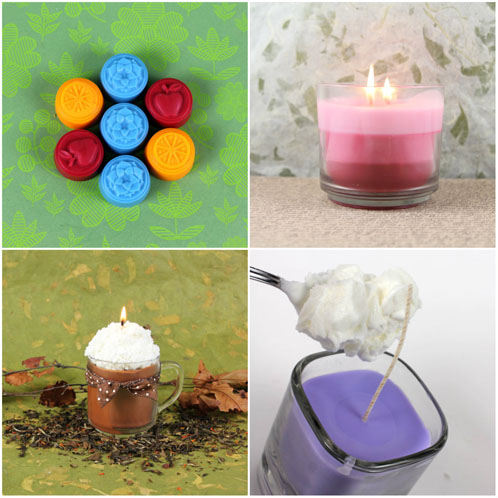 Top: Simple Wax Tarts, Homspa Ombre Candle
Bottom: Chai Tea Latte Candle, Whipped Frosting Candle
What are some of your favorite wintertime candle scents? Got any questions about Soy Wax? Ask them below.