I'm still in love with our new silicone cube mold (I'm sure you can tell from the recent cube mold tutorials: Holiday Cubes and  Crazy for Cubes). I even designed a brand new mini heart mold specifically for embedding in the cube mold (now that's love). The technique of combining melt and pour with cold process soap is super simple with lovable results. It's even easy enough for CP beginners!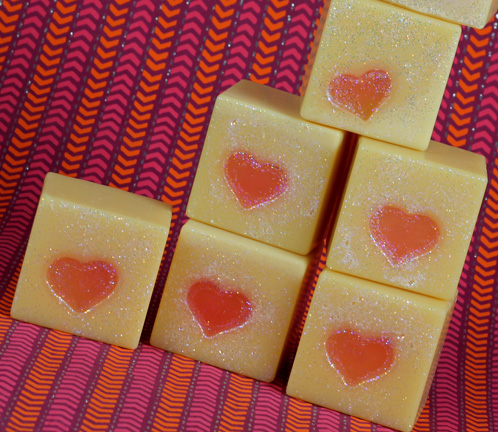 Ingredients:
8 oz Cocoa Butter
16 oz Coconut Oil
 8 oz Palm Oil
4 oz Palm Kernel Flakes
24 oz Rice Bran Oil
Sage and Lemongrass Fragrance Oil
5 Tablespoons Sodium Lactate
 8.6 oz Sodium Hydroxide
19.8 oz Distilled Water
Electric Bubble Gum Neon Colorant
Buy everything you need in the click of a button!

First Time Making Cold Process Soap?
I strongly suggest getting a couple of basic recipes under your belt before diving into this advanced recipe. Check out Soap Queen TV on Cold Process if you want to get started! It's a 4 part series that will take you through the basics (and be sure to watch the episode on Lye Safety). If you're a book worm, Bramble Berry also has some helpful reading on the cold process technique. Check out our E-Book on Cold Process.
Melt and Pour Prep:
ONE: Prepare your melt and pour heart soaps using Low Sweat Clear Base and Electric Bubble Gum Colorant. For basics on melt and pour soap, click here. Make about 18 little pink hearts. Be sure to mix your Bubble Gum colorant in Liquid Glycerin (1/3 Cup of Liquid Glycerin to 1/2 teaspoon of Bubble Gum Colorant), then added 1/4 teaspoon per pound of soap. Check out a tutorial on mixing your Neon Colorants HERE .
TWO: Once the melt and pour has set-up, unmold the soap and place one heart soap in the bottom of 18 cube cavities of the mold. Make sure the flat side of the soap is on the bottom.
Optional: Using your fingers, sprinkle a little bit of glitter into the mold before you pour the CP soap batter over the top of the tiny hearts.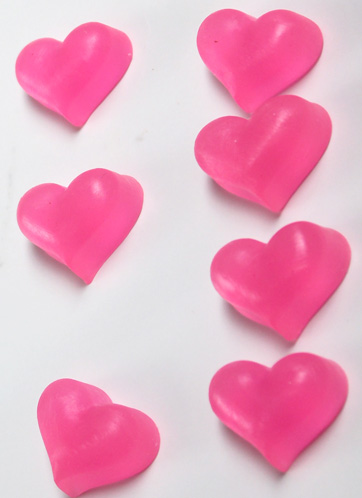 Making Cold Process Soap:
ONE: Safety gear up! Make sure you're wearing long sleeves and put on your goggles and gloves (preferably super cute pink goggles from Bramble Berry). Carefully add the lye to the water (never the other way around!) and mix until the water is clear, taking care to not breathe in the fumes. Set aside to cool.
TWO: In a large heat safe container, melt and combine the Cocoa Butter, Coconut Oil, Palm Oil, Palm Kernel Flakes and Rice Bran Oil.
THREE: Mix 5 tablespoons of Sodium Lactate to the cooled lye water then slowly and carefully add the lye mixture to the oils. Mix for 20-30 seconds with a stick blender.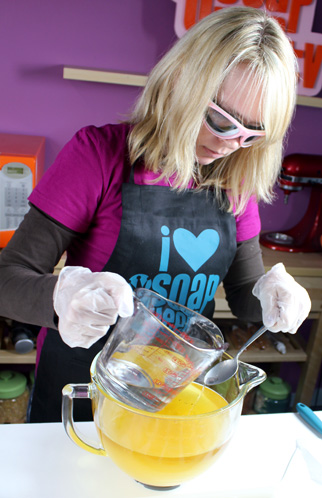 FOUR: Use the stick blender to mix in 2 teaspoons of Super Pearly White Mica.
TIP: Place the stick blender on top of the pile of mica laying on top of the soap batter. Then sink the stick blender to the bottom and "burp" the stick blender by tilting the stick blender and releasing the air bubbles. Then mix in the colorant.
FIVE: Mix in 3 ounce of Lemongrass Essential Oil and 2 ounces of Sage and Lemongrass Fragrance Oil. Mix the soap batter for another 20-30 seconds until medium trace.
SIX: Slowly pour the cold process soap mixture over the melt and pour heart soaps leaving 1/2 inch of room at the top. Keep a whisk on hand and stir the soap batter if it starts to get grainy while pouring the soap.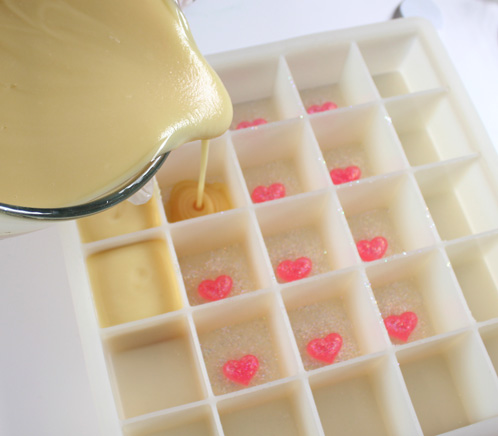 Optional: Sprinkle a little more glitter on the tops of the soap.
SEVEN: Let the soap dry in the mold for 2 days. We were able to unmold ours after just two days. Sodium Lactate rocks the house!