Happy Bramble'versary, Leah. You're a customer service ninja!
Thank you, Kate, from Our Best Bites for the DELICIOUS recipe. Leah in customer service loved her zesty bramble'versary cupcakes (and the rest of the staff gobbled the last of the cupcakes in no time). See Kate's recipe below!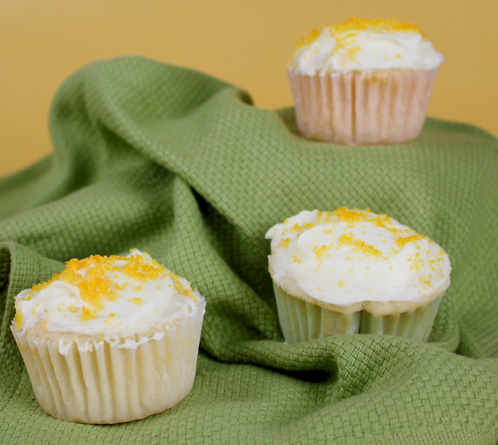 Lemon Cake Ingredients
1 1/2 c. (3 sticks) of REAL butter
3 c. cake flour (no substitutions here–you really need the lightness of cake flour)
1 tsp. baking powder
1/2 tsp. salt
1/2 tsp. baking soda
2 c. sugar
5 large eggs
2 tsp. vanilla extract
4 Tbsp. freshly squeezed lemon juice
Zest of 2 lemons (just zest the other lemons before you squeeze them)
1 c. buttermilk
ONE: Preheat oven to 325. Line 31 cupcake tins (yes, 31 – I'm all about precision peeps).
TWO: Though the original recipe calls for a Ielectric mixer fitted with the paddle attachment, I just used hand held egg beaters and they worked great! Beat butter and sugar on medium speed until light and fluffy, 4-5 minutes. If you spend the time here, your cake will be light and fluffy (and trust me, this cake turns out light 'n' fluffy).
THREE: While butter and sugar are mixing, sift together flour, baking powder, salt, and baking soda in a medium bowl. Set aside and after the butter and sugar are mixed, add the eggs, one at a time, beating to incorporate after each addition. I used a hand blender for this as well. Beat in vanilla, lemon juice, and lemon zest.
FOUR: With mixer on low speed, alternate adding flour mixture and buttermilk, beginning and ending with the flour mixture and beating until fully incorporated. Watch out if you're not careful, all the flour will POOF out on you so be gentle with your beating.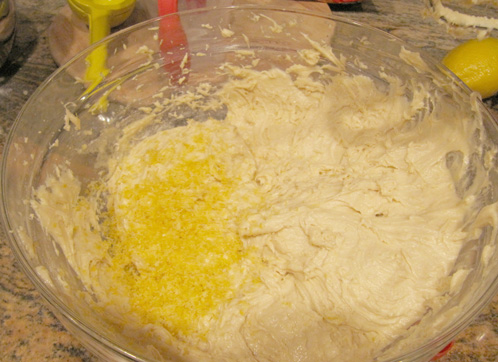 FIVE: Using a standard ice cream scoop, place about 1 full scoop of batter into each muffin cup. Fill these almost to the top–due to the final texture (again, think super-moist and light pound cake), these cupcakes won't have a nice, curvy crown, but that's okay–no one will ever know or care.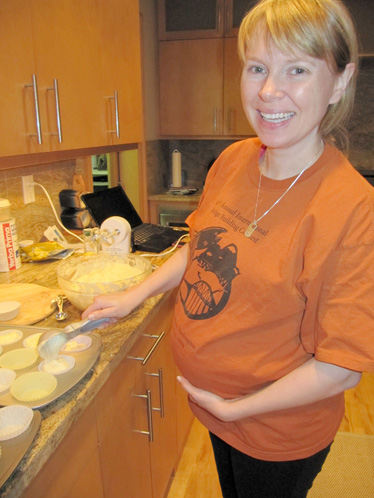 My bramble bump was covered in sugar, batter and frosting by the end of the night.
SIX: The original recipe calls for a 20-25 minute bake; I ended up at a full 28 minute bake until a toothpick inserted into the center of one of the cupcakes came out clean. You don't want to overbake these even a bit, or these lemon morsels will start to lose their delicious moisture. Remove from oven and cool completely.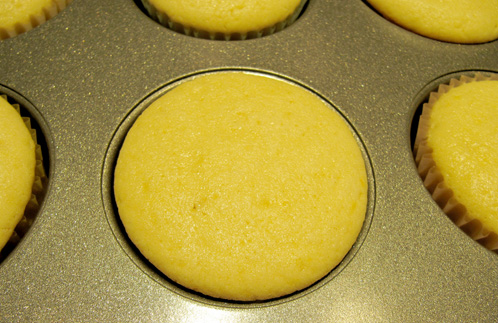 Lemon Buttercream Frosting Ingredients
1 1/4 c. butter (2 1/2 sticks)
2 tsp. grated lemon rind
3 Tbsp. fresh lemon juice
3 c. powdered sugar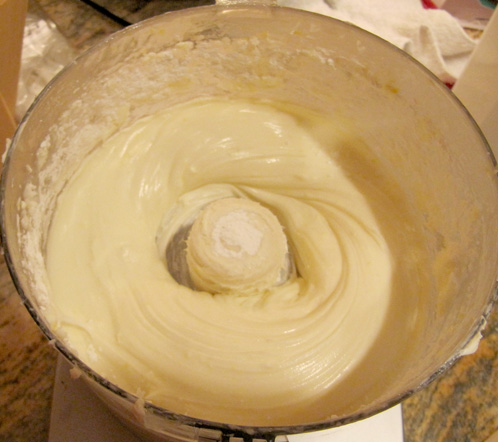 Beat butter, lemon rind, and lemon juice in a food processor until creamy. Gradually add powdered sugar, beating to spreading consistency. Makes 2 3/4 c.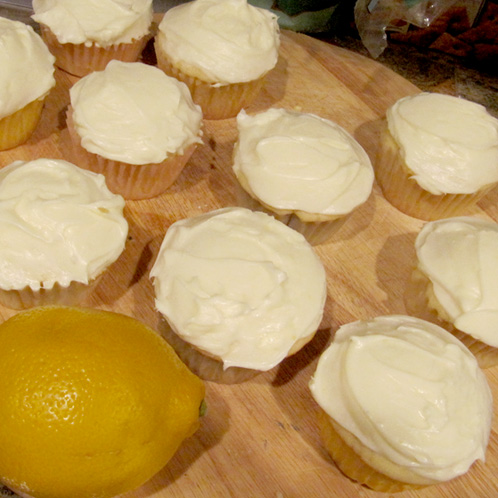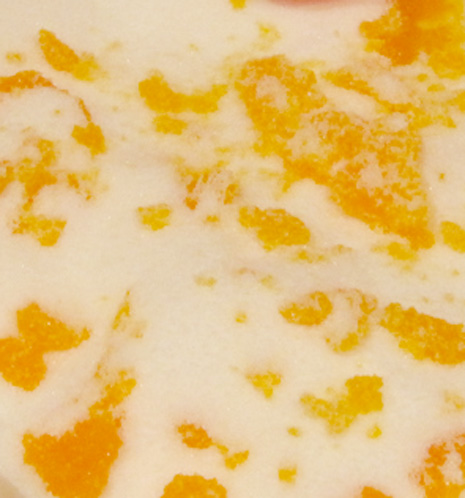 My addition to the recipe is to add some colored sugar to the top of the cupcakes. Mix the sugar with yellow food coloring and sprinkle on top (notice I put the frosted cupcakes in a baking pan so there wouldn't be yellow sprinkles all over the kitchen floor; my long-suffering husband was thankful).