Here's part two of the Halvah Cheesecake from my dad's 25 year old IOU! Check out the full story of the IOU and how to make Halvah from scratch tutorial here.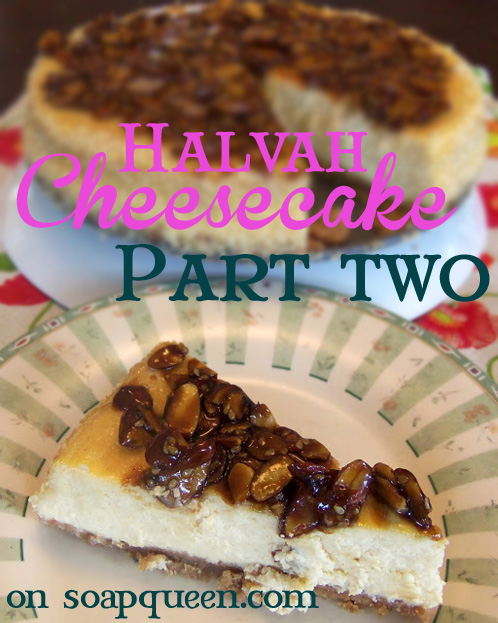 Ingredients:
16 ounces of softened cream cheese
3/4 cups granulated sugar
3 eggs
1 1/2 cups sour cream
2 tablespoon spelt flour or all-pupose flour
1 1/2 teaspoon vanilla
1 cup chopped halvah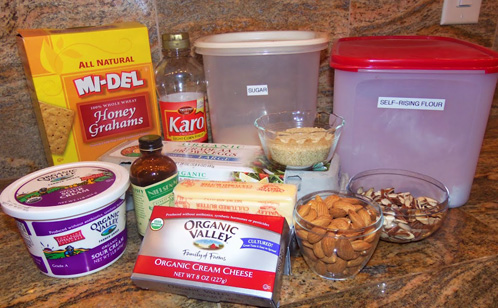 Base:
1 cup graham wafer crumbs (about 9 crackers)
1/3 cup ground almonds
4 tablespoons melted butter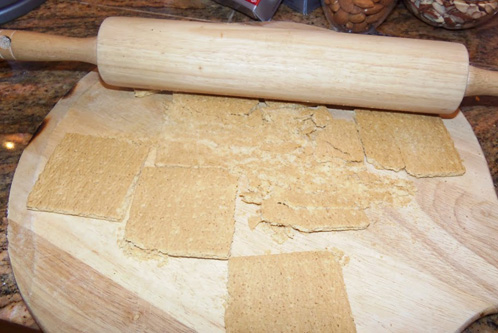 Garnish:
1 tablespoon corn syrup
1/4 cup toasted seasame seeds
1/4 cup toasted sliced almond

Directions:
Grease an 8 1/2 inch springform pan and place on large square of heavy-duty foil. Make sure you press the foil up against the sides of the pan.
Base:
In a bowl, stir together graham wafer crumbs, ground almonds and butter until moistened. Press onto bottom of prepared pan.
Bake in the center of the oven at 325F (160C) for 10 minutes, or until firm. Let cool
Meanwhile, in a large bowl, beat the cream cheese until fluffy. Gradually beat in the sugar until the consistency of the mixture is smooth. Beat in eggs, one at a time, beating well after each and scraping down side of bowl often.
Stir in sour cream, halvah, flour and vanilla. Pour this over the base. Place pan in larger pan and pour in enough hot water to come 1 inch up the side.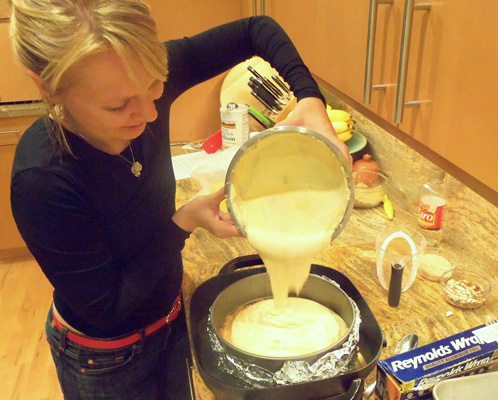 Cover sides with foil to prevent water leaks. Then, bake in center of oven at 325F until edge is set but the center still jiggles slightly. Note: In a traditional oven you would bake at 325F for 45 minutes, and in a convection oven you would bake at 305F for 45 minutes.
Turn off the oven and quickly run your knife around the edge of cake. Let cool in oven for one hour. Transfer to rack and remove foil and let cool completely. Cover and refrigerate for 12 hours or until set.
Garnish:
In small saucepan, heat the corn syrup and the brush it over the side of the cake. Press sesame seeds onto sides.
At this point, you can toss the toasted almonds on the top. Or you can do what I did and spruce those almonds up a bit by heating up some molasses and tossing the almonds with it, then pouring over the top. Either way, it's delicious!
Tip: Layer the cheescake and Halvah to get more of an aggressive Halvah flavor throughout the cake. If you mix it into the batter, it's a more subtle Halvah taste.