There are so many things that make the Christmas season my favorite – the new tradition of the Elf on the Shelf, playing Settler of Catan for hours, laughing with family, Santa Claus making an appearance (while Grandpa mysteriously disappears), the Salvation Army shopping trip for Bramble Berry and the big Faiola-Renoud family dinner. There's another one that I don't want to forget though: the annual Bramble Berry cookie swap. Any excuse to get the team together for a bit of good cheer coupled with delicious, sugar and butter laden treats is a win-win in my book. Bonus points for leaving with a big box of cookies of all shapes and sizes!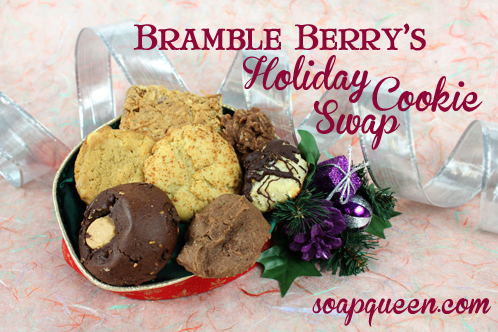 My contribution to this year's swap was Andes Mint Chocolate Cookies with a Mint Chocolate Glaze, pulling from two different recipes. I've included the recipes at the end of this post, so check 'em out after these highlights from the day!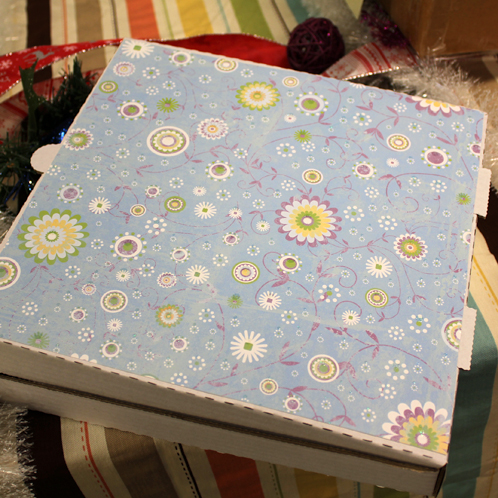 Amber from Marketing's creative container: A re-purposed pizza box with some adorable paper made for a perfect cookie tote!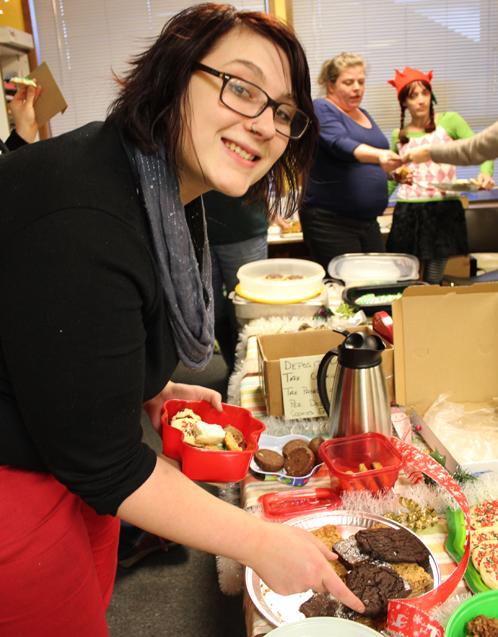 Customer Experience Associate Rachel scopes out the goods and opts for a delicious brownie to add to her stash (technically not a cookie but we don't discriminate!)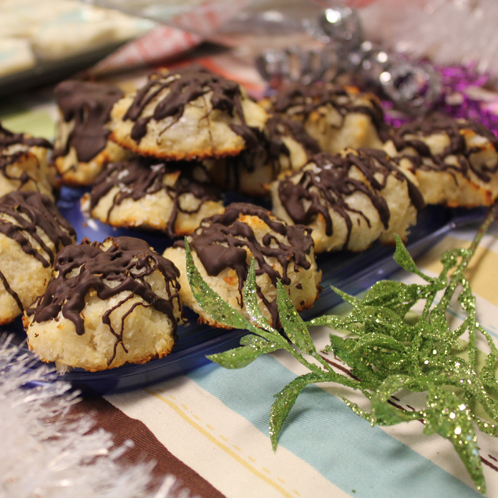 A close-up of Customer Experience Lead Tina's Coconut Macaroons with Dark Chocolate Glaze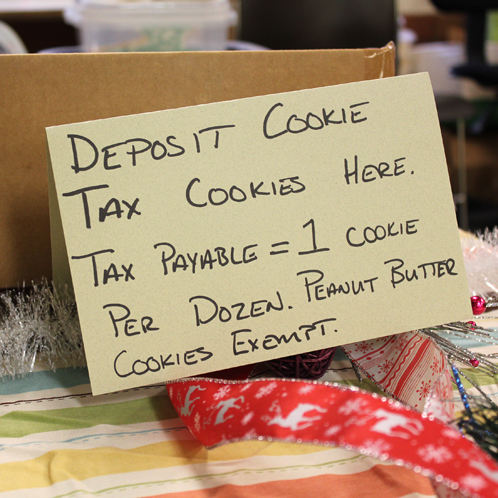 Chief Operations Officer Norman wasn't able to make it to the cookie swap, but he made sure not to be left out of the action. =)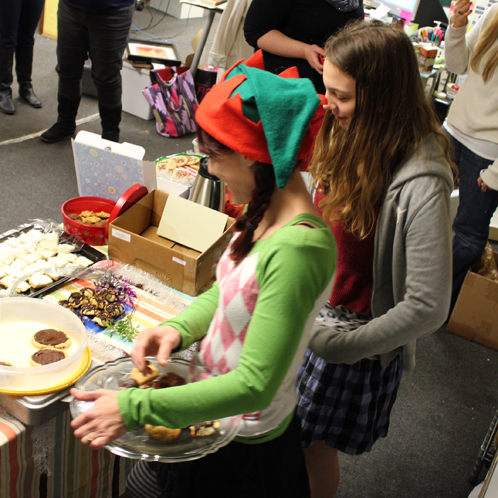 Customer Experience Associate and Bramble Elf Carla with her daughter Ember piling up a plate of delicious goodies.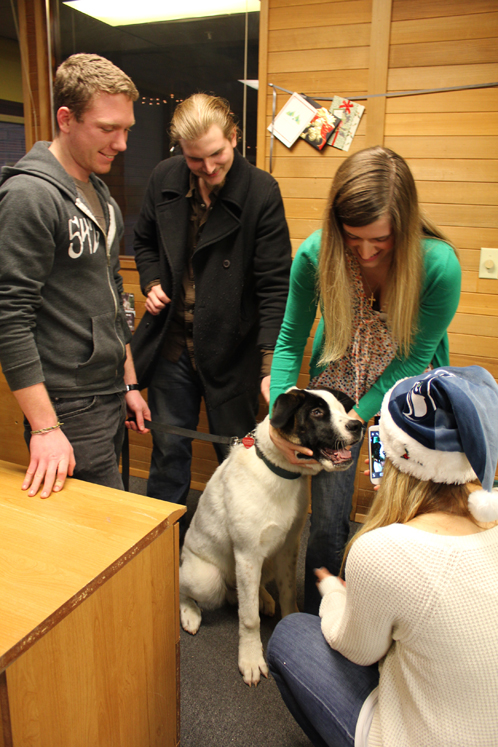 Special guest  puppy (yes, he's an 8 month old PUPPY) Bruce the Saint Bernard entertains team members Ryan M. from Production, Marketing Assistant Heather, and Customer Experience Manager Courtney (go Seahawks!) while owner Ryan S. from Testing keeps a tight leash on the gentle giant.
So let's talk cookies! I loved how these turned out, just the right ratio of cookie to chocolatey minty goodness. Totally indulgent. Totally worth it.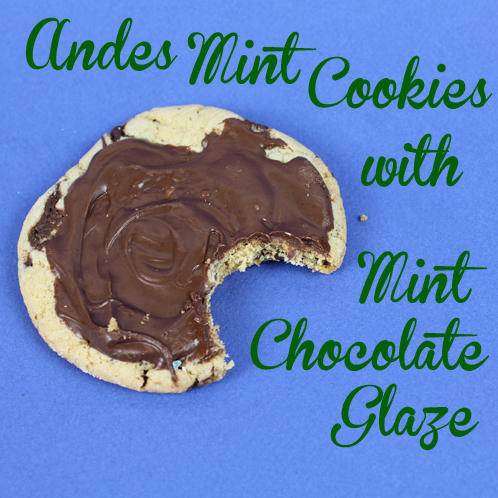 Andes Mint Chocolate Chip Cookies from the always delightful Sally's Baking Addiction
makes 3 dozen cookies
1/2 cup (1 stick) unsalted butter, softened to room temperature
3/4 cup light brown sugar
1/2 cup sugar
1 egg
1 egg yolk
1 tsp vanilla extract
3/4 tsp baking soda
1 tsp baking powder
1 tsp salt
2 cups and 1/4 cups all-purpose flour
2 tsp unsweetened cocoa powder
2 cups chopped Andes Mints OR Andes Mints Creme de Menth Baking Chips
Preheat oven to 350 degrees.  With an electric or stand mixer fitted with a paddle attachment, cream together the butter and sugars on medium speed. Add the egg, then the egg yolk, mixing for about 1 minute after each addition.  Mix in the vanilla extract.
In a separate bowl, whisk together the baking soda, baking powder, salt, flour, and unsweetened cocoa powder.  Add 1/2 of the dry ingredients to the wet.  Mix for about 1 minute on low speed.  Add the rest of the dry ingredients and mix on low speed until combined. By hand, fold in the Andes Mints.
Drop by rounded tablespoon-fuls onto ungreased baking sheet or silicone mat. Bake for 10-12 minutes until sides slightly begin to brown. Allow to cool on the baking sheet for 2-3 minutes and transfer to a wire rack.
The dough is very, very thick and should come together easily.  However, if it is TOO thick to handle, add up to 1/4 cup milk before adding the Andes Mint Chips.
Andes Mint Chocolate Glaze inspired from Inspired Taste
2 ounces (28 grams) semisweet chocolate, finely chopped
1 tablespoon butter
1 1/2 ounces (42 grams) chopped Andes mints or of Andes baking chips (about 1/4 cup)
Once cookies have cooled, make the chocolate glaze. To make glaze, combine chocolate and 1 tablespoon of butter in a small microwave-safe bowl. Microwave for 20 seconds, stir then microwave for another 20 seconds. Repeat this process until the chocolate and butter have melted. (This takes about a minute). Stir in the Andes mints then spoon about 1 teaspoon of glaze onto each cookie and spread into a thin layer.
I dare you not to lick that Chocolate Glaze bowl….