Today, Amber in marketing shares a favorite recipe and technique – enjoy!
While doing the Crazy Sexy Adventure Cleanse, I had a great time re-discovering my love of making salads. Which involved finding good stuff to put in my salad, like bean sprouts!
Making your own sprouts at home is so easy and doesn't take any special equipment (although there are really cool sprouting rigs you can buy) and you can sprout all sorts of seeds, beans, nuts and grains. Eating sprouts is an incredibly nutritious way to get Vitamin A, Vitamin C and B-Complex as well as protein.
Today I'll show you how I sprouted mung beans that I bought in the bulk section at my grocery store. Or course, you can buy special sprouting seeds and beans, but you can find so much at your local store to get you started.
To sprout you will need:
Quart Size Canning Jar
Ring to fit the jar
Cheese Cloth
Beans or Seeds
Instructions
ONE: Rinse the beans and discard any that look weird or discolored.
TWO: Place about 1/4 cup of beans in the jar and fill with water. Place a double square of cheese cloth over the top of the jar and use the ring to secure it on. Allow the beans to soak for about 1 day. Smaller beans and seeds don't need as long.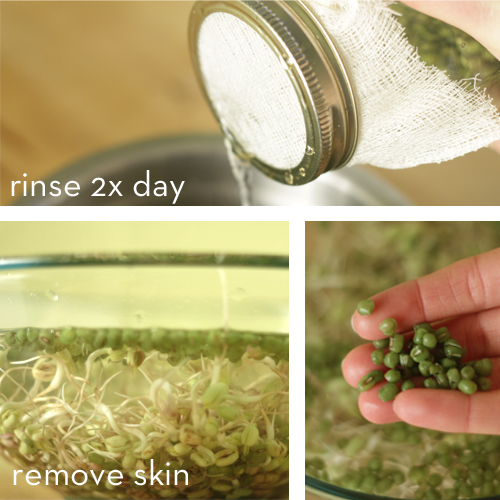 THREE: Pour out the water through the cheesecloth and rinse the beans just by filling the jar through the cheese cloth and draining out the water. Rinse a few times and be sure to get as much water out as you can. You don't want the beans sitting in a puddle, which can lead to mold and rot.
FOUR: Rinse 2-4 times a day until you get sprouts. It usually takes about 8 days for me to get good mung bean sprouts.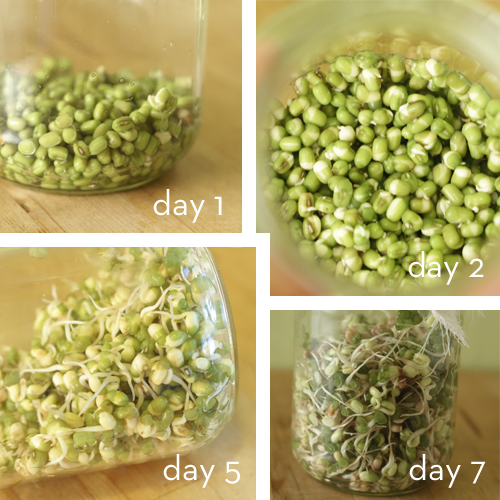 FIVE: This step is optional. You may want to remove the skins or hulls of your sprouts. The easiest way is to put the sprouts in a big bowl of water and skim off the skins that float to the top. I find this gets most of the skins and doesn't take too much time.
SIX: Eat them up! Here's one of my favorite salads. It has marinated artichokes, grated carrot, lentils, and sprouts on top of fresh, crispy lettuce.