Kevin of Devinely Designed creates beautiful soap and shares his creations via his YouTube channel, Devinely Designed. With over 100 videos, Kevin has made a name for himself in the community for providing creative and educational soap making videos. From a Dandelion Zebra Swirl Tutorial to his first experience making liquid soap, Kevin's videos are fun and thoughtful. Read on to learn more about Kevin and his soapy business, along with his tips for creating YouTube videos. -A.M.

A collection of Kevin's cold process soap.
How long have you been soaping for, and how did you get started?
I've only been soaping for a little over two years. I was just surfing the net one day and somehow landed on watching a YouTube video of making homemade soap…and I was completely hooked from that moment on.
What sort of advice would you give to those soapers just starting their businesses?
I think I would give two pieces of advice: One, be clear about your goals – are you a hobbyist who wants to sell a little to support your soapy addiction (like me), or are you planning to make this a second or even a primary income? Those are very different things and need different kinds of approaches. Included with that one is deciding if you really want a business at all. If turning the hobby you love into a business makes you hate it, then think long and hard before you make that leap.
Second, I would say be prepared to work hard and probably not see big (if any) returns for at least a year or two. Even a small business can be a lot of work, and there's so much to learn. You can't just open a web store an expect tons of orders. In addition to learning how to source all of your materials and organizing your work space, planning packaging and shipping, figuring out profits and losses, learning tax rules you'll need to learn to market yourself and your product. You have to be diligent if you want to achieve those goals.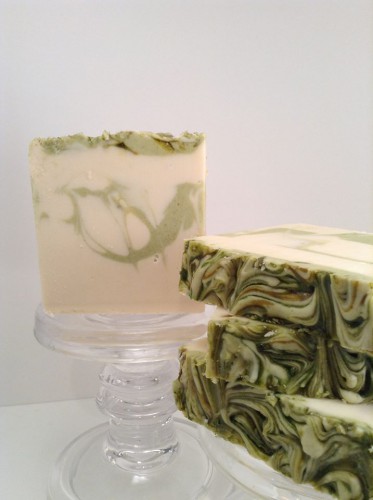 Kevin's "Peppermint & Chamomile" soap. Click here to watch the video tutorial!
What is your favorite type of product to make?
Cold process soap. As I said, I was hooked the first time I saw it and it's still my favorite, although a luxurious emulsified sugar scrub is a close second.
What inspires you to create?
So many things! Art, music, color, fragrance, my two cats! I love the creative process of imagining how some inspiration might translate to soap. Fellow soapers inspire me all the time as well, watching videos or seeing posts of gorgeous soaps always gets me itching to get in the soap kitchen.
What's your favorite thing about making videos?
I think it boils down to being able to be a teacher on videos. When I was in school I thought about becoming a teacher and I have always enjoyed learning myself. Videos let you be both student and teacher. An added bonus is connecting with fellow soapers and getting to chat over e-mail about soap related things – no one gets as excited about talking about a new mica or fragrance than a fellow soaper. And, my non soap friends just think I'm a soap nerd, so they don't really get it.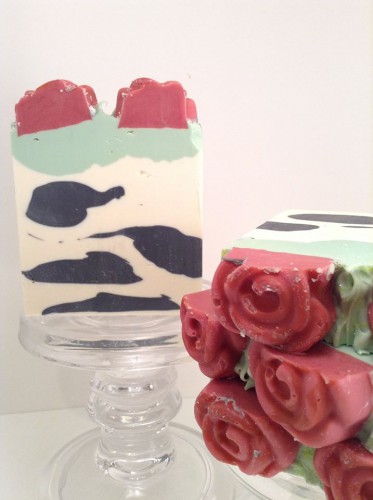 Kevin's "Roses in the Cow Pasture" soap. Click here to see a video of this soap being made!
What advice do you have for people who want to upload their soapy videos on YouTube?
Don't forget about the basics. You can make the most gorgeous soap in the world but if it's in total shadow it won't make a difference. You don't need a fancy setup, but have good lighting, good sound and frame your shot so the viewer can clearly see what you are doing. My other piece of advice would be to relax, be yourself and try to have a little fun.
How did you come up with the name for your business?
My last name is Devine, so "Devinely Designed" is just a play on that. I also liked that it wasn't soap specific. I do other types of crafty things, so I could apply it to other things as well.
What is your favorite Bramble Berry product and why?
The 12 Bar Square Silicone Mold. It was the first "real" soap mold I used and I still use it today. I love the size of the bars and how easily and perfectly smooth the soap comes out. If I can have an honorable mention, I would also say Energy Fragrance Oil, which might be my all-time favorite fragrance.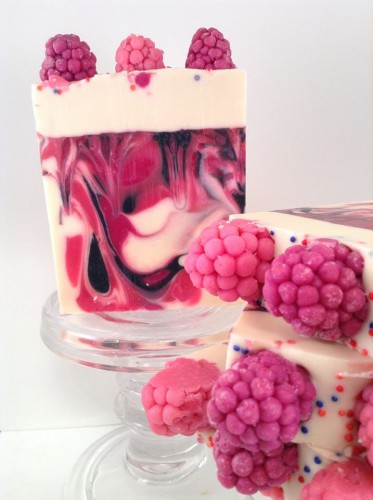 Kevin's Black Raspberry Vanilla Soap.
Tell us something unusual or unique about yourself!
I'm a nurse in "real" life, I used to be an ER nurse, now I do consulting for a technology company.
What are some of your other hobbies and interests? 
I've been a crafty person all my life, so I like all kinds of crafting. Paper crafting, card making and mixed media are probably my other favorites.
What is your number one soaping tip? 
Be prepared, and when things go wrong (and they will from time to time) stay calm.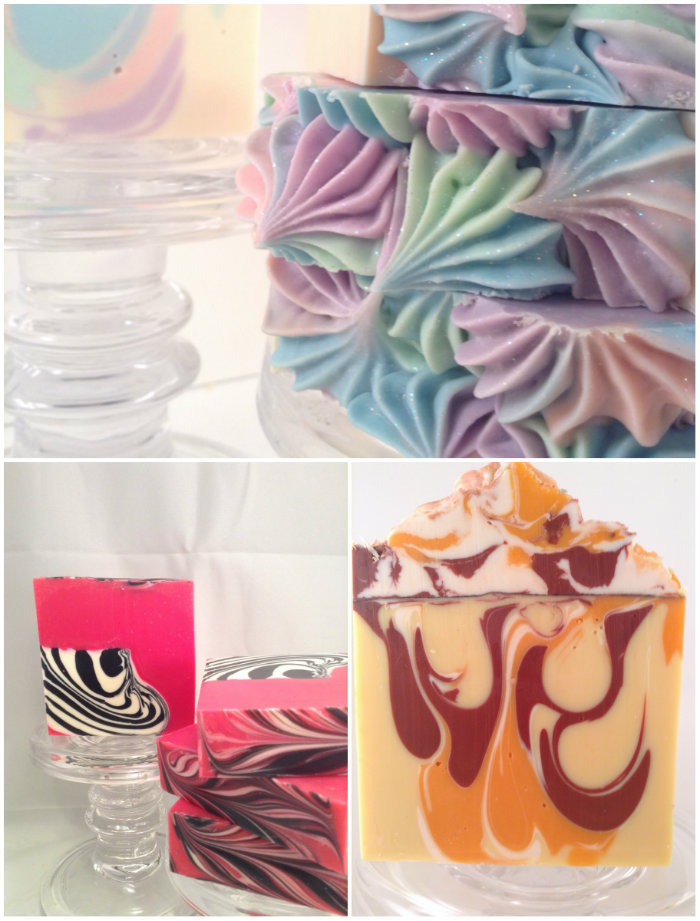 Have you ever experienced a horrible soapy fail? How did you work through it, and what did you learn?
Oh my yes! I say embrace your failures, that's how you learn. You can see a few of my fails in my videos and people tell me all the time how they appreciate seeing them and how it helps them get a sense of really making soap. One time I was making a round soap in a PVC mold. I had two of the molds nearby but had only prepped one. When I poured my soap I poured it in the one without the end cap on it and had soap go everywhere. That's the day I learned to only keep the mold I'm using in my soaping area.
What do you love most about creating bath and body products?
I think what draws me is the combination of art and science. There's always new things to learn and a great opportunity for creative expression.
Find Divinely Designed
On The Web
On YouTube