Linda O'Sullivan (also known as Mimi and Boo) creates stunning cold process soap and bath fizzies in the UK. I first came across her soaps on Instagram, via the hashtag #SoapShare. I quickly found myself scrolling through her dreamy Instagram feed, feeling incredibly inspired. All of Linda's creations are elegant and sophisticated. I love how each look so creamy and decadent! Read more about Linda, her creative process and photography tips in the interview below! -A.M.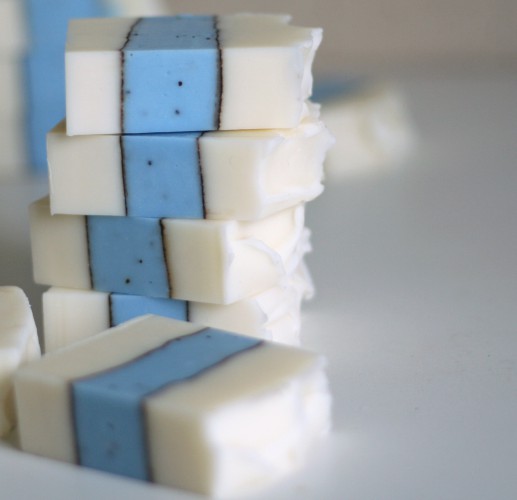 Linda's beautiful peppermint cold process soap.
How long have you been soaping for and how did you get started?
I came across a soap making book back in 2000 and decided to give it a go. So I made my first batch and I've basically never stopped. It was very much a hobby at first and I gave away my soaps to friends and family as gifts. When my son started school in 2009, I realized that I wanted to be at home for him. I wanted to be at the school gates, I wanted to be there when he did his homework… I worked in broadcasting at the time, with a long commute and some traveling to faraway places. So I gave up my job and set about starting my own business making and selling handmade soaps. It turned out to be the best decision for me and my family.
What sort of advice would you give to those soapers just starting their businesses?
Well, what works for me is that I love what I do. Even when I work long hours it never feels like work and that keeps me going. To those starting their businesses I would say: Believe in what you do and go for it. You will make mistakes along the way. We all do but we can learn from them. And try to find the balance between being artistic and being consistent. When you're running a business it is important be able to recreate the exact same product time and time again. I have many repeat customers who keep coming back to buy the same soap. This means keeping meticulous notes all the time.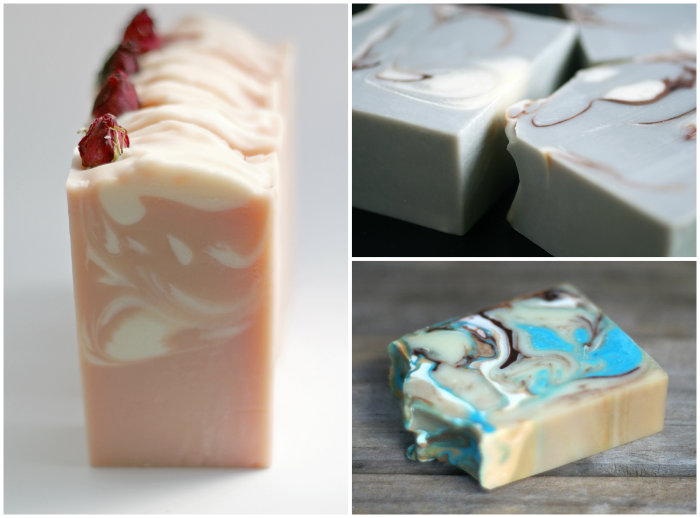 Left to right: Rose clay cold process soap, Vetiver cold process soap, turquoise and gold cold process soap
What is your favorite type of product to make?
I make bath bombs, bath salts, body butters, liquid soap but cold process soap is what I love best.
What inspires you to create?
It took me years to realise that I was creative. When I was at school I couldn't draw or paint as well as my friends so I grew up assuming that I was not artistic. Soap making unlocked my creativity; it made me believe in my own ability. Everything around me inspires me. My husband says 'Look at that beautiful sunset!' and I see an ombre soap! I see soap in everything around me: in the colors of nature, in the walk by the sea, in a painting on the wall, in food… I think about soaps pretty much all the time and have been known to jump out of bed in the middle of the night to write down an idea that has just popped into my head.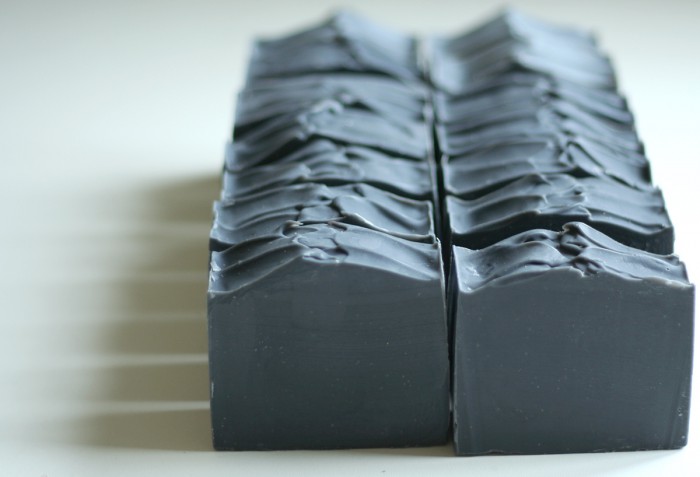 Linda's stunning Obsidian Cold Process Soap, made with charcoal. 
How did you come up with the name for your business?
I use my own name as my business name.  I thought long and hard but did not come up with a name I liked enough, a name that I felt comfortable with. In the end it felt natural to go with my own name. My Instagram name (mimi_and_boo) came about by accident. I noticed last year that my son was showing an interest in photography. So I set up an Instagram account so he could post some pictures. Mimi is my nickname for him and Boo is my husband's nickname for me. Of course being a child, he soon moved on to other things so I started to post pictures of my soaps instead.
Your product photos are absolutely stunning! What advice do you have for taking great pictures?
Thank you, my photography is a work in progress! It is an evolving thing. I can't afford a professional photographer so I had to become that photographer. I am very conscious that when you look at something on a screen you can't pick it up, you can't touch it and you can't smell it – bad news for soapmakers. My advice would be: get as close as your lens will allow you, swap your flash for natural light, and steady those hands (I often lean my elbows on a pile of books!).
Top left to right: Rose Oudh Cold Process Soap, Triple Milk Cold Process Soap, lace cold process soap

What is your favorite Bramble Berry product and why?
I love, love, love your Sensuous Sandalwood Fragrance Oil. Oh how I wish you were in the UK!
Tell us something unusual or unique about yourself!
I don't know if I am unusual but I am obsessed with details and I think that comes across in my soaps, my photos and my packaging.  I am not happy until I get things just the way I want it and I will keep at it until I get there. Oh, and French is my first language, not English, but even I seldom remember that these days!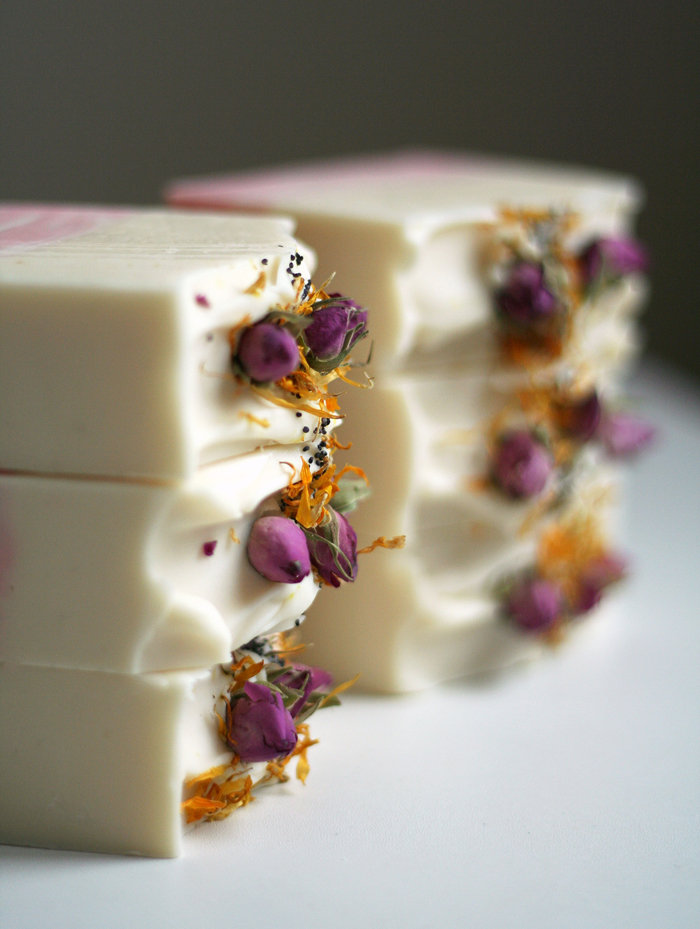 Ylang Ylang Cold Process Soap, scented with a blend of lavender, geranium and ylang ylang essential oils.
 What are some of your other hobbies and interests?
I really enjoy baking. Sadly my waistline doesn't. My family and I travel as often as we can. We love the excitement of being somewhere new, discovering a new culture, trying new food etc. And I'm pretty sure there's a potter in me somewhere. One day I will take up pottery.
What is your number one soaping tip?
Be prepared!  Plan the process in your head and lay out everything before you start. Always have a Plan B when working with a new fragrance oil.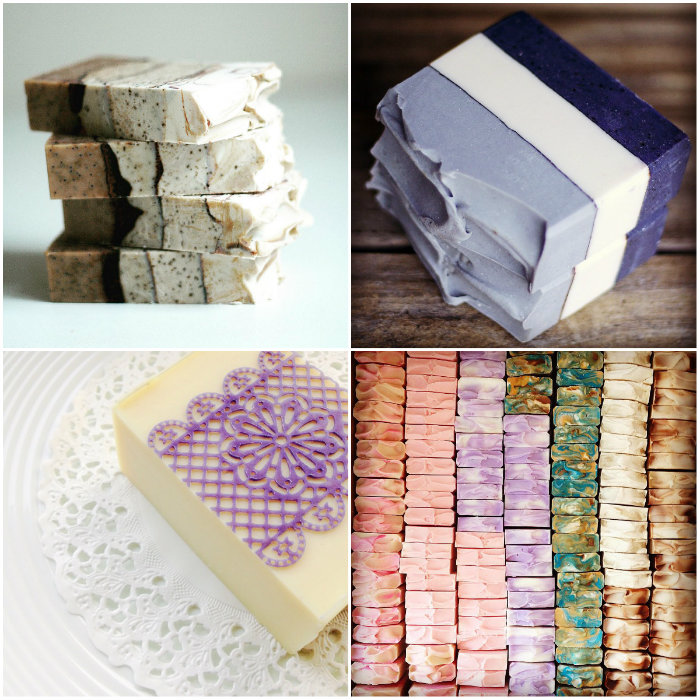 Top left to right, clockwise: Toasted Coconut and Coffee Soap, Anise Orange & Lavender Cold Process Soap, a collection of over 180 cold process soap bars, textured lace cold process soap
Have you ever experienced a horrible soapy fail? How did you work through it, and what did you learn?
Oh yes, there have been plenty over the years! In my experience, soapy fails are often related to fragrances. The first time I got 'soap on a stick' I dumped the whole lot in the bin. Now I know that I could maybe have let it gel in the pot and then poured it. These days I tend to trust my instinct. I was working with a fragrance recently that, according to the supplier's website, was not supposed to accelerate on me. I couldn't find any reviews but I could detect a familiar floral note in it that made me proceed with caution.
I split my batter into different portions, adding the color I wanted to each portion. Then I stirred in a small portion of the scent into the first jug and poured it. I could see little lumps forming at the bottom of my jug so that gave me a good idea of how long I had before things went pear shaped. No time for fancy swirls. Sure enough, the whole lot was almost rock solid by the time I had finished pouring. It's not the prettiest soap but I am pleased that it has no air pockets.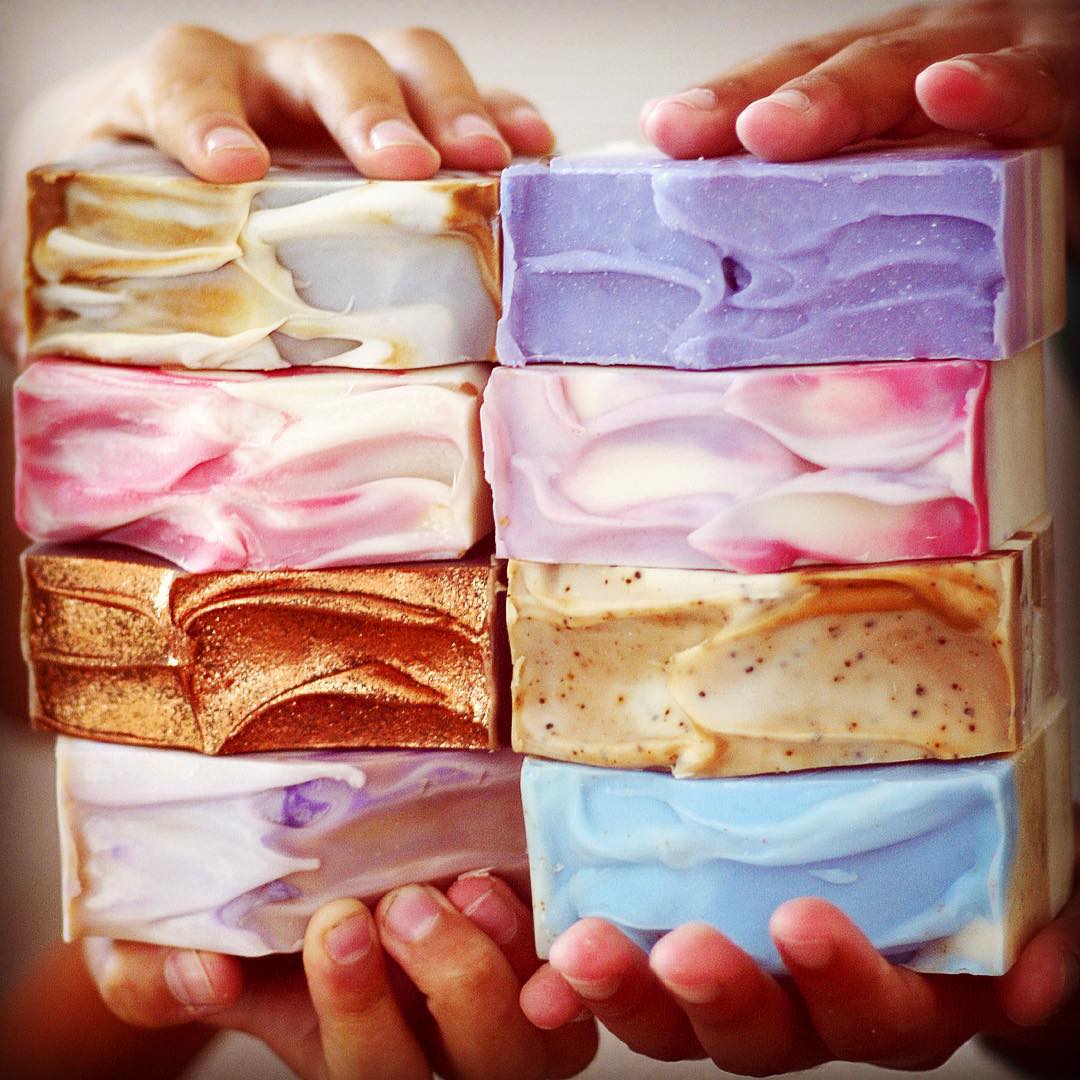 Linda's beautiful cold process soap!
 What do you love most about creating bath and body products?
I love the alchemy, the magic of transforming oils and raw ingredients into sumptuous, fragrant products.  It makes me feel like a magician.
Find Linda O'Sullivan
On the Web
On Instagram