Another year of Soap Weekend Intensive is in the books. The super fun, crazy, intense, and soapy extravaganza started off on Friday with Cold Process and Melt and Pour 101 at Otion, and the house was packed with eager students from all over the world ready to kick off the weekend!
Saturday started off with a visit from a very special guest – my little man, Jamisen!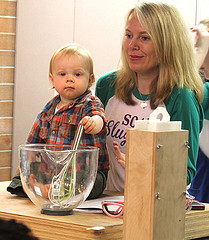 After that ray of sunshine, we dove right into our first round of Cold Process demos: three different milk soaps! I taught two techniques with Goat Milk and one technique with Rice Milk, straight from my new book, Making Milk Soap from Scratch.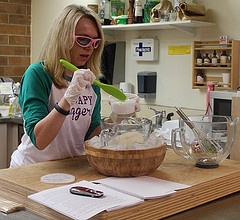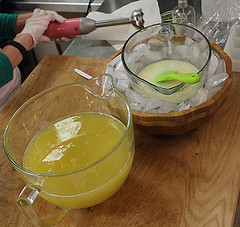 Next up, Kat from Otion was on hand to teach Swirling 101, including color theory and her famous Kat-leidescope technique. After the class, some of the attendees affectionately dubbed her "Swirly McGee". Love those bright colors!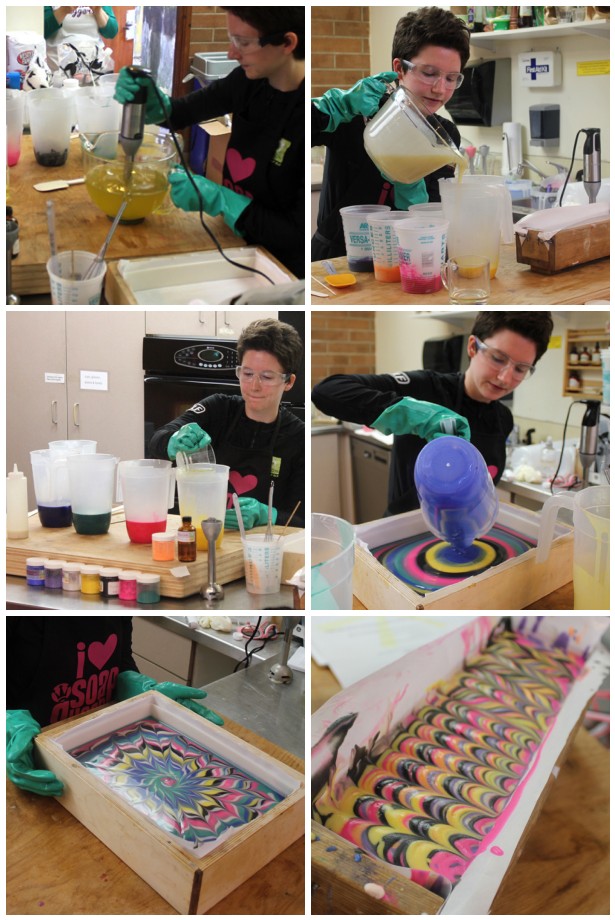 After a break for lunch (our traditional Farmer's Market tour was rained out, boo!) it was time for a hands-on CP session. Each of the students got to make their own mini-loaf of soap, and there was an experienced Cold Process soap maker available for every 3-4 students to assist and answer questions.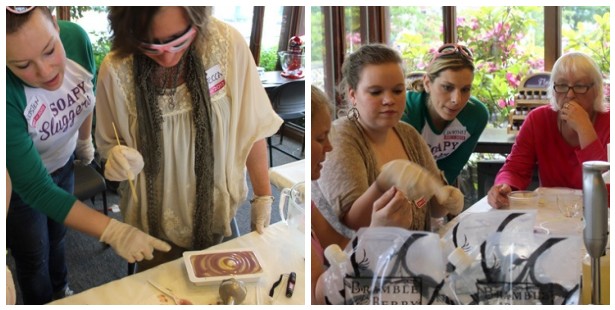 There was such a wide variety of soaps made, lots of fun colors, and tons of freshly learned swirling skills being demonstrated. It was so much fun to see what everyone came up with.

Whew! After hearing some of the attendees express interest in Bath Bombs, we decided to add on an extra on-the-fly class using our new Bath Bomb Machine to end the day. Unfortunately, the humidity was throwing my recipe for a loop, but the adverse weather made for a great teaching opportunity. And, we did get the bath fizzies to work – it just took a little extra TLC with all the moisture in the air.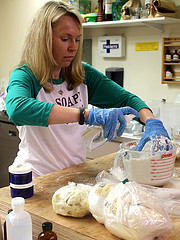 In the afternoon, our apprentice soapmaker-in-training, Mr.  Jamisen stopped by for another visit after his 3 hour long (!) morning nap. He was pretty excited about the giant overhead mirror.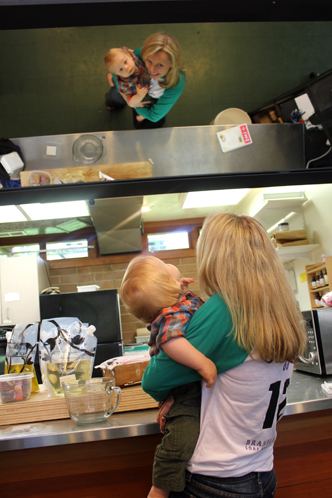 The first day of SWI was a whirlwind extravaganza in Cold Process soapmaking and I think everyone left tired but brimming over with new ideas for techniques and designs. I'll share more with you tomorrow and show pictures from the Melt and Pour, Scrubs, Packaging and Lotion classes. Wahoo! In the meantime, if there's something you'd like to see us teach at the next Soap Weekend Intensive, please let us know!