Before I write this post about our happy Salvation Army Shopping trip, I'd like to express our sadness and sympathy for the community of Newtown, Connecticut. As a parent, my heart breaks especially over this tragedy. I've had many, many conversations today with Brambleberrians equally saddened over the loss. It's inconceivable how anyone could target children and we are all devastated for the loss of life, trust and innocence. You're in our thoughts and prayers.
———————————————————————————————————————————————–
Team Bramble Berry will tell you – I start listening to Christmas music in October. Okay, it's more like September (and anytime I'm under stress)…but whatever. I love the spirit of Christmas time, and one of my favorite traditions is Bramble Berry's annual Salvation Army charity shopping trip. After his first time last year, Jamisen was once again able to join in on the fun! It made for such a great experience (slash completely discombobulated) now that he's at an age where he's so active and mobile.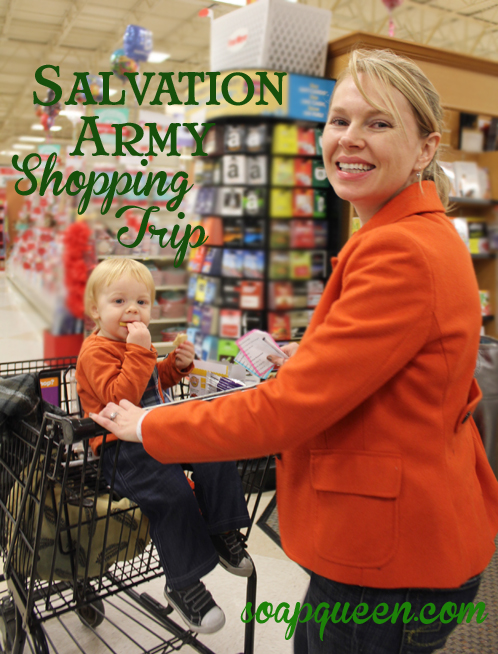 This year, Bramble Berry was fortunate enough to be able to adopt 7 families, including one family of 11, for total of about 30 people. Popular requests this year included Baby Einstein products and Princess gear. At last year's trip, Jamisen fell in love with a Gloworm, so I made sure to include one with my bundle of goodies designated for a 1 year old.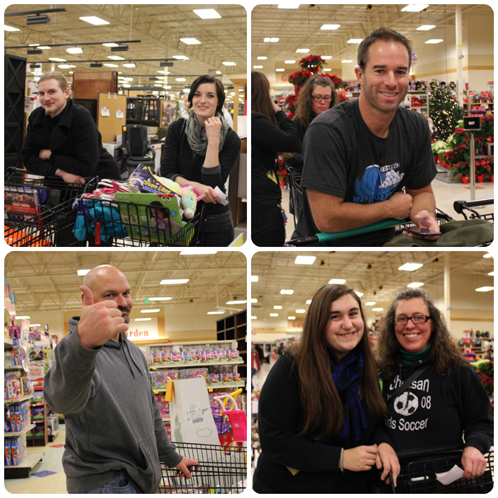 Helping out with the shopping, from left to right: Ryan M., Oryx, Mark, Jeff, Cheyenne, and Lynne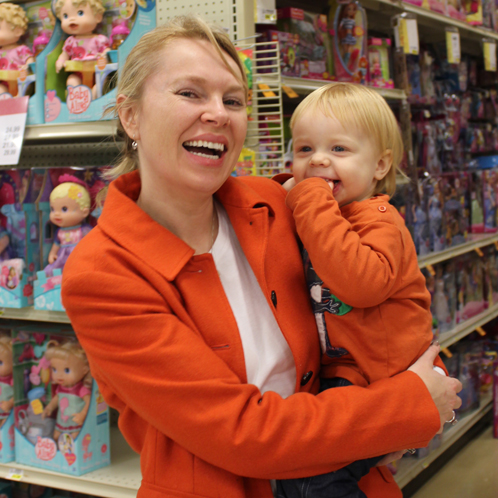 Like I said, it was super fun having Jamisen along for the ride this year. He was rocking it in his adorable t-shirt (in our traditional charity shopping trip color!) decorated with Bramble Berry CMO Amber's favorite animal – a squirrel. He was totally interested in pushing the big shopping cart, but it wasn't the easiest task logistically. We sought out the next best thing: a Jamisen-sized shopping cart! He was so enthralled by the plastic toy shopping cart that Santa may or may not be making another stop by the Bellingham Fred Meyer this year…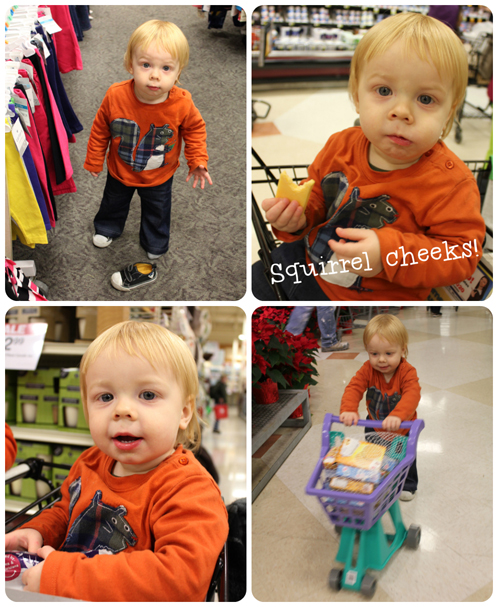 The store was kind enough to open up for us an exclusive checkout line with our own checker….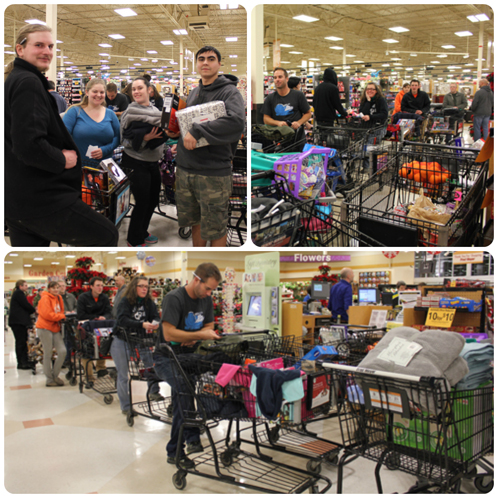 …because our line alone had about 20 shopping carts full of goodies for our adopted families!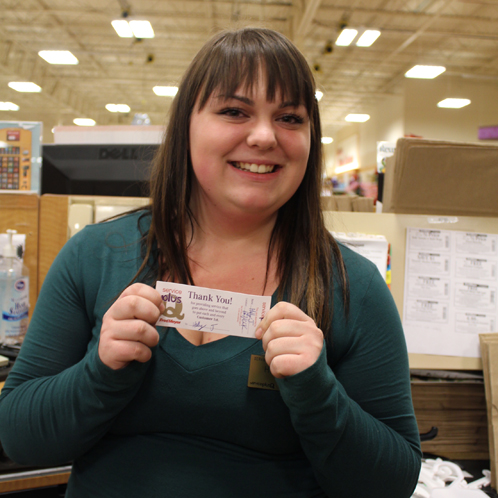 Holly, the checker for our line, got a Gold Service Plus card for helping us out! She did a great job, helping to keep us organized and got us checked out in record time.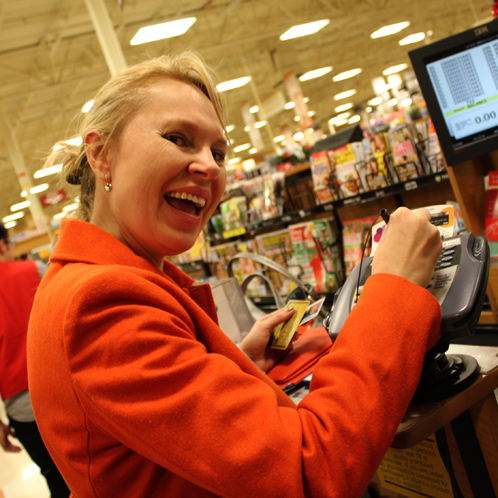 Here's the big moment – swiping and signing for the credit card. Drum roll please! Let's see how big that receipt is!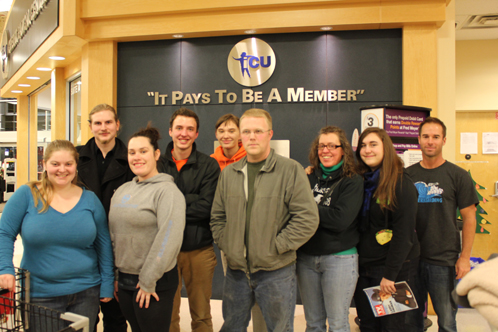 On stand-by to load up all the goodies into the truck!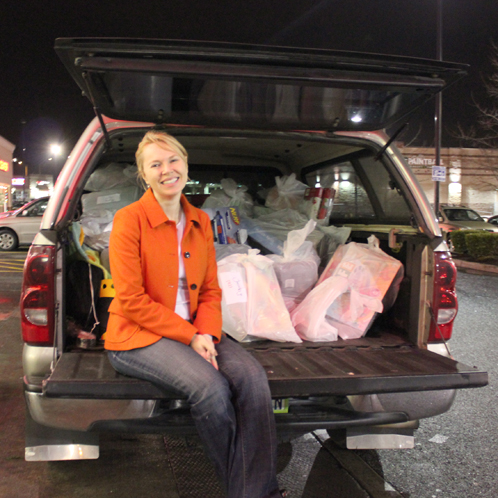 Carefully labeled and bagged for each individual adoptee, all of the goodies were then loaded into the truck. We've outgrown our usual post-shopping-trip-transport Land Rover and were in need of an upgrade. Luckily, Bramble Berry CEM (Customer Experience Manager) Courtney's beau Mark was kind enough to offer up the use of his truck this year. Thanks Mark!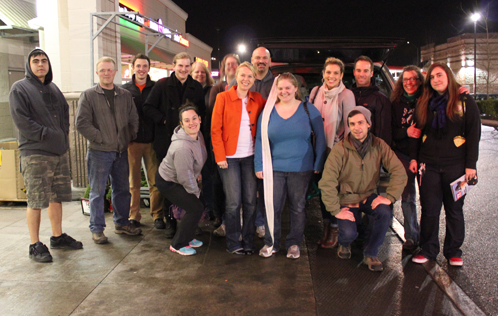 Every year the receipt grows…for two years running, Caitlin from production has been kind enough to be our measurement for the size of the receipt. Last year, it hit about her nose; this year, however, it definitely cleared the top of her head!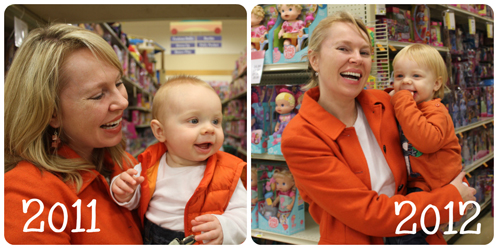 And finally, the start of a new tradition. As Jamisen grows (and is joined by a new sibling), we'll create a virtual growth chart through photographs. And you can always chart the growth of this annual event by checking out shopping trips from previous years here: 2007, 2008, 2009, 2010 and 2011.
What are some of your favorite holiday traditions?