Facebook Photo of the Week (June 14th ~ June 21st)
As Camp Bramble Berry is winding down,  I've been having a good time playing with its aftermath.  Whoops, did I say "I"? I mean, Jamiseen has (duh!). He loves the bubbles and the goopy floop the most ("goopy floop" being a technical term, of course).  Bramble Berry's Facebook page has been busy this week. There have been a number of entries to our #4thofJuly Challenge contest already, and that doesn't even begin to include the number of beautiful soapy photos on the page every day. This week's winner was an inspiration with bright summer colors and fabulous design. Check it out below…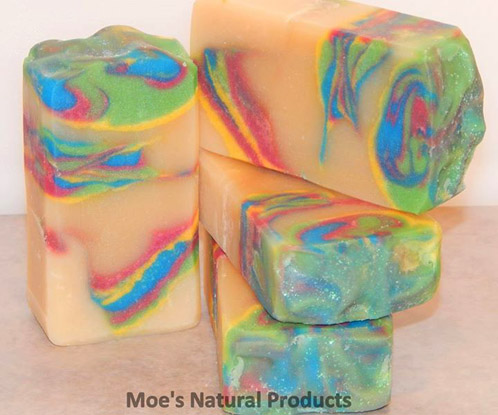 The burst of rainbow color in this ginger peach soap from Moriam at Moe's Natural Products caught my eye.  It's such a creamy looking soap, and it's made with both coconut and Goat's Milk, giving it a super skin-loving lather. Thank you Moriam — and everyone else who posts each week — for being part of our Facebook community! Below are a few more beautiful examples of her soapy creations: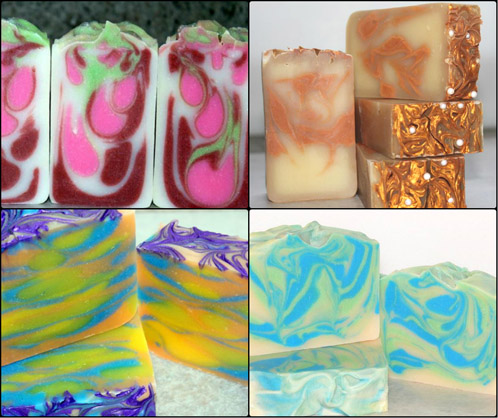 Moriam's Facebook Page: Moe's Natural Products
Be sure to post pictures of your soap creations on the Facebook page each week for a chance to win a gift package from Bramble Berry, and don't forget to check Soap Queen regularly for soapy news and updates.
12 Responses to "Facebook Photo of the Week (June 14th ~ June 21st)"
Leave a Comment
(Your email address will not be published)