This week, we shared (hopefully!) useful tips and tricks to keep you busy until summer's end. Looking to experiment with some new fragrances or molds? We've got you covered! We also wrote up a mini guide on measurements, including when (and how) to use volume versus weight measurements when creating a recipe. It's something that can be tricky, and we all need a little refresher sometimes.
We've also been busy with the release of the Soap Crafting book! Within the first week, more than 500 books went out the door, which is absolutely incredible, and something we're all very proud of.  I can't wait to hear about which recipes you all have enjoyed the most. If you're hungry for more Soap Crafting goodness, we made two recipes from the book this week, including the Neon Swirl and the Lab Color Ombre.
As for the Facebook Photo of the Week, this cute little treat just screams summer time. Read on below!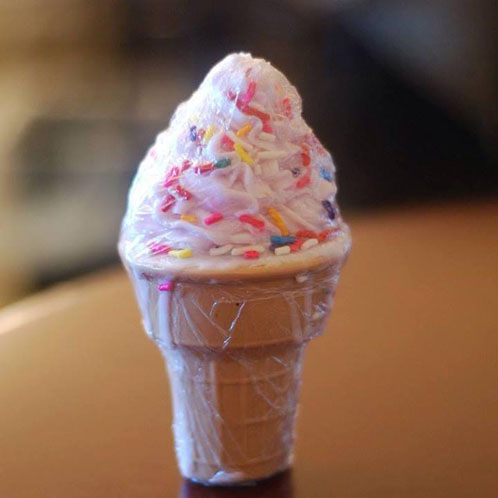 This weeks photo comes to us from Elaine L. from New York. This is her brand new Ice Cream Soap made with Bramble Berry's Goat Milk Melt and Pour Base, Sweet Treats Colorants set, and the delightfully summery Peach and Strawberry Fragrance Oils. The team in the office was just drooling over how realistic it looked. Thank you so much for sharing your soap with us and we can't wait to see your next batch. Be on the look out for a soapy package heading your way! Thanks to everyone who posts each week on our Facebook too, we wouldn't have the amazing community we do without your involvement and enthusiasm.
Be sure to post pictures of your soap creations on the Facebook page each week for a chance to be featured on the Soap Queen blog!