With Halloween and Thanksgiving still on the horizon, it can be hard to start thinking about the holidays. But, they will be here before we know it. If you are giving homemade bath and beauty products as gifts this year, now is the time to start planning and crafting. This is especially true if you plan on making cold process soap, as it requires 4-6 weeks to cure. In 4-6 weeks, it will already be the beginning of December! Crazy how time flies. =)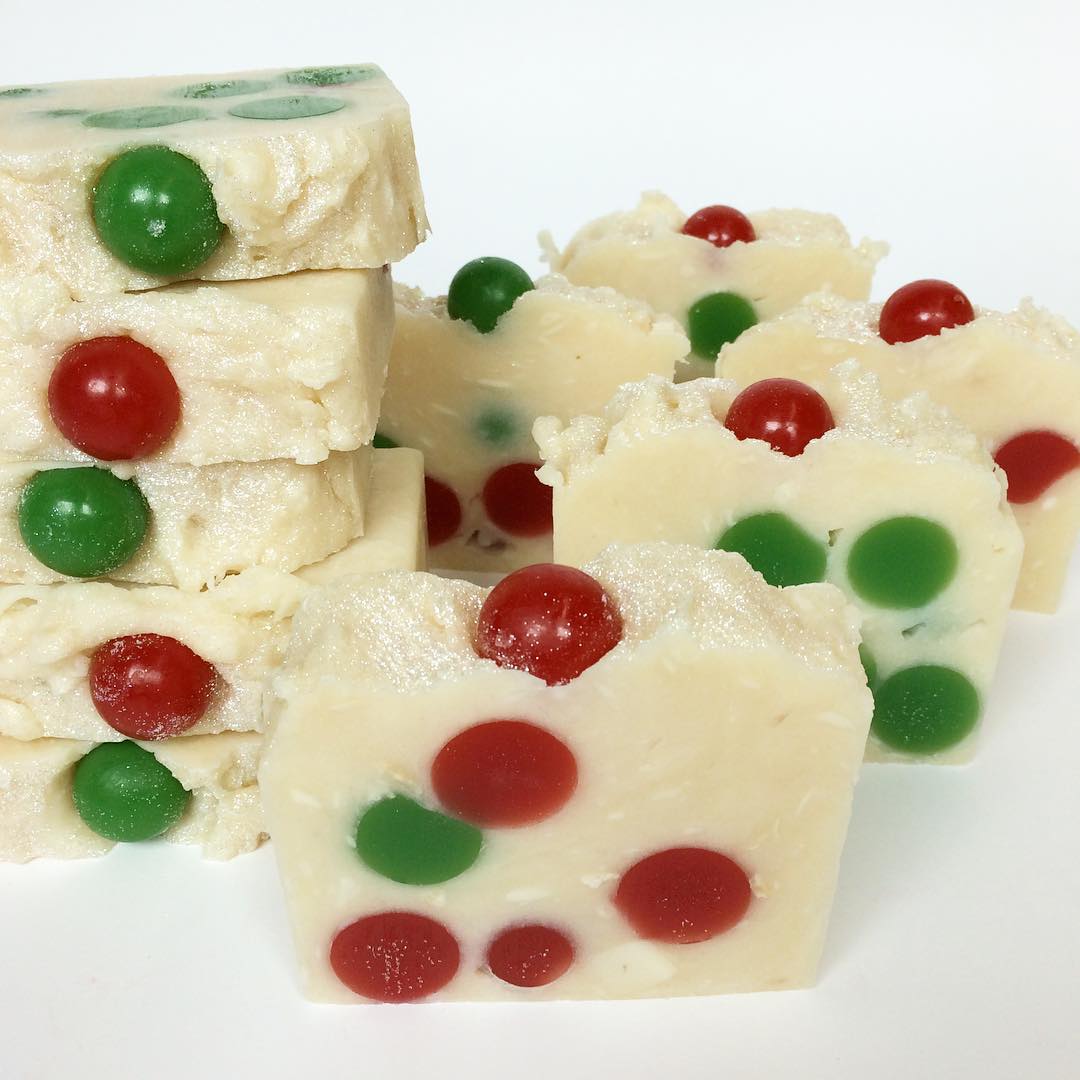 Rebatch soap is a great option if you're in a time crunch. Look out for the tutorial for these holiday-inspired rebatch bars soon!
If you're looking for a little holiday project inspiration, look no further! Over the years I have come up with plenty of projects that are perfect for holiday gifts. My friends and family always get handmade gifts from me, and I've never had any complaints about that. =) Homemade gifts are always memorable and I guarantee the recipients will be thankful that you took the time to create something for them.
Without a doubt, my favorite item to give during the holidays is cold process soap. It always invites conversation about the process, and I can talk about soap all day! If you're looking for a holiday inspired cold process soap, the CPOP Swirls Soap includes classic green and red colors. Scented with Fresh Mango Fragrance Oil, the fruity scent is slightly unexpected and great for any time of year.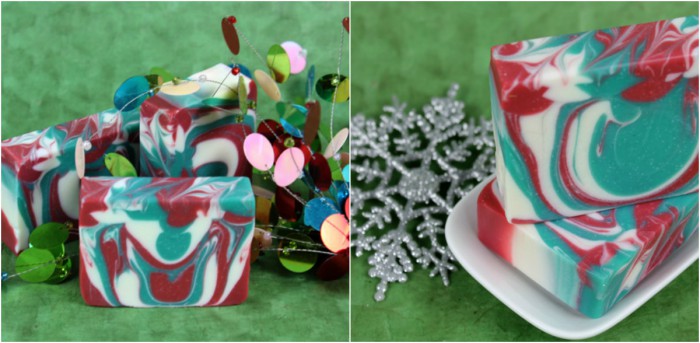 The CPOP Swirls Soap features classic holiday colors and a fruity scent. 
If you're looking for more holiday inspired cold process soaps, the Minty Mocha Mantra Marble Cold Process Soap by Erica Pence is perfect for the chocolate lover in your life. It's scented with a delicious combination of Peppermint Essential Oil, 1st Distill and Turkish Mocha Fragrance Oil. If you prefer fresh scents, the Holly Berry Cold Process Soap is made with Fresh Snow Fragrance Oil and is decorated with cranberry seeds to create a festive look. Even kids love receiving soap, especially when it has cute photos of animals on it like the Winter Creatures Cold Process.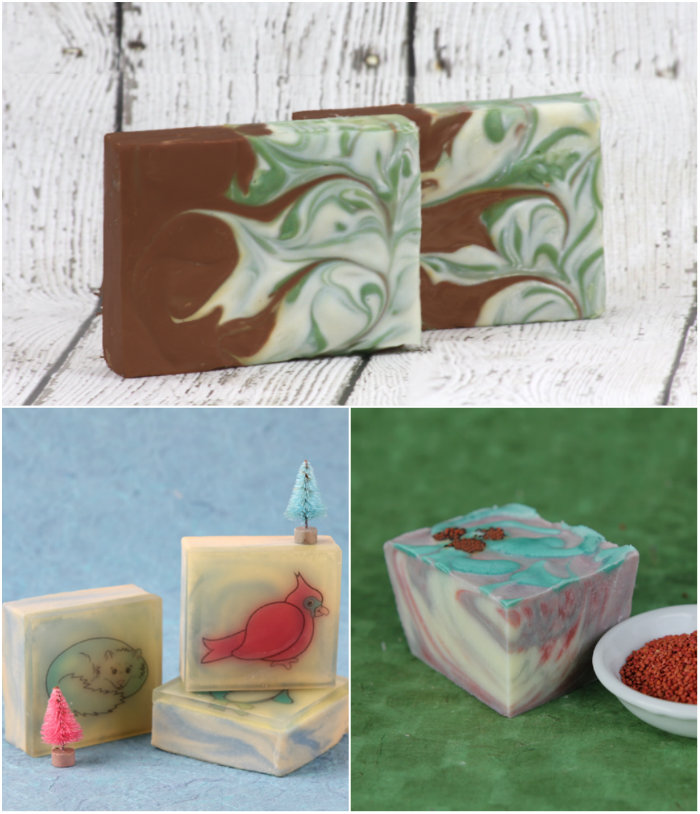 Top, clockwise: Minty Mocha Mantra Marble Cold Process Soap, Holly Berry Cold Process Soap, Winter Creatures Cold Process
Small and quick crafts are ideal if you have a lot of gift giving to do. The 12 Days of Christmas tutorial series is full of great project ideas. We covered everything from nail polish and eye shadow to melt and pour soap and candles. Each project is great for beginners, and most are small enough to be super stocking stuffers. Click here to see the full roundup of 12 Days of Christmas tutorials. Shown below are a few of my favorites, including the Whipped Champagne Shea Butter, Glamorous Gold Eye Shadow Quad, Chocolate Mint Melt and Pour Squares and the adorable Scented Beeswax Ornaments.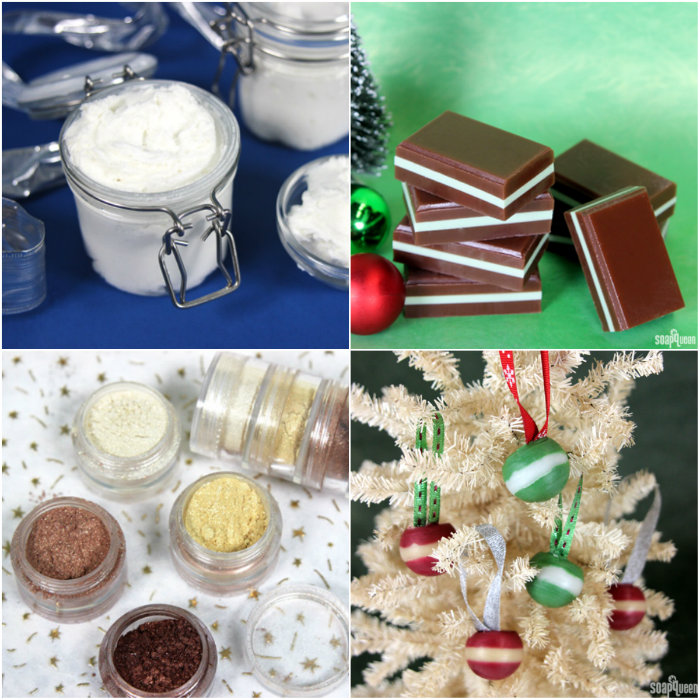 Top left, clockwise: Whipped Champagne Shea Butter, Chocolate Mint Melt and Pour Squares, Scented Beeswax Ornaments, Glamorous Gold Eye Shadow Quad
One of my other favorite gifts to give for Christmas are candles because they are so simple to make. Who doesn't love a warm candle? They are also a great gift option for somebody who is picky about their bath and beauty products. =) My new favorite way to glam up candles is by adding glitter, as shown in the Silver Glitter Candle DIY. This technique is super simple, and is sure to impress! Right now I have these candles on my table as a centerpiece, and they look beautiful. Check out the Winter Garendia Ombre Candle tutorial, along with the Chai Tea Latte Candle Tutorial if you're looking for more candle options.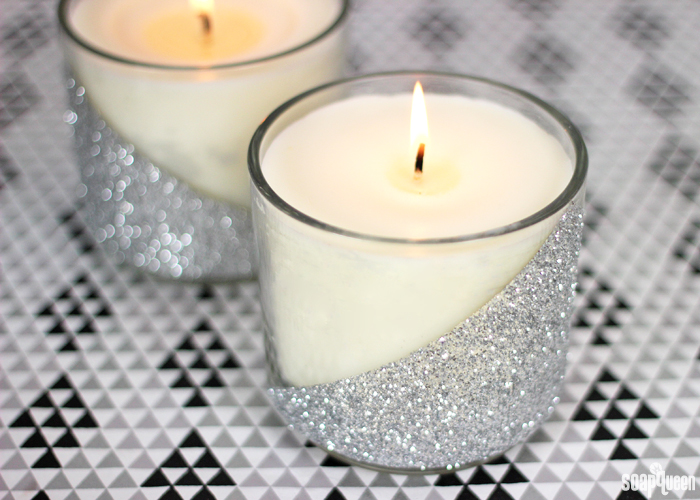 The Silver Glitter Candle DIY is a fun and simple way to transform a basic candle.
Last but certainly not least is melt and pour soap. I love giving melt and pour projects during the holidays because they can be created just days ahead. No cure time necessary for melt and pour! Just make sure to wrap up all your melt and pour creations in plastic wrap, or another airtight packaging option, to prevent glycerin dew. Both the Garnet Soap Gems and Romantic Rose Gold Melt & Pour Bars feature plenty of sparkle. I love customizing the gem soaps for the individual, whether it's their favorite gem or their birthstone. Click here to watch a video on Soap Queen TV to learn how to make soap emeralds and amethysts.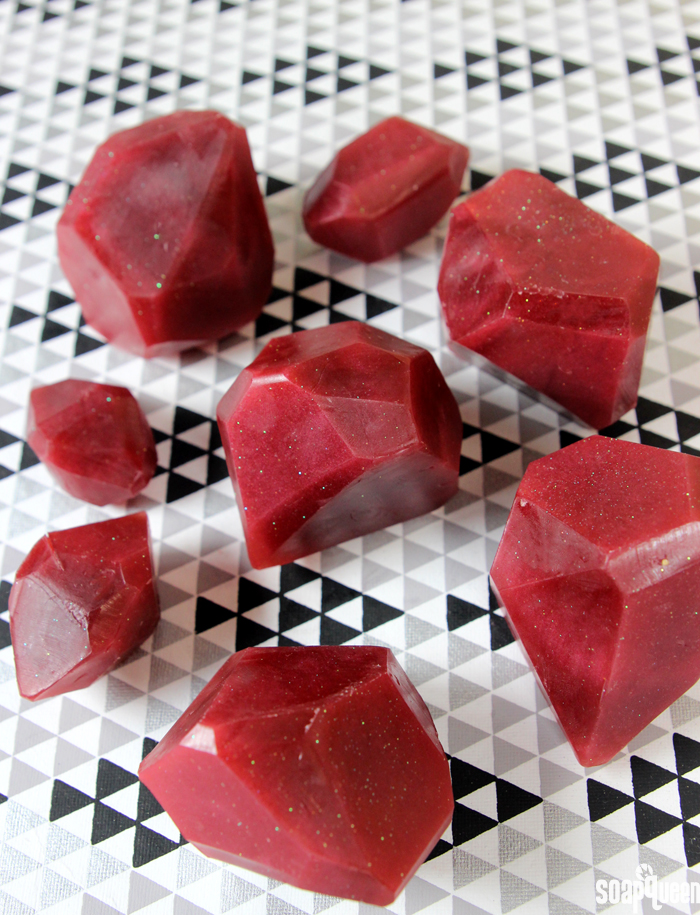 Melt and pour soap gems are a fun and beautiful gift, and are easy to customize based on your recipients. Click here to learn how to make them!
I love being inspired by the soaping community, there are so many talented soapy artists! The #SoapShare hashtag on Instagram is my favorite way to see all your amazing creations. Below are just a few of some of the amazing holiday inspired soaps. Please keep those photos coming, I check #SoapShare just about everyday. On Friday, I choose one photo to feature on my Instagram account; check out last week's winner here. Warning…it might make you hungry. =)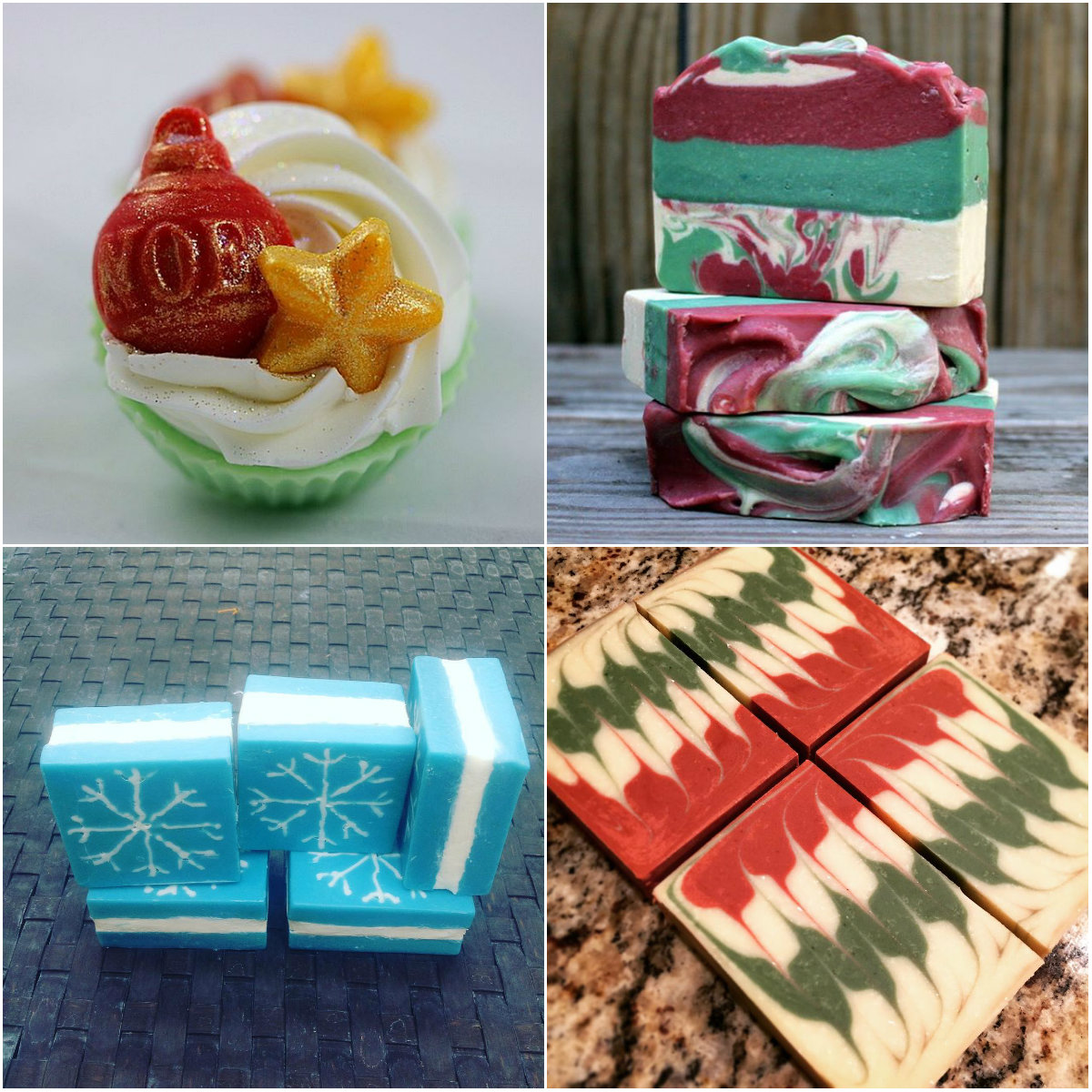 Top left, clockwise: Holiday Wax Melt by adivasoapandluxuries; Holiday Candy Goat Milk Soap by whitetaillanefarm; Holiday Candy Soap by sweetncharmingssoaps; Sandwiched Snow Goats Milk Soap by earthsrawbeauty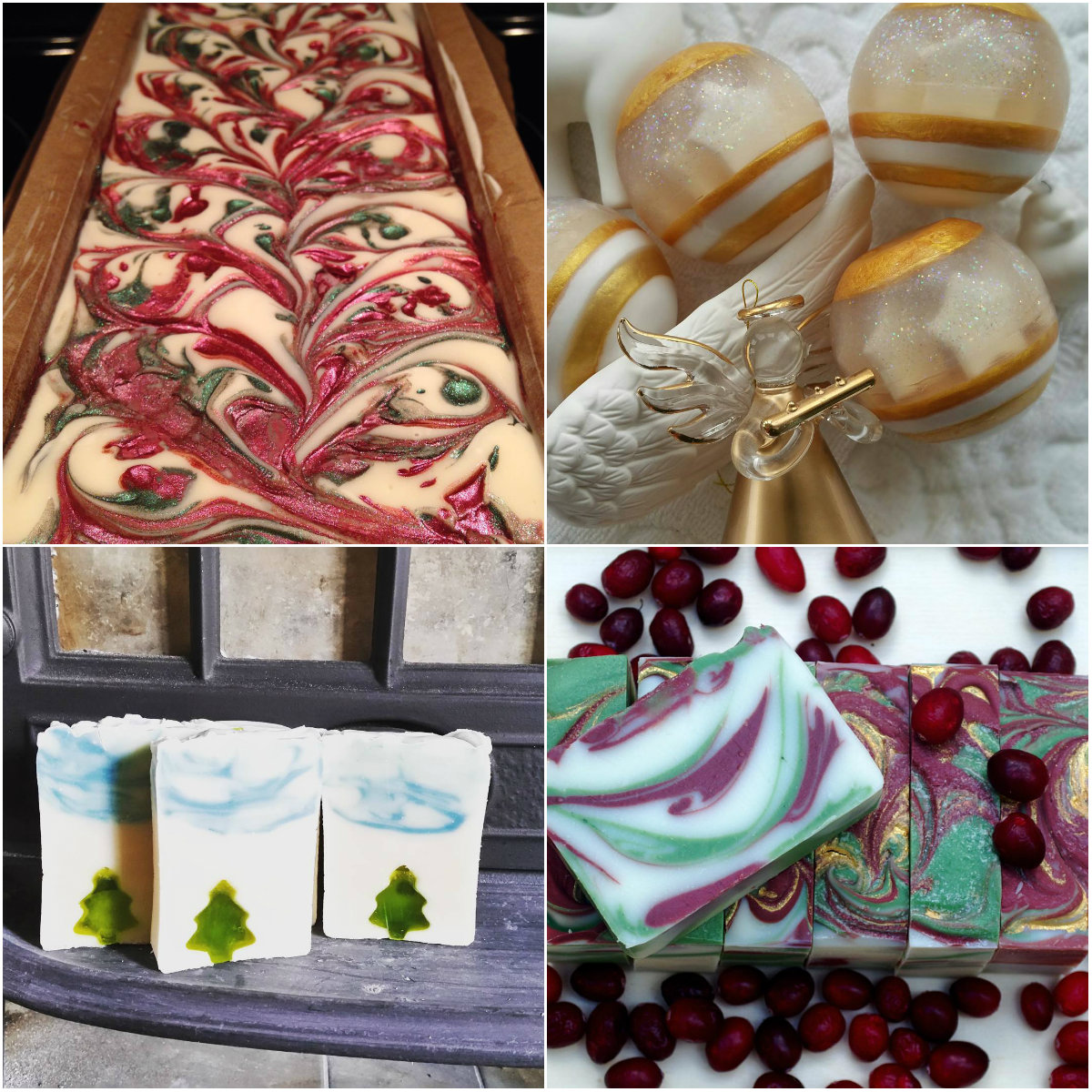 Top left, clockwise: Mint Candy Christmas Soap by rebelridgesoaps; Christmas Soap Bubbles by risivolpe; Cranberry Fig Soap by mainenaturals; Christmas Tree Soap by growinghomesoaps
If you don't have an Instagram account, you can also share your photos on the Bramble Berry Facebook account to be considered for the Facebook Photo of the Week. Have a stress-free holiday season by starting your DIY project today.