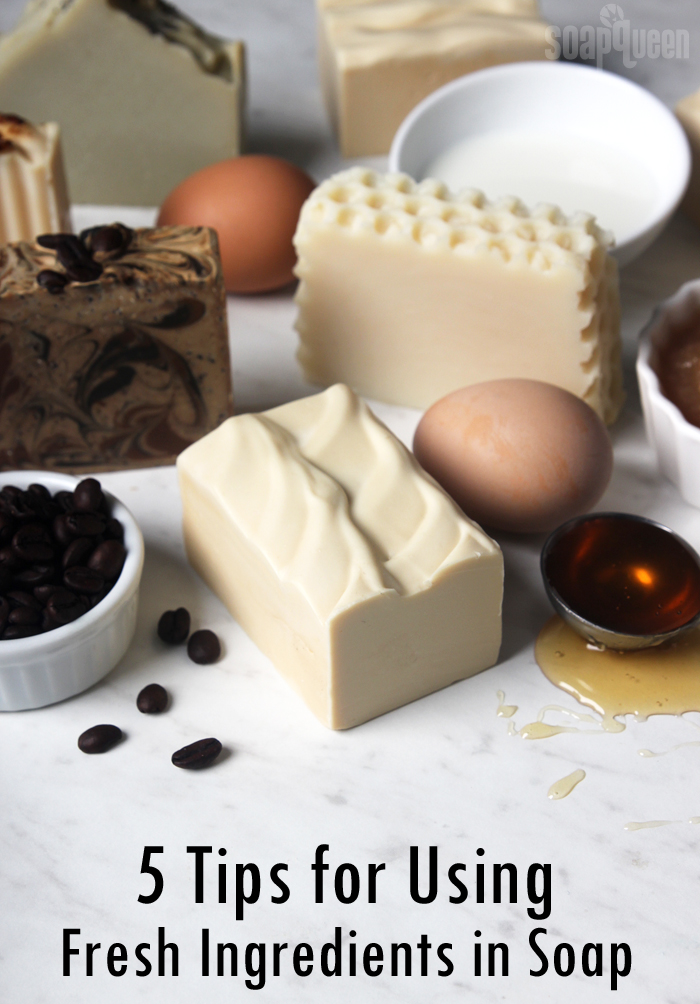 Have you ever looked in your kitchen cabinets and thought, "Huh, I wonder if I can put that in soap?" If so, you're in good company. It's a pretty common thought among soapmakers. Also, you are in luck – there are plenty of fresh ingredients you can use in your cold process recipes. In addition to setting your soap apart and attracting customers, fresh ingredients add something special to your recipes. For instance, avocado gives soap a luxurious feeling. Find a roundup of recipes made with fresh ingredients here. Before getting started, there are a few things to know. The tips below will ensure your experiments turn out well so you can focus on the fun part – getting creative and trying something new!
Research Before Getting Started
Each ingredient you add to your recipe will affect how the soap performs. If you add an ingredient with natural sugar, it can cause acceleration and overheating. If you add an ingredient with a lot of liquid, it can make your batch too wet. That's why research is important. Find out how the ingredient performs beforehand so you know what to expect and can account for any quirks. The How to Add Purees to Cold Process Soap has plenty of information to help get you started.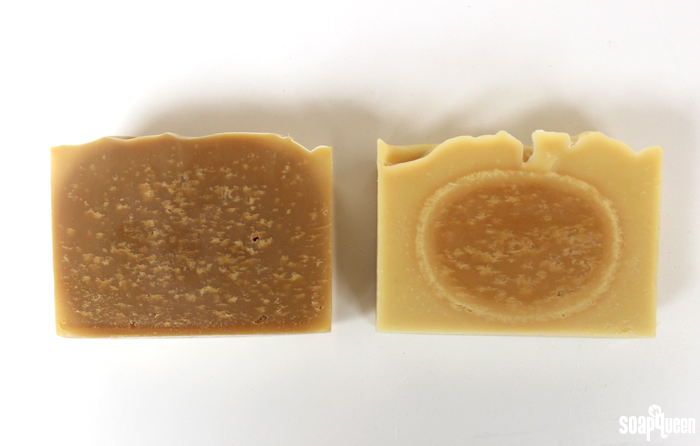 Honey can overheat in soap and cause discoloration and bubbles, as seen in the photo above. Learn how to work with honey here.
Buy Local
Once you decide what ingredient you want to experiment with, the next step is finding it. We recommend buying local! There are so many quality ingredients at your local stores and farmers markets. For instance, at the Farmers Market here in Bellingham, there is everything from fresh coffee to juicy blueberries. They would be an amazing addition to your recipe. Not only do you support your local economy, but you can tell your customers all about the fresh ingredients and where they come from. It's an amazing selling point and it shows off your hometown pride.
Consider a Water Discount
To help the fresh ingredients mix in smoothly, they are often pureed with distilled water. Many fresh ingredients also contain a lot of liquid. The added water can make your soap too wet. That's where a water discount comes in – it accounts for the extra liquid you're adding to your batch. It also helps prevent glycerin rivers. How much water you discount from your recipe depends on the fresh ingredient. For instance, cucumber is a very watery vegetable, so a higher water discount would be helpful. A good water discount to start with is 10% and adjust from there based on the additive you choose. Learn more in the Water Discounting Cold Process Soap post.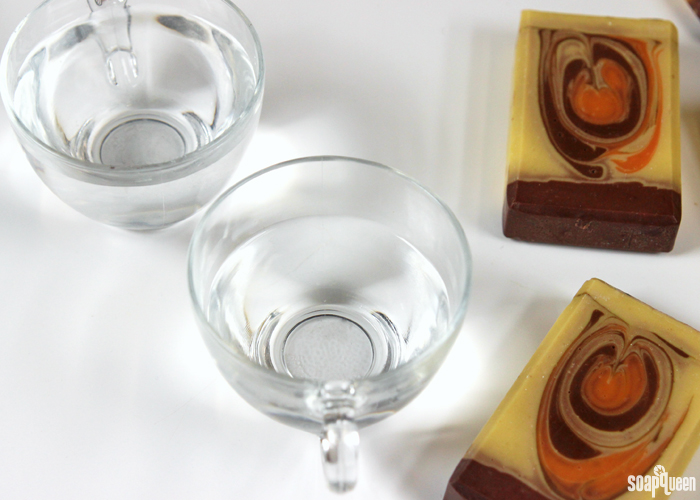 A water discount keeps your recipe balanced.
Watch Those Temperatures
Fresh ingredients with natural sugar have the potential to overheat in cold process soap. That can cause discoloration, an unpleasant smell, heat tunnels and, worst case scenario, a soap volcano. That's why it's important to keep your temperatures low. Soaping around 100-110 ° F will keep things cool and give you time to work with your design. If you're using an alternative liquid, you may want to cool or freeze it beforehand to prevent scorching. Learn more about working with coffee and tea, alcohol and milk  in your soap. Once the soap is in the mold, put it in the fridge or freezer for 5-24 hours. If you're using a fresh ingredient without natural sugar, they can still cause glycerin rivers or partial gel phase. You can leave the soap at room temperature or cool it in the freezer to be extra careful.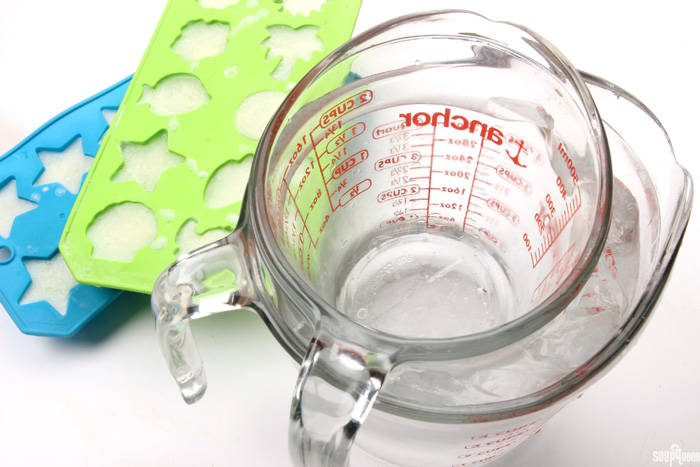 Milk needs to be frozen before the lye is added to keep temperatures low. Learn more in this post.
Test it Out
Whatever fresh ingredient you choose to jazz up your cold process soap, make a small test batch of your recipe. If you've never worked with that ingredient before it can do unpredictable things. The test batch allows you to make adjustments before making a larger batch. It's also a great time to test the bars on your skin to see what you think. If you add avocado and the bars are too soft, you can add more hard oils like coconut and palm. If the honey overheated your batch even with cooler temperatures, you can add less next time. Before you know it, you'll be a pro at adding random cabinet ingredients to your handmade goodies!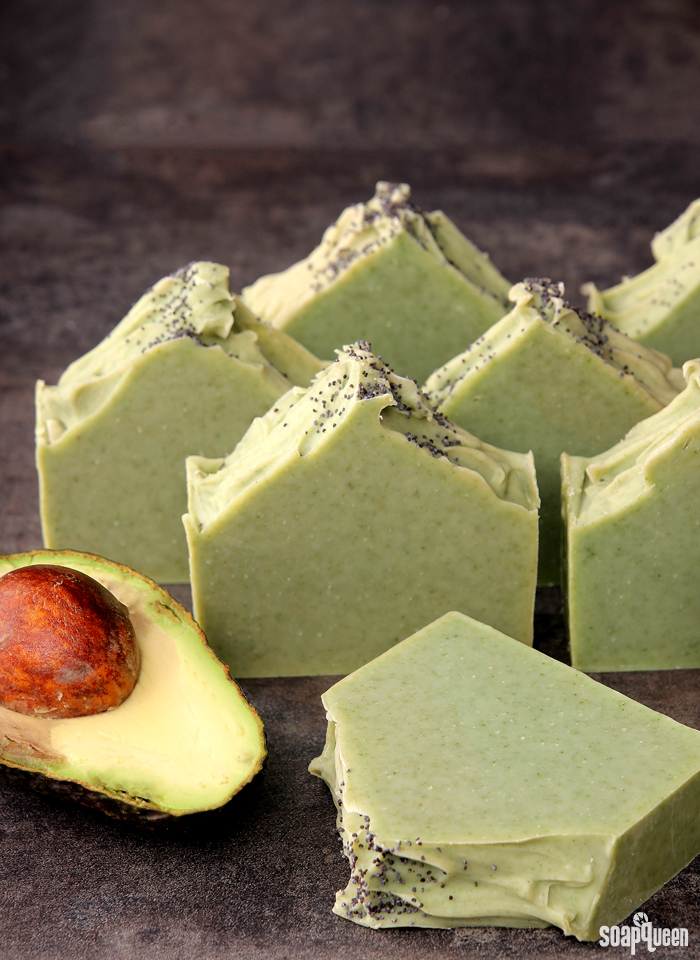 The Avocado + Spearmint Cold Process Soap took several tries to get just right. 
What's your favorite fresh additive for cold process soap?