On Tuesday, I showed you how to get fun rainbow colored hair using only LabColors and Stephenson Organic Hair Conditioner Base. If you missed that tutorial, check it out here. While the pink tips of my hair are gone (I got a hair cut a few weeks ago), the hair care fun doesn't have to stop. =) There are many fun hair recipes and tutorials to keep your hair in tip-top shape.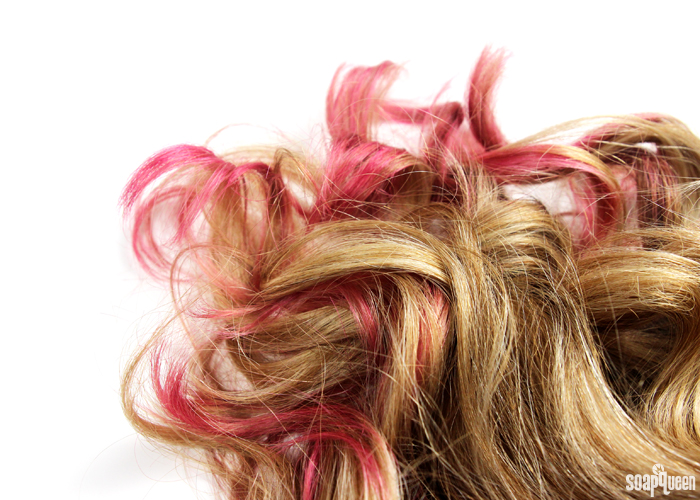 LabColors can be used to dye light or blonde hair; learn how in this blog post!
In the LabColor Hair Color Tutorial, the Stephenson Organic Hair Conditioner Base diluted the LabColor slightly and made it easier to apply. If you prefer to create your own hair care products, the How to Make Shampoo and Conditioner video on Soap Queen TV shows you how. This video is an oldie but a goodie (made in 2010!), making it a great #ThrowbackThursday. The video first demonstrates how to customize a shampoo base, then how to create a conditioner from scratch.
The process of creating homemade conditioner is similar to making a lotion. Conditioner also includes many of the same ingredients as lotion, such as distilled water, oils, BTMS-50 and Optiphen. The How to Create Homemade Lotion Recipes post goes over the basic ingredients of emulsified products and how to use them.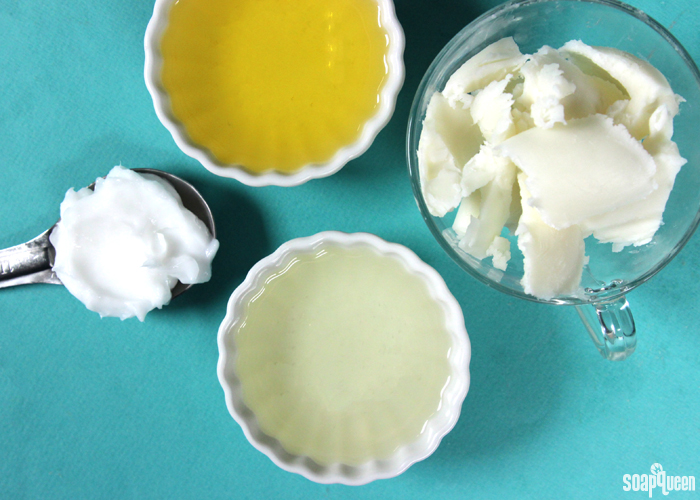 If you like the idea of creating your own shampoo rather than using a base, the Argan Oil Shampoo is great for dry hair. The addition of carrot and nettle extract give the shampoo great hair-loving properties. If you prefer a different type of extract, feel free to customize the recipe to meet your particular hair needs. Learn more about extracts in this Sunday Night Spotlight.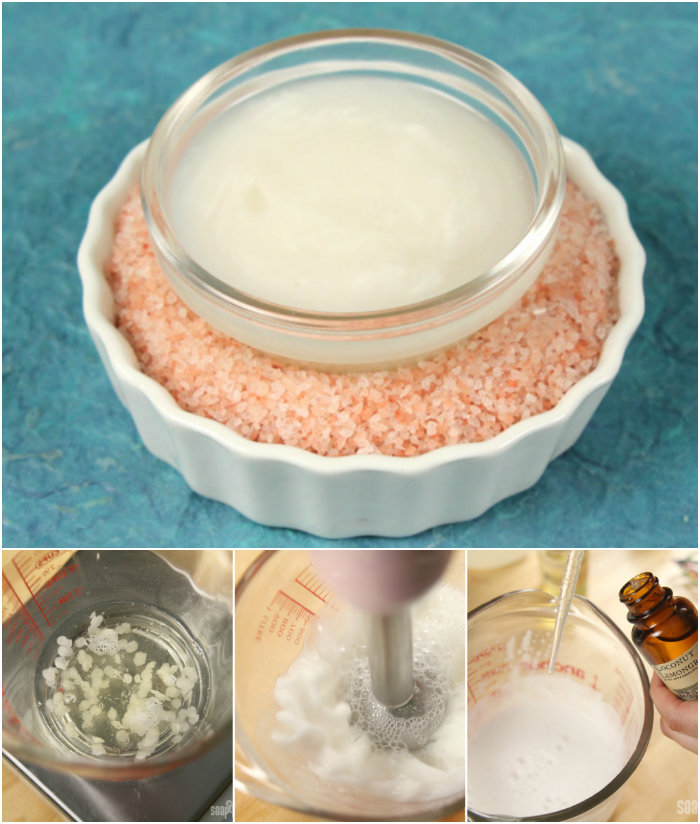 You can also create solid shampoo bars with the cold process soaping technique. In the Sudsy Shampoo Bar recipe, citric acid is used to lower the pH and make the bars gentle for the hair. The Invigorating Shampoo Bars have zesty Tea Tree Essential Oil to make your hair smell amazing.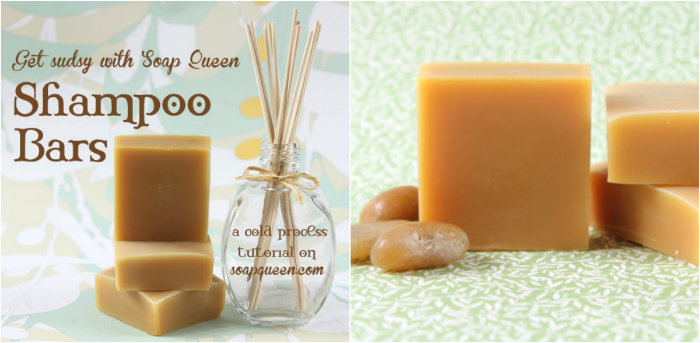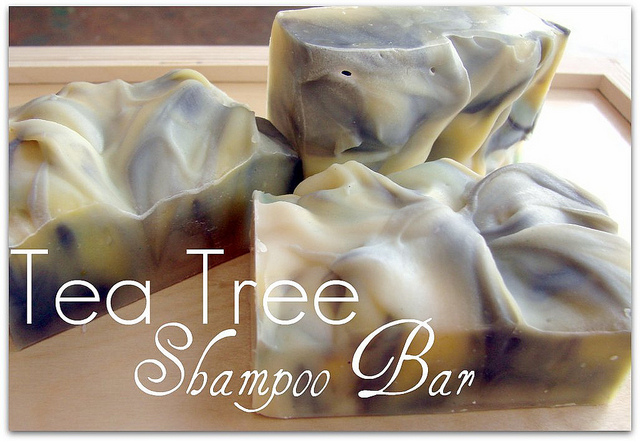 Top: Sudsy Shampoo Bar recipe, Bottom: Invigorating Shampoo Bars
If you don't have the time to wash your hair, dry shampoo is a fantastic option. Simply shake the powder into your roots to absorb excess oils. Making your own dry shampoo is incredibly easy. Learn how in this Dry Shampoo Tutorial. The shampoo can be customized with fragrance and color. We used Relaxing Fragrance Oil, which is a luscious blend of lavender, pine and vanilla.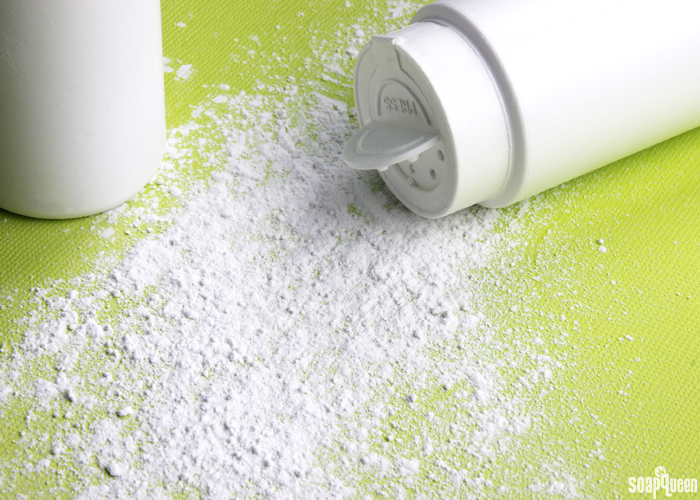 Dry shampoo is a great option for busy mornings when showering is not possible.
Love the idea of brightly colored hair, but need something a little less permanent? The Hair Chalk Recipe and Application Tutorial shows you how to create hair chalk that can be customized to any color you'd like. The hair chalk works great on both light and dark colored hair. This makes it a great option for brunettes who don't want to bleach their hair to achieve rainbow locks.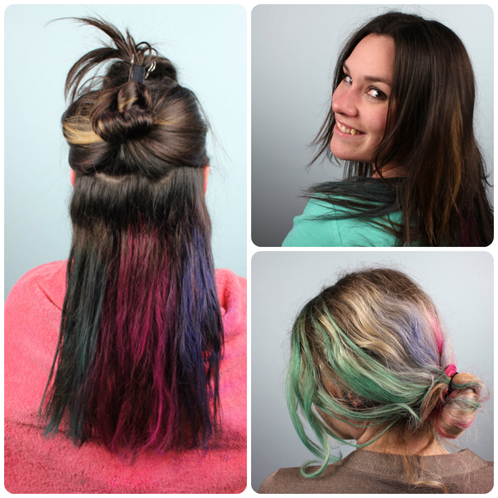 Have you ever made shampoo, conditioner, or other hair products before? I love treating my hair to homemade hair care products.