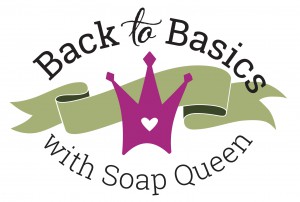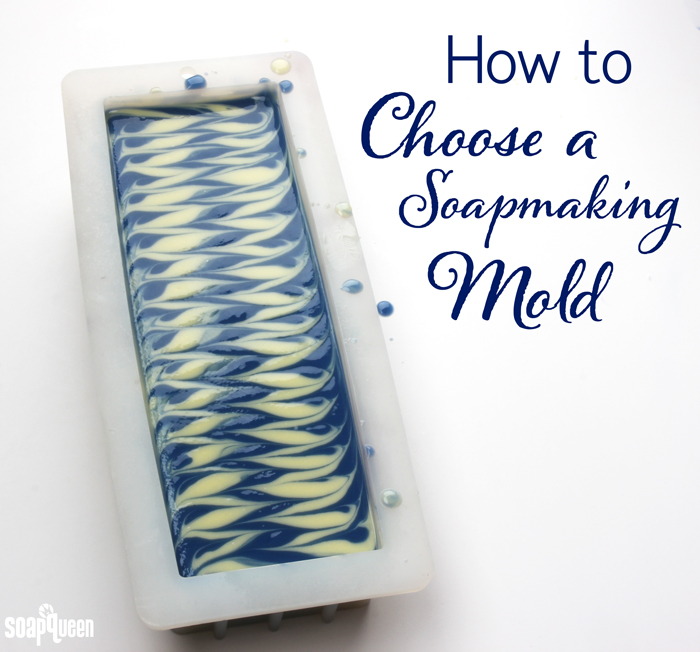 Soap making molds come in various shapes, sizes and materials. It's crucial to consider what kind of mold you'll be using when designing a soapy project. The mold will determine how big your batch needs to be, and may influence ingredients and cure time. One of the most popular soap mold options is a silicone mold. They are easy to clean with no lining necessary and come in a variety of shapes and sizes. Other mold options include recycled containers, plastic and wood molds. Each have benefits that may affect your soaping experience.
Silicone Molds
Pros: Easy to unmold soap with flexible material, easy to clean, no need to line mold, long lasting, professional looking bars
Cons: Soap takes slightly longer to unmold, soap can speckle with bubbles if soap overheats

Silicone molds are extremely popular due to their ease of use. Sturdy yet flexible, silicone molds make unmolding both cold process and melt and pour soap easy. The key is to break the airlock by gently pulling away the sides of the mold from the soap. If you experience any resistance when removing cold process soap, stop and give it a few more days in the mold. It's not worth it to tear the sides or bottom of your project!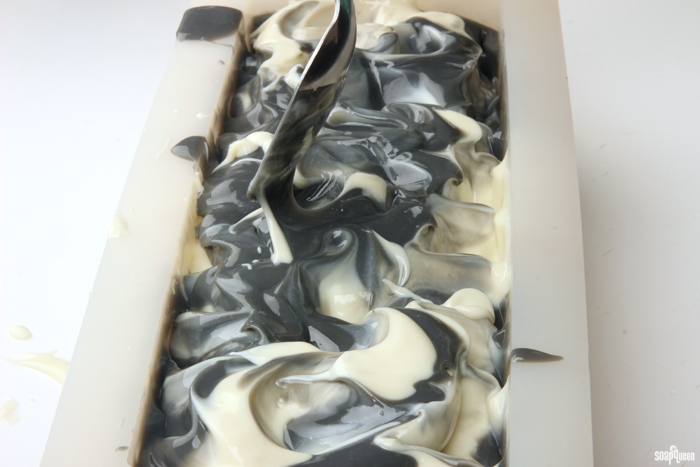 Soap does take longer to harden in silicone molds because there is no air in contact with the soap. Sodium lactate is a key additive to use when working with silicone molds. Sodium lactate is a liquid salt that helps produce a harder bar of soap that lasts longer in the shower. Sodium lactate also helps the soap harden faster in the mold. This means that instead of waiting 3-4 days to unmold your project, you can often unmold the very next day! We recommend adding 1 tsp. of sodium lactate per pound of oils in your recipe to cooled lye water. Click here to read more about sodium lactate, and how to use it in your projects.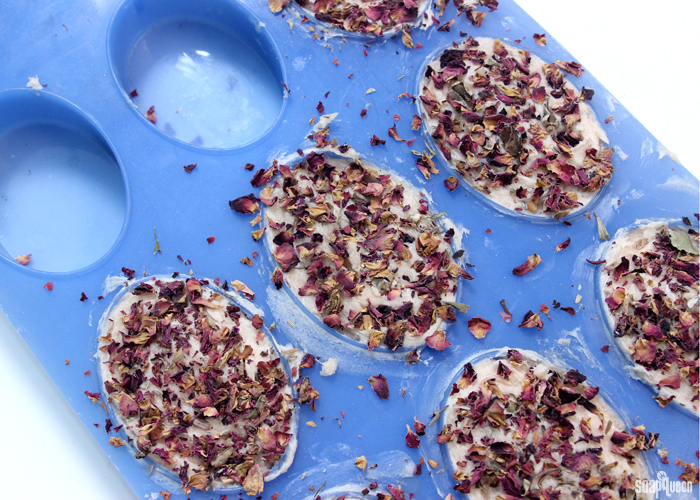 In addition to easy unmolding, silicone molds are easy to care for. After removing your soap from the mold, hand wash the silicone mold with hot water and dish soap. Allow to dry and the mold is ready to use for your next project! While silicone molds are sturdy, we do not recommend placing them in the dishwasher. Also avoid any harsh scrubbing materials such as copper sponges, as they may scratch the glossy finish inside. Click here to read more about caring for molds.
Recycled Molds
Pros: Create unique shapes, cost effective, eco friendly
Cons: Shapes not consistent, may need to line mold, mold may only be good for one use
Just about any container can be turned into a soap mold with proper lining. If the container is plastic, the soap can be poured directly without lining. Popular options include yogurt containers, pudding cups and tofu containers. Cardboard milk containers are also a good option, as the inside is normally lined with a nonstick coating. Check out the How to Recycle Your Recyclables post for more ideas. Recycling objects and boxes in your home is a great way to save money on molds and create eco-friendly and unique looking bars.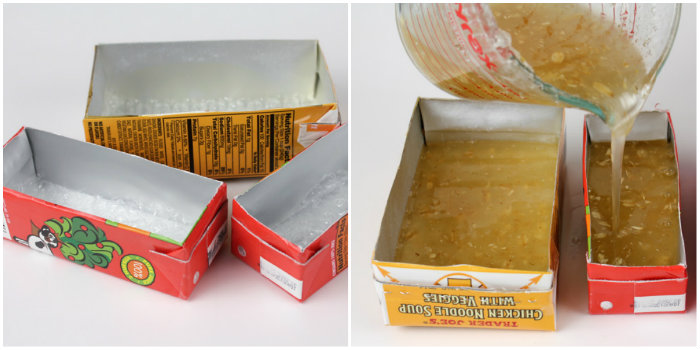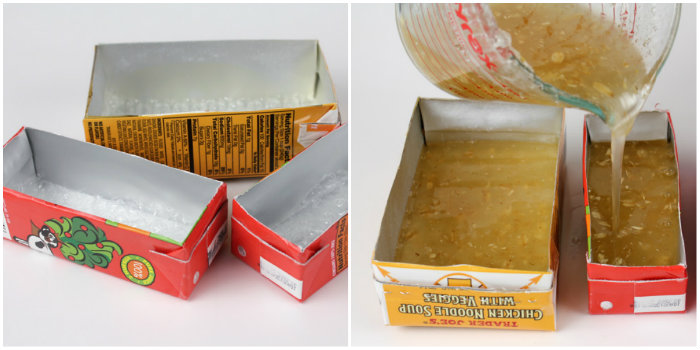 One negative aspect of recycled molds is they may not be very sturdy, and may produce bars that are not completely straight or uniform. If you are looking to create professional looking bars consistently, other mold options are better choice. The container should not be used for food storage once used to make soap. Depending on the sturdiness of the container, it may only be good for one soaping recipe.
Most recycled containers will need to be lined with freezer paper to ensure the soap does not stick. Lining also helps ensure the soap does not leak. For example, both the Creamy Orange Cold Process Soap and the Simple & Gentle Cold Process Soap tutorials were created in a USPS Medium Flat Rate Box. If the soap was poured directly into the cardboard, the soap would stick to the box. To prevent this, freezer paper was used to line the box. The How to Line Any Mold blog post has tips on turning any box into a proper soap making mold.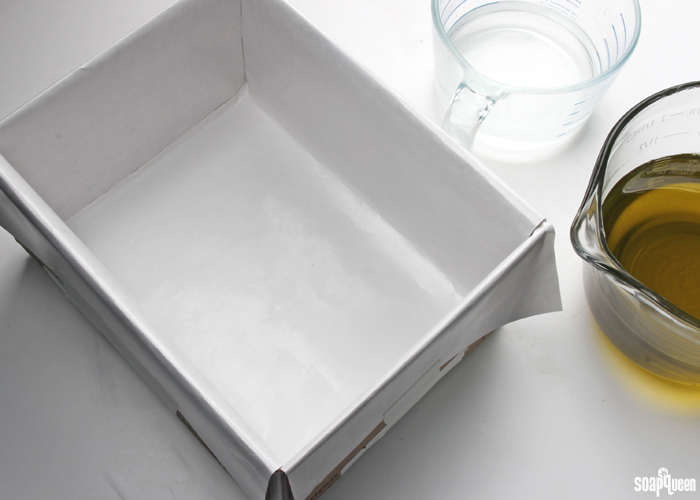 Metal or glass containers are not recommended for cold process soap molds. One reason is they are extremely hard to remove your soap from. If using rigid molds, they should be lined with freezer paper…otherwise you may never get the soap out! The other reason is that lye reacts with many metals, including aluminum, tin and zinc. The sodium hydroxide lye reacts with the metal releasing hydrogen gas which is very dangerous. Avoid all metal containers for soaping with.
Wood Molds
Pros: Easy to insulate/gel phase, long lasting, produces large batches of soap, professional looking bars
Cons: May need to line mold, can soften over time when exposed to raw soap from drips & normal use, prone to overheating

Another popular soap mold option are wood molds. They are sturdy, cost effective and act as great insulators for cold process soap. They can also last for years and years with proper storage and care. Bramble Berry wood molds are made out of top grade Birch plywood that is both sturdy and durable, click here to learn how to care for them.
Wood molds also need to be lined with freezer paper to avoid the soap from sticking to the mold. To make this process easier, many of the Bramble Berry wood molds have silicone liners available. When lining any mold, keep in mind that freezer paper is much different from wax paper. Freezer paper is sturdier, and will not melt under high temperatures.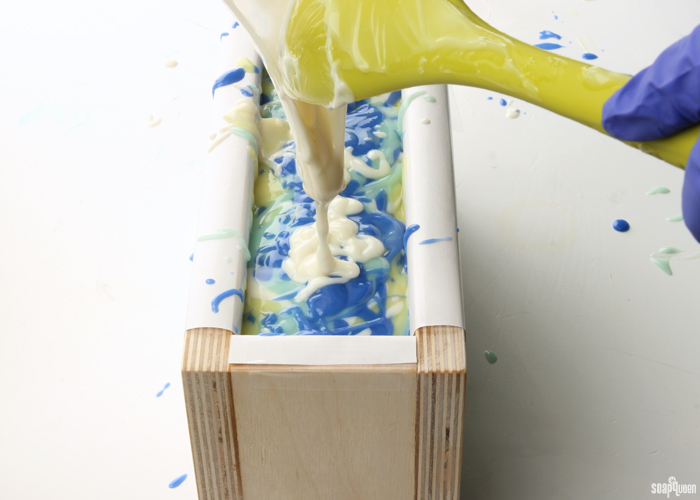 A wood mold is used in the Blue Rain Drop Swirl Cold Process to insulate the soap. Don't forget to line your wood molds!
One of the best features of wood molds is they insulate the soap well. This makes it easy to achieve a complete gel phase throughout the soap. It's important to keep this in mind when insulating wood molds; because they insulate the soap naturally, placing the mold on a heating pad may not be necessary. If you want to avoid gel phase completely, you may want to place the mold and soap into the fridge or cool place. Learn more about gel phase and when to insulate your soap in this post.
Plastic Molds
Pros: Wide variety of shapes and designs, cost effective, great for small batches, professional looking bars
Cons: Can be difficult to unmold, requires more time to unmold, prone to soda ash, difficult to make large production batches

Best suited for melt and pour, plastic molds can also be used for cold process soap. Plastic molds come in a wide variety of shapes and sizes. In fact, Bramble Berry has more than 400 plastic molds to choose from. If you can't imagine it…there is probably a plastic mold for it! The majority of plastic molds are individual cavity size. The smaller size means that the molds do not insulate the soap as well as large slab or loaf molds. We don't recommend placing plastic molds on a heating pad, as they can melt or warp if they get too hot. Instead of using gel phase to help prevent soda ash, you can spritz the soap with 99% isopropyl alcohol every 15 minutes for an hour. That helps create a barrier to protect the top of the soap. You can also decrease the superfat level to 3% or water discount at 10%. Read more tips for preventing soda ash here.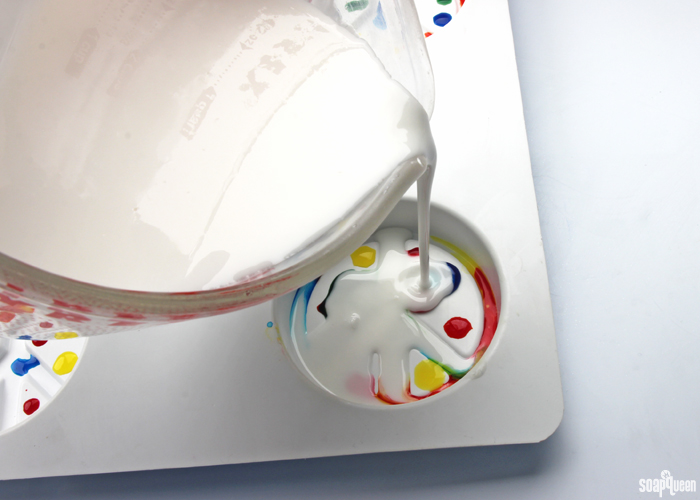 The trick is that cold process soap can be a little bit tricky to remove from plastic molds. Cold process soap can require up to a week to unmold from plastic molds. If using a plastic mold for your cold process project, we recommend using a large amount of hard oils (palm oil, coconut oil, cocoa butter, etc) to help the soap harden. Adding sodium lactate also makes a huge difference; check out the Unmolding Cold Process Soap from Plastic Molds for more tips and an experiment with hard/soft oils and sodium lactate.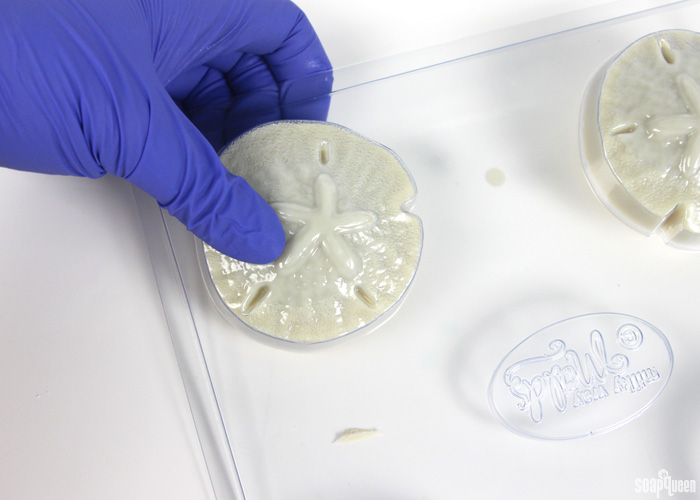 Sometimes it takes a little time to find the right type of mold for you. Personally, silicone molds have become my new go to after years of using wood molds. But if I want my soap to go through gel phase, wood molds are still my favorite. When using plastic molds I make sure my recipe contains solid oils, and I always use sodium lactate. When teaching friends how to soap, I usually recommend trying out the craft with recyclables first, just to make sure they enjoy the process. Each mold has its positives and negatives, and so much just depends on personal preference! =)
What kind of molds do you prefer? I would love to hear your thoughts in the comments below.