Investing in quality soap molds take your products to the next level. Soap making molds come in various shapes, sizes and materials. Among the most popular kinds of molds are silicone and wood molds. With proper care, both wood and silicone molds will last for years.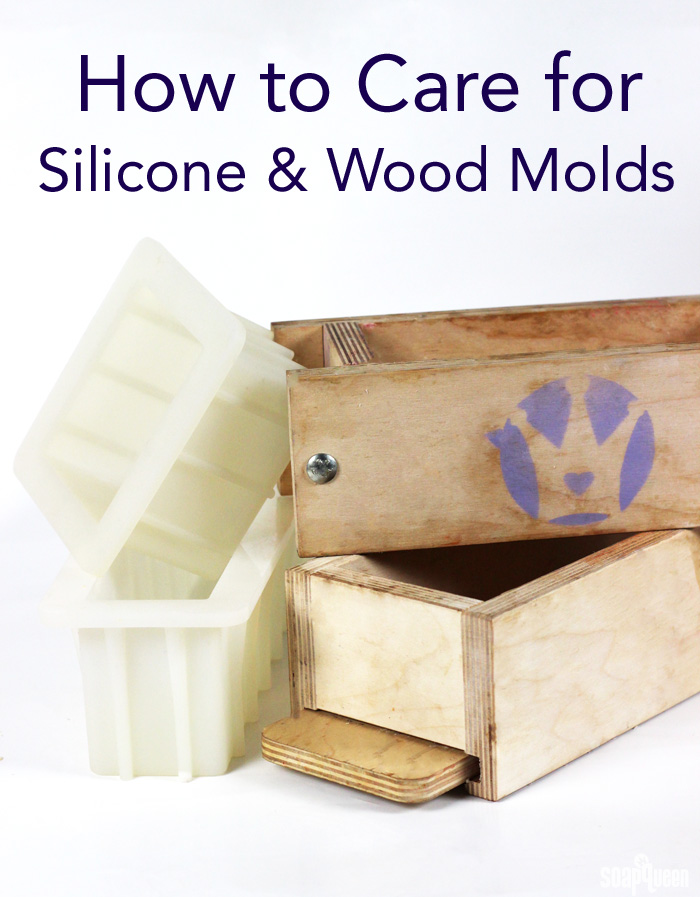 Caring for Silicone Molds:
Silicone molds are great for both melt and pour soap, and cold process soap. Durable yet flexible, silicone molds make unmolding easy. Silicone molds also eliminate the need to line the mold with parchment paper, making them extremely convenient. The glossy inside gives soap a smooth and professional finish.

Silicone molds are extremely easy to take care of. Once the soap is removed from the mold, use a sponge and dish washing soap to remove any leftover soap from the mold. We do not recommend placing silicone molds in the dishwasher. Avoid using copper sponges on silicone molds, as they can scratch the smooth glossy inside.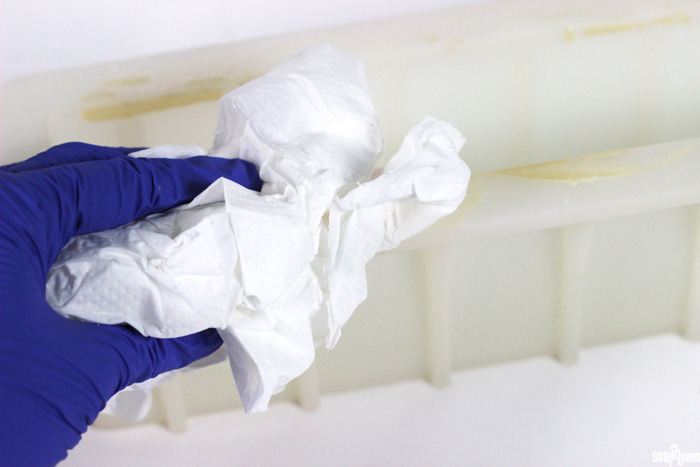 Sometimes if a soap is strongly scented, some of the scent will remain on the silicone. In particular, 10x Orange Essential Oil can leave some scent behind, along with a little color. We have found that scents and color on silicone molds do not transfer to the next project. But if you are concerned, first clean the mold with soap and water. Then, spray the mold liberally with rubbing alcohol and allow the alcohol to sit on the mold for 15-20 minutes. Spray again with alcohol and rub off with a paper towel, then give the mold another wash with dish soap and water.
When using silicone molds, sometimes soda ash can transfer to the mold. You can see an example of this in the photo below. The soda ash on the mold is completely normal and will not affect the mold itself. But, if you'd like to remove it before soaping it's easy to do!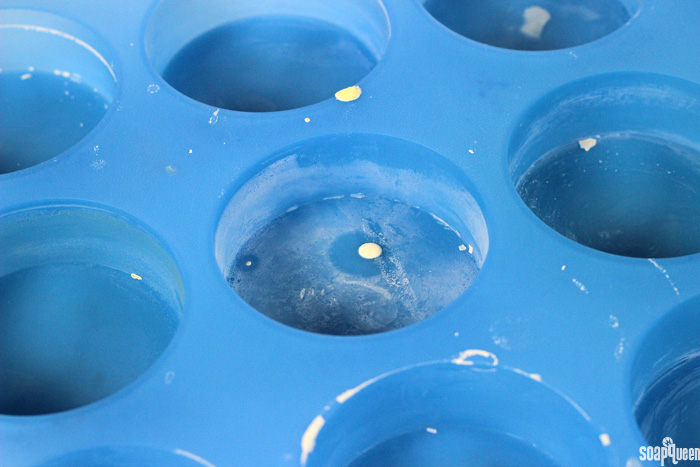 It's normal for soda ash to remain on silicone molds. Luckily removing it is easy! 
 First, fill the mold with water. If the soda ash is on the sides of the mold, fill the water as full as possible. Carefully transfer the mold into the microwave and heat until the water begins to steam (usually about 1-2 minutes). Very carefully, remove the mold from the microwave. While the mold will be safe to touch, the water inside is hot so be careful to not spill the water on your skin.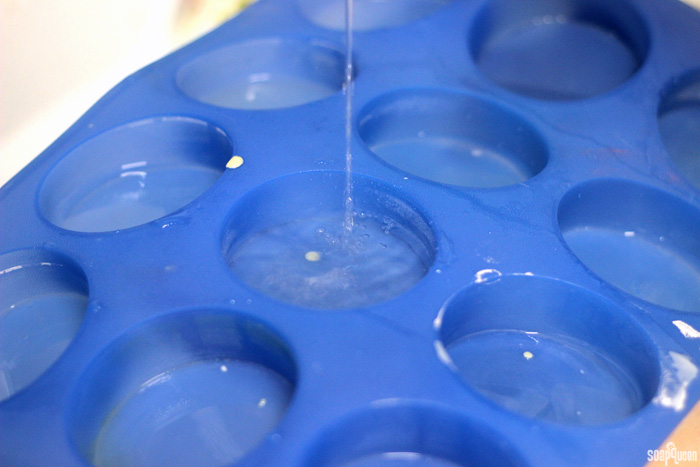 In the photo below, you'll notice the water is slightly murky. This is the soda ash that is now ready to be washed away.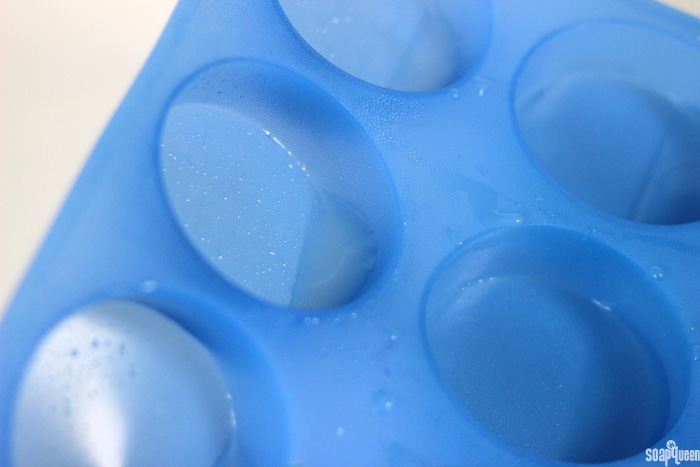 Place the mold in the sink and wash with dish soap and water as normal. Dry with a towel and the mold will be good as new!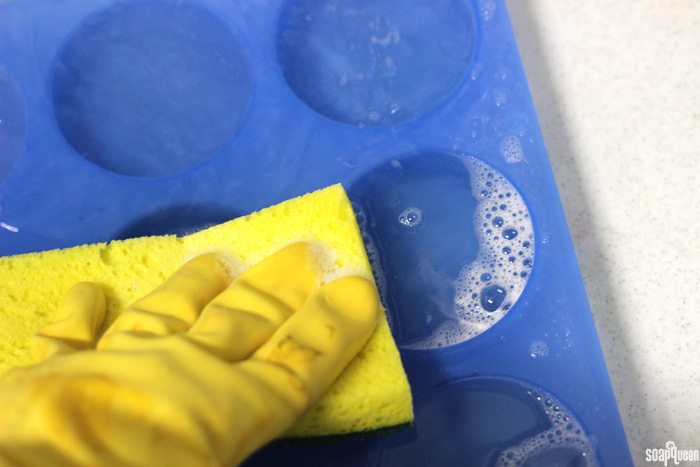 Caring for Wood Molds:
Wood molds are a fantastic option when making cold process soap. Wood molds can also be used for melt and pour if you line the entire mold with a full sheet of plastic. Bramble Berry wood molds are made out of top grade Birch Plywood that is both sturdy and durable. The wood is fantastic for insulating the soap, which makes achieving a complete gel phase simple. Each mold is handcrafted and made locally.
Bramble Berry wood molds are unfinished. You can finish the wood with an oil finish or just allow it to patina and age naturally. A furniture polish gives a smooth and shiny finish to the molds. If you'd like to make your own polish, check out the Simple Citrus Furniture Polish recipe, used below. The polish works well to help protect the wood and makes it look brand new!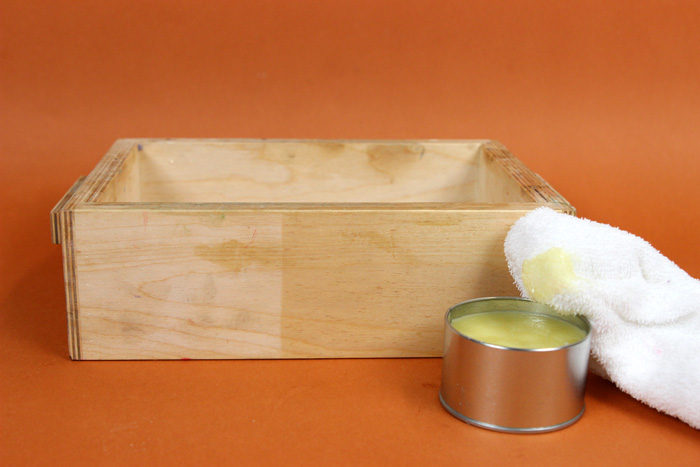 A little polish can make wood molds look brand new. 
Over time, wood molds will come in contact with plenty of soap, colorant and fragrance oil. Remember, a dirty mold means it has been used and loved! Most stains are easy to remove to avoid any transfer to future projects. To clean wood molds, use 99% isopropyl alcohol and a paper towel to wipe away any colorants or soap. The soap scarper/cutter is a great tool for scraping off hardened pieces of soap from the mold. Do not immerse wood molds in water for long periods of time; doing so can warp the wood. If you feel the need to wash the wood mold with water, use a damp towel and allow the mold to fully dry.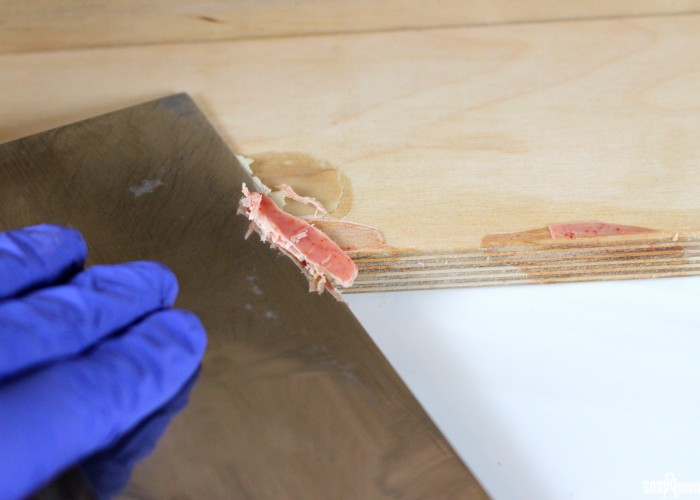 The soap scraper tool is fantastic for removing hardened pieces of soap off both wood and silicone molds!
Some wood molds are great if you like to oven process your soap. Oven process involves placing the soap in the oven to force gel phase. Because the mold is exposed to relatively high heat for an extended amount of time, make sure your wood mold is heat safe. Wood molds assembled with glue are not safe to place in the oven; the heat may loosen the glue and warp the mold. If the wood mold is held together with nails, or metal hardware, it's safe to place in the oven. Molds that are safe to use in the oven include 2 lb. Wood Loaf Mold, ELF 4 lb. Wood Loaf Mold and the 10 lb. Wood Loaf Mold. If you're looking for more information regarding oven process soap, check out the Hot Process Series: CPOP Swirls tutorial.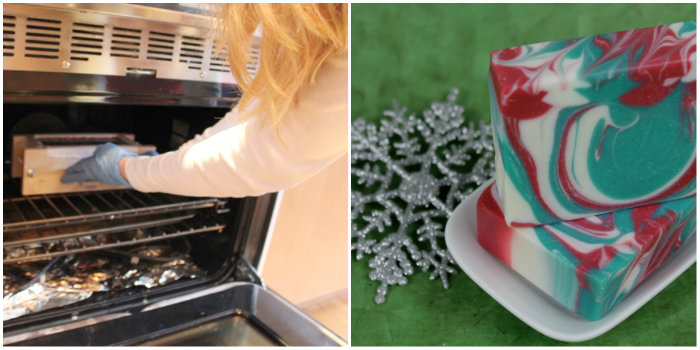 CPOP (Cold Process Oven Process) involves placing the soap into the oven to promote gel phase. Check out the CPOP Swirls tutorial for more details. 

Silicone and wood molds produce beautiful soap, and have a wide variety of applications. With proper care, these molds will last for years and years. Dish soap and  warm water does the trick for silicone, while wood molds require a simple wipe down with a towel and alcohol. If you have any tips and tricks for caring for your molds, I would love to hear them.