The weather here in the Pacific Northwest has been grey, windy and incredibly wet. Luckily, we have not yet been hit with snow (knock on wood). This kind of soggy weather puts me in the soup making mood, as you can probably tell as this is my second soup recipe in a row! Instead of the creamy, pureed Roasted Rosemary Carrot Soup from two weeks ago, I'm whipping up a lighter, spicier soup with plenty of veggies.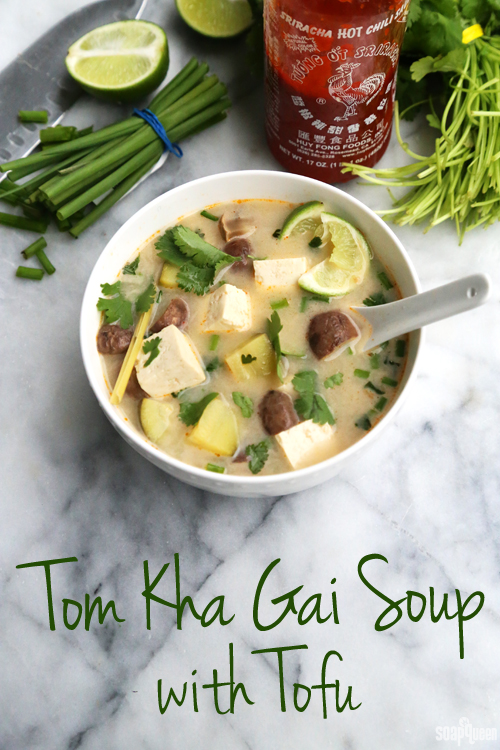 Tom kai gai soup is a Thai dish, made with traditional ingredients such as lemongrass, fish sauce, ginger and coconut milk. The flavors are complex and comforting, perfect for a chilly winter day. Usually made with chicken, I used tofu to get my protein fix. I also added zucchini to add an extra serving of veggies. If you're curious, the kids aren't a fan of this soup. Too spicy for them!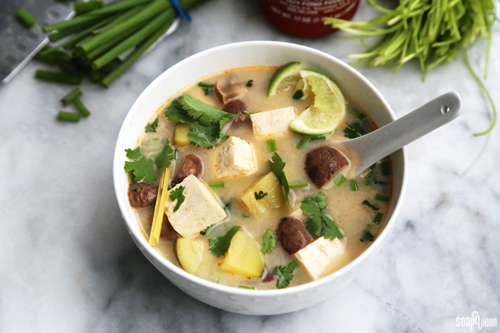 What You'll Need:
6 cups chicken broth (low sodium)
One 13.5 oz. can coconut milk
One 5″ piece of  fresh ginger, peeled and chopped
Three 6″ stalks of lemongrass, sliced open
2 tbs. fish sauce
1 tsp. sriracha sauce
2 tsp. red chili sauce
1 tbs. brown sugar
2 limes, quartered
Approx. 4 cups cremini mushrooms, quartered
1 medium sized zucchini, chopped
One 14 oz. Firm Tofu. cut into cubes
Green onion (for garnish)
Fresh cilantro (for garnish)
ONE: Add chicken broth, ginger pieces and lemongrass to a large sauce pot and bring to a boil. Reduce heat to a simmer for about 20 minutes to allow the flavors to combine.
TWO: Add fish sauce, brown sugar, sriracha sauce and red chili sauce. Squeeze the lime quarters into the pot, then add the skins. We want to get all that lime flavor! Allow to simmer for 10 minutes.
THREE: Add mushrooms, zucchini, and coconut milk. Stir gently to combine. Turn heat to medium low, cover and allow to cook for approximately 10 minutes, or until the zucchini has slightly softened. Uncover, and add tofu.
FOUR: When ladling the soup into bowls, avoid adding large pieces of lemongrass and ginger. You don't want to chew on that =) Garnish with cilantro and green onion to your hearts content. Personally, I like a lot of both. If you like things extra spicy, add more sriracha sauce. Enjoy!
What is your favorite kind of soup on a cold day? I'm always looking for new recipes! It's my favorite dish this time of year =)