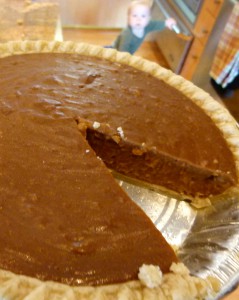 My Dad speaks fondly of the Butterscotch Pie that his Mom used to make him. I have tried to recreate many of his favorite childhood recipes (remember the Triple Decker Caramel cake? Recipe
here
) and this is another try to make his childhood memories come true. It turns out that this is a much more sophisticated version than his Mom made (he suspects she used a pudding mix for the filling!) and, as adults, is more rewarding. The browned butter gives this a deeper taste. The filling is not very sweet so on first bite, it doesn't seem like a winner. Take the second bite. You'll be surprised at how addicting this recipe is.
Brown Butter Butterscotch Pie
Yield: 1 – 9 inch pie
Adapted from Farm Journal's Complete Pie Cookbook
Ingredients
1 – baked, 9 inch pie shell
6 tablespoons butter
 1 cup brown sugar
1 cup boiling water
3 tablespoons cornstarch
2 tablespoons flour
1/2 teaspoon salt
1 & 2/3 cups milk
3 egg yolks, slightly beaten
1 teaspoon vanilla
Instructions
1. Melt butter in heavy skillet over low heat. Watch carefully.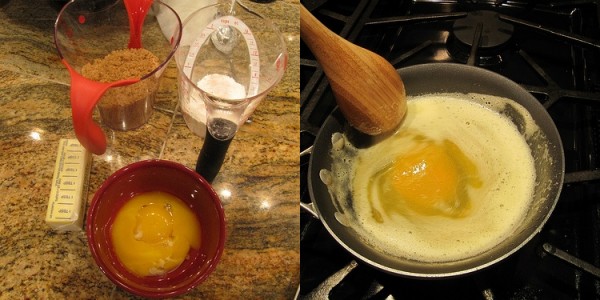 When butter turns golden brown and separates into solids and oil  (this is called 'browning the butter' and it adds a delicious, complex, nutty, musky, sophisticated nuance to desserts), add brown sugar; cook, stirring constantly, until mixture comes to a boil. Make sure there's enough head space in the pan to ensure nothing boils over. Stir in water and remove from  heat.

2.  In a seperate saucepan, mix cornstarch, flour and salt. Blend in milk, stirring until smooth. Stir in brown sugar mixture. Cook over medium heat, stirring constantly, until mixture comes to a boil. Boil 1 minute longer. Remove from heat.
3. Stir a little of the hot mixture into the egg yolks; then blend into hot mixture. Boil 1 minute. Remove from heat. Add vanilla. This thickened up quickly for me. Be ready to pour it into your prepared pie crust.
4.  Pour into pre-baked pie shell. If you want to make a meringue, top with meringue while filling is hot. I did not do a meringue topping and it was wonderful without.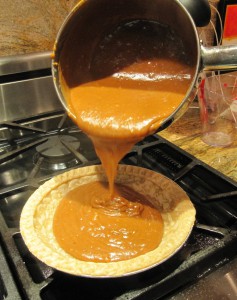 5.  Let it cool, in the fridge, before serving.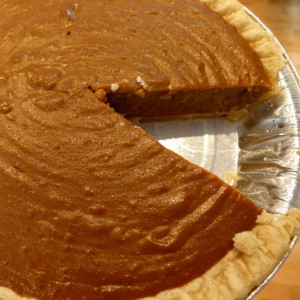 Do you have any Butterscotch Pie Recipes that I can try to make all my Dad's nostalgic food dreams come true? I'd love to know about them. I'm sure that with enough (eh hem) research, we'll find that pie. And if we don't? The research is sure delicious!