Today marks the 2 day countdown to Soap Weekend Intensive 2011. Eek! We're running around the warehouse working on the finishing touches to make this a soaping weekend to remember. And I'm picking the cutest outfits for Jamisen to wear when he makes his guest appearances.
Kristy, from Kristy's Lovely Lathers, and her husband Bruce flew into Seattle last night. After many emails and phone calls over the last few months, it's so nice to finally meet them!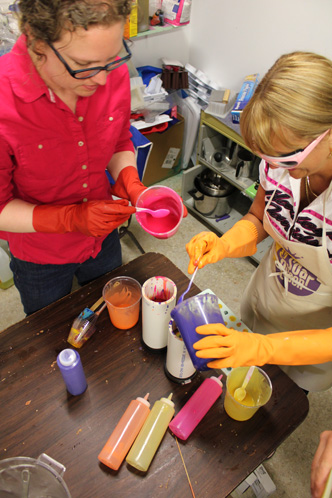 Amber was Kristy's soaping assistant today.
We all had takeout last night from the best local Italian cafe, Mambo Italiano and got caught up on their life in Ohio. They're both really into Harley Davidson and luckily we have a Harley Davidson store here, in downtown Bellingham. Guess where Bruce was first thing this morning? You guessed it! Bruce is such a perfect match with Kristy. You can tell he's Kristy's number one fan. And, he's super generous with his time too. He even offered to mow our lawn (and now, my husband is his biggest fan!). I was tempted but politely turned him down. I wouldn't dream of putting him to work on his vacation.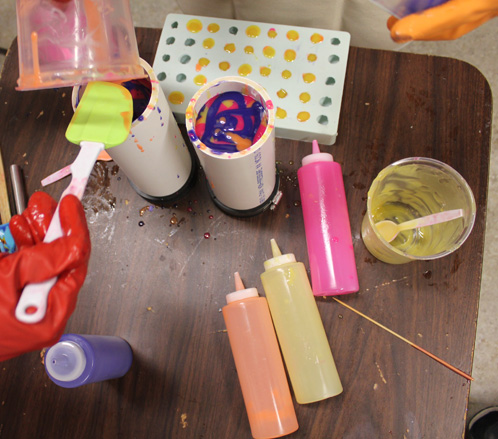 Playing with the BB Neon Colorants…so bright!
Today, Kristy's here in the BB Soap Lab prepping for her Saturday class. She is such a talented artist, er, soaper. It's hard to distinguish where the soap science ends and the art begins. Her soaps are so stunning I'd like to just keep one in my bathroom as art to impress guests. It's such a treat to watch her in her element and create these insane masterpieces which we call soap. And did I mention she came to the warehouse bearing gifts?  Too many gifts and for my entire marketing team included! She even brought gifts for little Jamisen. It was an eventful morning full of squeals, oohs, ahhs and a ton of laughing. If this morning was any indication, I have a feeling this is going to be the best SWI event to date!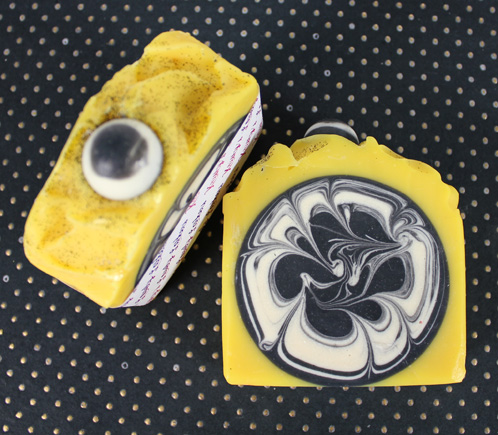 Kristy's jaw-dropping soap.
Read Kristy's full bio HERE and see SWI blog posts from the past…SWI 2008, SWI 2009 and SWI 2010.