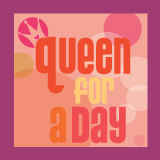 It's almost baby time everyone (see pictures of the last Bramble Bump Report here), which means I'll be needing some help on the Soap Queen Blog while I'm in the hospital being a new mommy. I've lined up some incredible guest bloggers to fill the void while I'm with my new baby boy. I thought it would be fun to introduce them to you now so you can look forward to something new and different on the Soap Queen Blog. And keep your eyes peeled for the logo to the left, it will indicate all of our wonderful Soap Queen helpers!
Meet the Soap Queen Guest Bloggers!
Erin was one of our teachers as Soap Weekend Intensive last year. She was an absolute joy to work with and is such a talented and award winning soapmaker. You may also recognize some of Erin's previous guest posts on the Soap Queen Blog: Solid Sugar Cubes and Cold Process Cupcakes. We are so lucky to have her contributions! Read Erin's complete bio here.

Kim is a local Washington soapmaker and the owner of Pepo Park out of Kirkland, Washington. She sells high quality Soaps, Lip Balms, Lotions, Salts and other fabulous bath and body products. She also has a great blog, Pepo Park- Natural Products for You, with fun recipes and musings on soap, food and crafty goodness. You're going to love some of the projects she has in store for you! Read more about Pepo Park here.
You may already be familiar with Amanda from her epic Chai Latte cold process soap on the Soap Queen Blog (you must see if you haven't already- total cuteness alert)! Amanda teaches cold process soapmaking classes in Dallas, Texas. She is also the creator of Lovin' Soap E-Zines (which you can find here at Bramble Berry) and shares her creative techniques on the Lovin' Soap Blog. P.S check out Amanda's blog to see her latest announcement.
Donna Maria is the founder and CEO of the Indie Beauty Network (a part of Indie Business Network). Her INDIE business coaching helps micro and handmade business owners make more money doing what they love with out being overwhelmed by it all. I'm so lucky to have her as a guest blogger as well and thrilled that she's going to share some of her best business secrets. She's an incredible inspiration.
Many of you may already know Debbie Chialtas, owner of Soayplove Glycerin Soap Design. She has done many guest posts for the Soap Queen Blog in the past (Parfait Soaps, Lucky Star Soaps, Soap Cupcakes, etc). Bramble Berry even carries the popular Soapylove brand for melt and pour soapmaking and Soapylove E-Zines. Read Debbie's bio here. I'm always so happy to have Debbie contribute to the Soap Queen blog. Her creativity level is through the roof!
I'm so lucky to have the blog in their capable hands while I adjust to mommyhood and balancing "life in the soap lane". Bramble Berry has an incredible team to keep everything running smoothly and now the blog does too. I bet you won't even notice I'm gone!