Hanging onto resentment is like letting someone you despise live rent-free in your head. – Ester Lederer
I had a fascinating experience recently. I got an email from someone on the periphery of my life; one of those internet acquaintances that I've never met in person but someone that you know about their life through a variety of social networks (and they about yours). The email was extremely passionate in their feeling that I had done something wrong to them, that I had insulted them in a comment I had made to someone else and done them a great disservice.
In truth, I couldn't remember anything about what the person was writing me about. If the situation had happened, I didn't remember it. The individual didn't help matters by writing, "You know what you did." I genuinely had no idea what they were referring to.
But, since apologizing is free, I gamely apologized, wished the person well and put it out of my mind. But the emails kept coming. An apology was not enough. This person had built up this situation in their head so much that they couldn't believe that I didn't also have strong feelings about it. They wanted a fight. I just wanted out of the conversation.
It was like we were on a teeter totter and I was flat on the ground and they were sky high; we were way out of balance. The situation got me thinking about two things: (1) The interesting interactions we have with our online friends and the false intimacy that is built up with our better selves and (2) the waste of time, energy and resources that this person had spent working themselves up into a full lather over the perceived injustice. It had taken them a month to write me; they had stewed the entire time, spinning elaborate tales of persecution in their head.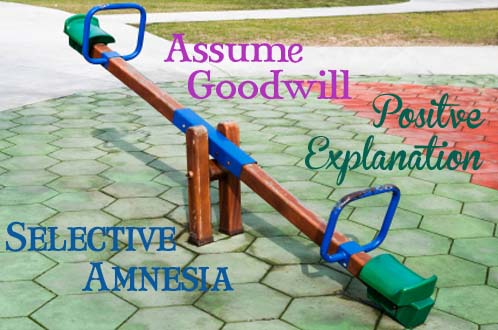 I've written about my 'Assume Goodwill' philosophy and my 'Selective Amnesia' trick to help sail me over rough patches. To that quiver of emotional arrows, I add 'Positive Explanation." If someone says something negative towards me, or slights me in some way, I'm generally apt to say (either to myself or whomever I'm with), "Well, maybe (insert excuse and explanation here) they're having a bad day/traffic was horrendous for them/they didn't understand what you said". This is very close to 'Assume Goodwill' but it goes one step further by helping you walk a mile in the other person's shoes. Psychologists also refer to this as "reframing." Your explanation might be wrong (in fact, it probably is) but it sure helps to reframe the situation (and thus diffuse hurt feelings, anger and resentment). Interestingly enough, giving yourself a reason for someone elses' poor behavior  (even if the reason is not valid), puts you into an automatic response pattern that is more sympathetic than if you tell yourself nothing or instead, spin a wildly fantastical negative story (the work on this by Robert Cialdini is summarized here). In the end it comes down to something very simple for me; I only have 17 waking hours in a given day. I don't want to waste a moment of them making up stories in my head about what someone else thought, did, or said. Life is too short. My goals are too big. And I'm happier living resentment-free with Positive Explanations to surround my interactions.
Resentment is like taking poison and then waiting for the other person to die. – Malachy McCourt