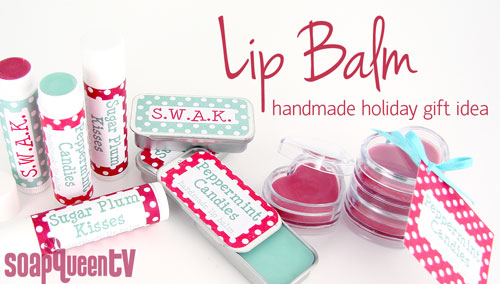 It's another throw-back Thursday video on Soap Queen TV! This video was originally filmed in 2009 (check out the background on the set). This recipe is still a favorite and the label templates are remain cute and functional.  The label template will be free to download for the next week and after that will be available for purchase.
Too early for Christmas? If you are like me, every year you say you are going to make gifts for the holidays and every year you run out of time (or like me, end up pulling an all-nighter). So let's make this the year we plan ahead. The trick is to get your supplies now and make your projects in those few hours here and there. Before you know it, the holidays will be here and, you'll have no stress because you'll have a wonderful gift for everyone on your list.
This video features two recipes. One for a small batch and one for a large batch of lip balm.


  Get everything you need with the click of a button!
Recipe for the small batch:
Recipe for the Large Batch:
Note: this recipe was made with Shamrock Green Mica, which was reformulated and no longer lip safe. It's now made with Apple Moss Green Mica.
Tools and Containers: