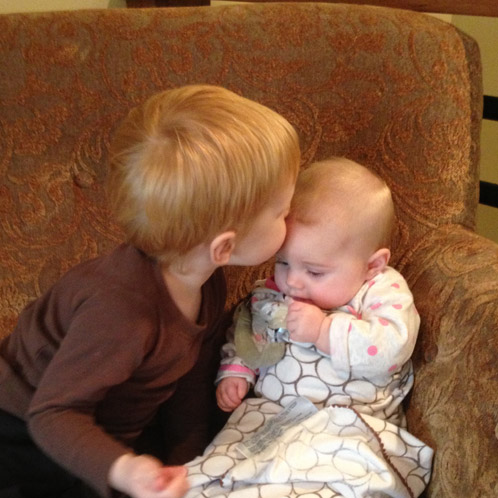 "Brothers and sisters are as close as hands and feet." — Vietnamese Proverb
This week has been such a whirlwind. Chris and the kids got hit pretty hard last week (so, like 13 days ago) with horrific colds. Just when I thought everyone was on the mend, Chris got taken out, hard, by some sort of what I like to affectionately refer to as the 'Whatcom County Creeping Crud' or WCCC. It's sort of all the pain of the flu without the actual real-deal flu-ness. He stayed home a few days from work but thankfully, he's on the mend now but we are all looking forward to having a very low key weekend before Thanksgiving happens in just a couple weeks (yes, we're hosting!).
In personal news, I'm planning super hard for Thanksgiving. I've been gluten and dairy free for a while (I just feel better! But yes, I miss my bread and cheese) so it's been a fun challenge to try and think of recipes the entire family will enjoy without those ingredients. If you have any fun ideas, definitely pop 'em into a comment. I'm working off of these two books (It's All Good and Eat to Live)  now – and have put fish and chicken into the options too. It should be super fun! Also, I'm working on our Christmas cards and this is the shot we'll be putting on the front of them:
I'm thankful, as always, to Dawn Matthes Photography who manages to capture the best in our kids with just a few clicks. This family photo shoot took less than 15 minutes, about the perfect time for two little kiddos! Oh, and speaking of kiddos, we've got Jamisen learning to clear away dishes after meals – and he has also learned to sneak outside without us seeing him. The good habit (dishes) does not mitigate this new bad habit (sneaking). I swear, just when we have one phase under control (the 'terrific twos!), the kiddo changes and we're searching for new and exciting solutions and parenting strategies. And, as always, if you have any genius ideas for little boys that sneak out (last night, it was 8:30 p.m., dark outside, and raining … he got his shoes on and just headed out!), I am all ears.
Have a great weekend! And, happy soaping too! =)