A goal without a plan is just a wish. – Antoine de Saint-Exupery
Look back over the last year and take stock over where you are today in your personal and professional life. Are you where you hoped you would be? Did you meet the goals you set for yourself?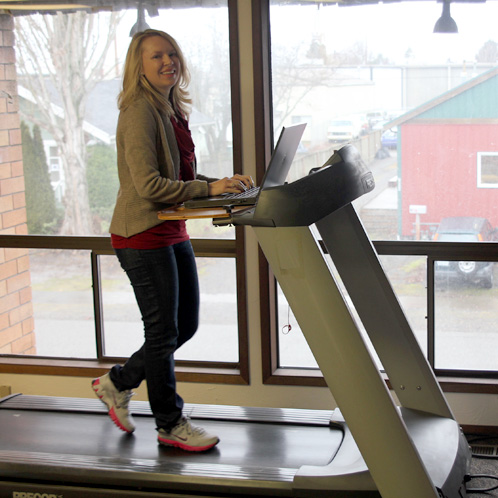 My beloved treadmill desk! Such a great way to work toward my fitness goals for 2014.
My friend Carol Frazy from TheFitSchool.com has a useful exercise that she does when she coaches individuals in her running and nutrition programs. She even has downloadable sheets that you can use to make your own plans using this formula.
1. State the goal (Example: I will weigh 117 by May 1, 2014)
2. Write the plan. This could look like this:
1. I will work out at least 20 minutes daily 5X per week.
2. I will eat at least 4 servings of fruits and vegetables daily.
3. I will only have refined sugar 1X per week
This formula (goal + plan) works for business goals as well. For example, if your goal is to pick up 5 wholesale accounts by December 31, 2014, your plan might look like this:
1. Identify 25 stores by February 1, 2014
2. Send out 1 sample kit per week starting February 1, 2014
3. Do 1 follow up per week starting February 8, 2014
I work on my persona goals around Thanksgiving of each year with my Mastermind Group. You can read about the process we go through here with Vision Boards. The team at Bramble Berry and I refine business goals in December of every year. Finally, my husband and I work on our family goals on December 31. Phew, that's a lot of goal setting. If there's any one thing that I've learned over the years of setting goals, it's that all the experts are right: SMART goals are the only way to go.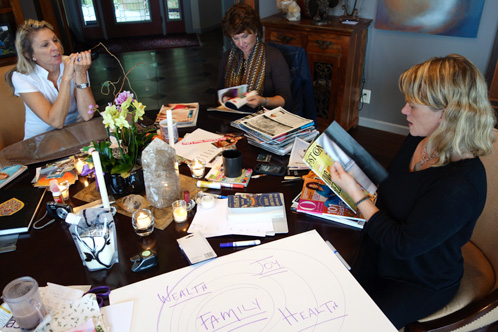 A snapshot from my last SMART goal setting session. Notice the bag of Coconut Oil? All my girlfriends and I use it as hand moisturizer in harsh winter months.

It's one thing to say "I am going to broaden my circle of influence this year"; sure, that sounds good but what does that actually mean? How do you know if you've hit it?
A SMART goal is Specific, Measurable, Achievable, Realistic and Time Oriented. Taking the above goal and SMARTifying it would result in something like: "In 2014, I will make 3 new friends by starting a book club, hosting 2 parties at my house and joining the swim club."
Making goals and plans to go along with those goals is the key to achieving new business highs, losing that last 15 pounds and saving money for your kids' college education. Join me in declaring your goals for 2014.
Bramble Berry has some aggressive goals for 2014 around redoing our warehouse to ship more orders, faster; improving our website; increasing our social media interaction; and enhancing customer service with new new tools. But, in order to do that good stuff at work, I have to be fueled and fit to take that on. Here are a few of my SMARTified personal plans for 2014:
 1. Active Every Day (defined as: 7000 steps on my FitBit Flex or 20 "active minutes" on my FitBit Flex wristband)
2. Protein Shake or Green Juice 4X per week to start off my morning
3. Read 53 books or more in 2014.
4. Floss every day (I seriously hate this one; I have to put it back on my goal list every few years because I fall off the wagon. This is one of those years).
5. Take three Friday mornings off per month to spend with Jamisen doing crafts and play time.
I use this print out weekly to check off my goals. It's sitting on my bathroom sink at all times so I can't miss it.
Do you have SMARTified goals? If so, post them below. I'll choose 3 commenters whose SMART goals have the right mix of ambition and realism, and they will be able to choose one of the following prizes: a $100 gift certificate to Bramble Berry, an 18-Bar Birchwood Mold & liner or a box of my favorite fragrance and essential oils.