Recently, I had the very unpleasant experience of having a corporate credit card cut my line of credit with them by 80% for no warning and no reason. Before you start to wonder, yes, I had made every payment on time, paying in full, monthly, for the last 7 years. My credit score has remained stable. Bramble Berry's business has grown this year (thank you, thank you, thank you!). The company is stable. I am stable. There is nothing to 'flag' my account that this company can explain or I can figure.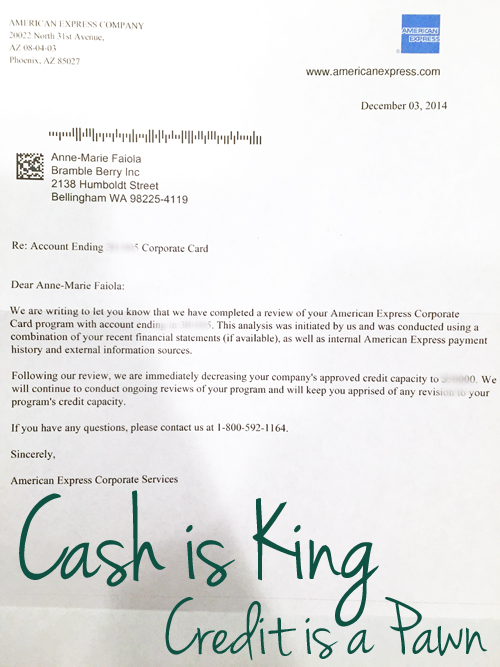 They sent me the form letter above. It's cryptic and, it's not even signed by a person. Meanwhile, it's Q4, or 'Busy Season' when I actually use a line of credit to handle inventory swings. I have to wonder if my line of credit was cut because this company isn't making any money off of me; I pay my line in full every month. There's nothing to gain there. Or maybe it's because I don't play the Dun & Bradstreet game and refuse to give them my financial information because that information then becomes transparent to my (eh hem) fellow vendors (aka: competitors).
While I really want this bank to be persona non grata at Bramble Berry actually doing that that would be stupid. I'll swallow my pride and beg for my credit back because it's important to keep all options open for my business. But, this is a good reminder to me – and now, to you – to consider this lesson: depend on yourself, not banks, to grow your business.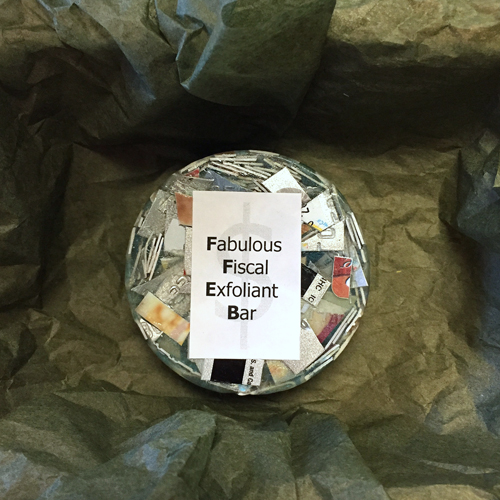 Fiscal responsibility is a must in business. Recently our hilarious accountant made a "Fabulous Fiscal Exfoliant Soap Bar," made from cut up credit cards. 

Just like in the crash of 2008, banks won't save you. You only can depend on yourself and the cash you have to invest in your own business. The problem with the unexpected credit limit decreases, besides the obvious pain of not having the financial tool to do its job, is simple – it wrecks your debt-to-credit ratio if you carry a balance. Your available credit limit makes up almost a third of your FICO score.This is why it is so important to have a business you can bootstrap yourself. You need to spin off enough cash monthly to fund your expansion. What does this mean for you? Consider the following:
December Sales $6000
COGS + overhead + taxes $4600
Profit $1400
In theory, you have $1400 to invest in your business this upcoming month – and, if you can't count on banks or corporate credit cards, this means that you literally have $1400 to spend on replenishing your inventory, buying new equipment, buying labels – all important things a growing business needs. If you have a credit card or a line of credit and a way to pay it back, absolutely consider using it (I have, I do, and I will in the future) but do not make it your business plan.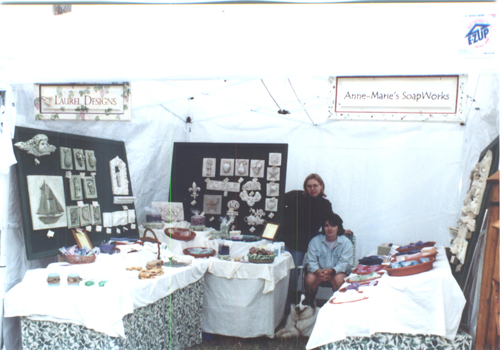 When I sold soap at markets years ago, sustainable lines of credit were not an option. This taught me to save like crazy, and create a stable business plan. 
This isn't the first time this has happened as I've struggled to grow Bramble Berry. Ironically, this same corporate card issuer pulled this trick two years ago and I jumped through their hoops to get my full line (plus!) back. This time, I'm going to jump through the hoops because open lines of credit are something to never squander but, I'm not counting on it. And you shouldn't either. What this means:
ONE:  Build a war chest of your OWN cash. Save save save when you can so that when your lines get cut, you can fund your business.
TWO: Do not depend on credit to build your business. It's easy. It's there. It seems like a good thing to do. And while it's there, sure, use it. But always, ALWAYS, have a Plan B.
THREE:  Don't act emotionally. It is tempting to 'show them!' and cut your card. Trust me, I want to do nothing more right now than cut up my corporate card, make an art project out of it, and mail it to the President of the credit card company. I will not do that. I will send them everything they ask for (including those DNA samples and deeds of trust to my child's first house) to ensure I keep lines of credit open for a rainy day.
FOUR: Make nice with other banks; always have a back-up card or back-up bank willing to loan you money. I'm okay because I do have a conservative cash position and I have a partner bank that is willing to help finance seasonal inventory fluctuation if I need it (curious about how to get a line of credit? I wrote a blog post on it right here).
This is your wake-up call; if you are building a business, do not depend on someone to save you. Make your own cash. Save your own lines of credit. And build a business that is self-sustaining without having to rely on anyone else.