The last couple of months we've had a lot of questions on the Soap Queen Blog, Facebook Fan Page and in customer service requesting wholesale advice. It's been so long (over a decade now!) since I've sold my soaps wholesale, I thought I would reach out to some of my successful soaping friends to share some current best practices and advice with the Soap Queen readers. I've already posted advice from Soapylove and KBShimmer so be sure see those blog posts too.
Today's guest bloggers are Jeanee Duvall of Dirty Laundry, and Oddette Handley of Riverlea Soap! Enjoy!
-Anne-Marie
Odette from Riverlea Soaps also has some great tips: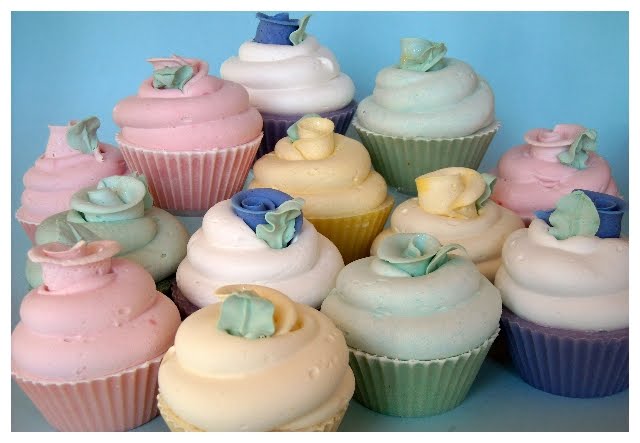 When I started making soap I had no idea that there would be so much else involved besides making soap! I am sure this is probably the same in any small manufacturing business.
So you have made your soap and are ready to sell, but you need to price it. Rather than spend hours trying to figure out how much a bar costs, I got a program to work it out for me. There is a GREAT program on the market here. It is inexpensive and will make your life so much easier! Once you know the cost of your soap, decide on a mark up, and now you are ready to sell.
As much as I LOVE making soap I have to make sure I get my product out there. How, you ask? This is always a difficult step and requires hard work. I am sure there are easy ways to get your product out there, but most of them require money. Small businesses have to watch their cash flow very carefully and usually do not have money to spend on advertising and marketing in the beginning. I certainly didn't. When I started Riverlea Soap three and a half years ago, I was very strict with myself and would go out on the road 2 days a week with a box of samples and did not allow myself to come home until I had at least one new client per day! If I got a client early in the morning then I would up the number to 2 or 3…I am really competitive so I was always competing against myself and my last day's figures. Now I am lucky enough to have clients coming to me! That's not to say I don't do the call out thing though; I am always on the hunt for a new clients so my car permanently has a box of samples in the boot. We also attend markets and fairs so that we can connect with people face-to-face and educate them about our soap.
Once the clients start rolling in you have to ensure that you have enough stock to keep up with the demand. Holding stock will help alleviate the pressure of demand but once again it requires money. There is an optimum amount of stock that you can carry, but that means you are using money that could be better spent elsewhere. I found myself in a situation where I was no longer calling on my existing clients as I was too busy making soap. So I built up stock of the best selling lines (which meant that I was no longer making soap furiously) which freed up the time to call on my clients and fill orders without too much panic.
So now you have clients, you have built up stock and all is running smoothly. What more could you need? Social networking is really important and this just another way to reach a wider audience at very little cost financially upfront. A website, a blog and a Facebook site are the basics. There are many more and you will need to decide which ones will work for you.  I chose a website through Google, the main reason being that I have no HTML experience and Google makes building a website really easy. Once the site was up ad running a friend mentioned I should look at making it an e-commerce site. Oh dear. More work! So when building/choosing your web host, make sure that you will be able to eventually add a shopping cart onto it. I am a bit of a control freak and like to be on top of all aspects of my business, so I have built the site and am currently building the shopping cart. I could hand it over to someone else to do but knowledge is power so if I have the knowledge now I will know how to instruct someone else to do it in the future.
Now we need a Facebook business site – that is pretty easy. Then onto the blog. I chose Blogger (which is a Google program) mainly because all my "products" were with Google so I decided to keep the programs with one company.
Once you have all the separate entities working you now have to spend time maintaining them and adding content. This is time consuming, and as your business grows you will have less time to spare. I felt a certain obligation to the people who were following me on Facebook and my blog. I spent ages thinking that there must be a way to link all the individual entities together so I could do one post and feed it to all the sites. I eventually found a free product called RSS Graffiti. So now I only post to the blog and RSS Graffiti does the rest.
It is easy to give advice and talk about how your business has grown but every business is unique and will need different things. Don't be scared to ask people for information, look for things on the internet and try things out. If you don't try something because to are scared it may not work, then you will never know if it will work, either. Most importantly you have to have a goal in mind and the rest will probably just evolve as the business grows.
Jeanee, of Dirty Laundry, has some great tips too: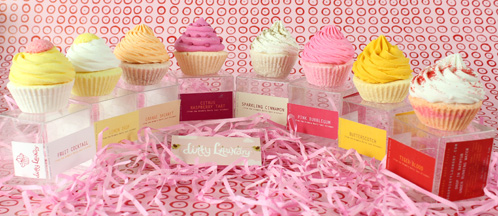 I find that people contacting me works best for my workload. I feel that if I put the wholesale info on my blog / site in the form of an order form that I'd get too many orders and get overwhelmed. Having the retailer email me for more info also helps me screen them. What kind of shop is it? Do they have a nice web site and /or FB page? I want to be sure my product is a good fit with the retailer. It's ok to say that your product doesn't fit in their shop.
If you want to wholesale, you need to be sure that selling your item at a wholesale price (which would be 1/2 price) is worth your while. You have to be sure that the items can be shipped in large quantities safely to the retailer. For example, when a retailer in Singapore wanted to carry my cupcake bath fizzies, they paid for a small shipment of 6 to see if they would make it there okay.
I must say that not having a concrete order form can be a bit of a hassle. I have a Flickr set that shows the regular line of cupcake bath fizzies along with seasonal ones. But I usually have new scents and the regular line isn't always available (due to the scent not being available or I'm just human and haven't made it), so my suggestion is to have a solid inventory of what you want to wholesale on hand at all times. If you're doing special orders, be sure you give them an accurate time period that you'll be able to complete and ship the order.
Many retailers may inquire about your products, and you'll send along information and never hear back from them. Keep a running list of who contacted you, who you contacted and what the communication has been. If you don't hear back from someone, try contacting them one more time.
I can say that it may get overwhelming with fulfilling wholesale orders, your Etsy shop and craft shows. Especially during the winter holiday season, so when you're making product make extra for your retailers. Many of your retailers will call at the same time for a reorder and you may not have enough to go around – let alone enough for your Etsy shop or craft show you're preparing for. To prevent multiple retailers calling for reorder at once you can control the situation by having only certain months available for reorders. Send out email newsletters of when reordering can occur. Notify your retailers of new products or specials for holidays. Offer a discount for 2nd orders or if they order more than last time.
Some retailers may contact you for reorder. Many order once and you'll never hear from them again. Get into the habit of contacting retailers at least every six months to see how your product is doing in their store and if they'd like to reorder. If your product isn't selling well in their store, you can offer a replacement with items that did sell. You can even write a clause in your wholesale info that if something doesn't sell after 90 days that you'll replace them with the items that did sell. At the end of they year send a thank you. It can be a simple notecard / postcard. Or a small sample of your product.
Thanks, Jeannee and Odette! Check out the Dirty Laundry Blog here and the Riverlea Soap blog here for more inspiration! We've also featured these ladies on the Soap Queen Blog in the past (check out Riverlea Soap here and Dirty Laundry here and here).