The swap entries are rolling in! And we couldn't be more excited. The soaps are beautiful and some of the packaging is just amazing. Here's a photo of just a few of the bars we have received – more to come!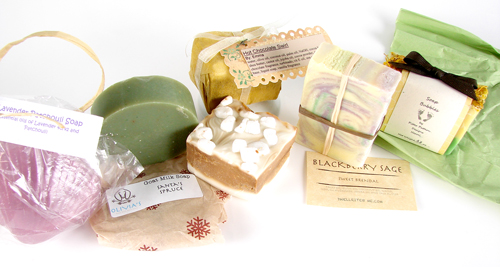 In addition to the beautiful soap, this is a great photo showing all the different ways you can label your soap if that part of the swap is confusing for you.
On the far left, Jennifer printed out the type of soap she made and the ingredients in card stock, punched a hole in it and then tied it around a cellophane bag with raffia.
Next, Traci used standard address labels to seal the tissue paper she wrapped around each bar and list the ingredients and name of her soap company.
In the center, Emma printed out her info on paper, trimmed it down and then attached it to some really cute card stock – like the type you can find in the scrap booking section of the craft store – and tied it on with a pretty ribbon.
Next, David made a label that is almost exactly the same size as a business card. He attached it to one side of the bar of soap so you can still admire the lovely swirl on the other side.
And finally, on the far right, Ann from Pitter Patter did a classic cigar wrap style and made it extra cute by attaching a ribbon to the top. So cute!
For more info about our soap swap check out this post. Remember, Dec. 3rd is the deadline to get your soap to us. Be sure to ship early and avoid any holiday shipping delays!
Thanks so much everyone, I can't wait to see more.